If you're looking for the best online poker sites (USA), you're on the right page. This article will cover some of the top US poker sites and review their offer of games, traffic, payment methods, and more. I've been in the online poker industry for a long time, so I learned all the pitfalls that […]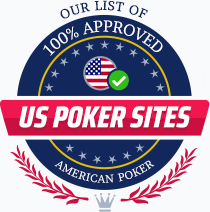 If you're looking for the best online poker sites (USA), you're on the right page. This article will cover some of the top US poker sites and review their offer of games, traffic, payment methods, and more.
I've been in the online poker industry for a long time, so I learned all the pitfalls that newcomers stumble upon when choosing a poker site. Therefore, I decided to help you out in selecting the best poker platform for you. First of all, I'll present some of the platforms that I consider industry leaders. After that, I'll discuss other people's preferences (I did a lot of research on Reddit!), and I'll even talk about some events like these ones that redefined the online poker industry in the US.
All in all, we're in for an exciting journey through the world of US poker on the web, so fasten your seat belts — we're about to take off!
Top 7 Online Poker Sites for US Players
America's Top Rated
1

BetOnline.ag
Features
Trusted by US Players Since 2001
Huge Bad Beat Jackpots
Fully Licensed and Regulated
Exclusive Bonus
100% up to $1000
2

Ignition Poker
Exclusive Bonus
150% up to $1500
3

Americas Cardroom
Exclusive Bonus
100% up to $1000
4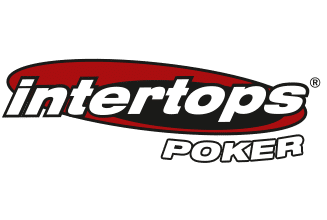 Intertops Poker
Exclusive Bonus
200% up to $1000
5

Bovada
Exclusive Bonus
100% up to $500
6

Juicy Stakes
Exclusive Bonus
200% up to $1000
7

Sportsbetting.ag
Exclusive Bonus
100% up to $2500
Have a bad experience?
Please send us a message using our contact form to let us know if you've had any problems with the sites listed above. We welcome any feedback and will incorporate it into our future reviews.
Poker News and Headlines
The Best Online Poker Sites for US Players
First of all, let's take a look at some of the best US poker sites at the moment. I'll briefly explain each of them and tell you what to pay attention to.
After a lot of research, I made an ultimate list of available sites to US players. However, after testing each of them, I narrowed the list to the following platforms that I consider to be top online poker sites.
Here is our list of the best US poker sites for September 2023:
---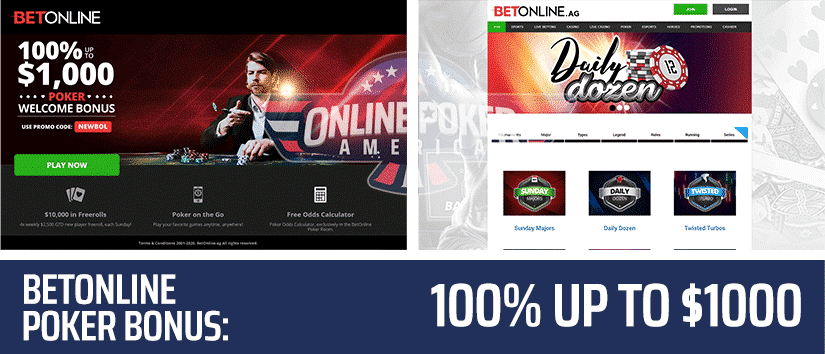 BetOnline is a comprehensive online gambling platform, meaning it offers not only online poker, but all other forms of iGaming, including sports betting, casino games, and more. What makes it stand out is that this site is legally available to US players, even in the states where poker is not regulated, since it features an offshore license that we'll talk more about later in this guide.
---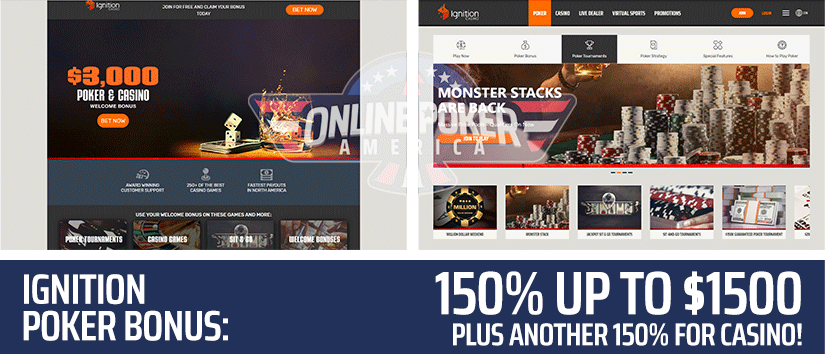 Ignition Poker arguably has the largest online poker traffic in the US. The network is competitive yet it stands out with what players describe as softness. You can participate anonymously, giving you shelter from sharks and helping you find a well-balanced online poker experience. It's okay to be the fish at Ignition Poker as there are plenty of on-par players who are looking for the exact same things you are.
The welcome bonus is 150% up to $1,500 and it's often endorsed by novices. You can play directly into your browser and the site doesn't support HUDs, as explained before. Some players have said that Ignition Poker runs some of the best value tournaments, meaning it's easy for budget players as well as minnows to get a foothold. There are $3K GTDs events that can get your bankroll running.
Even outside peak hours, the room already has 800 people around 3:30 p.m. ET, with the player count climbing steadily through the evenings. All tournaments run daily, and American players have confirmed that they find themselves at home playing online poker at Ignition. In fact, Ignition Poker is one of the most endorsed poker rooms amid the community, perhaps owing to the mild entry-level.
---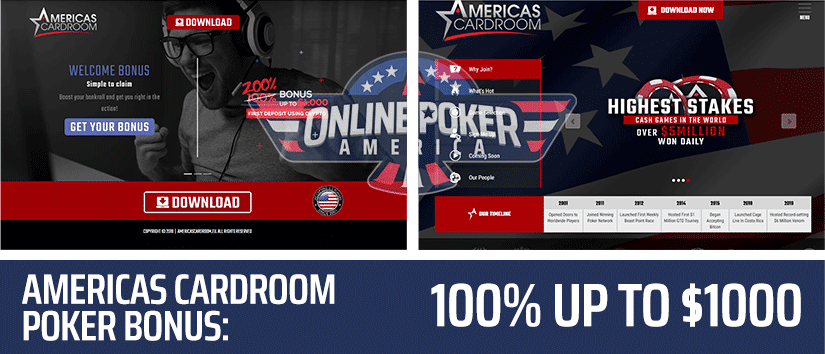 Americas Cardroom is the flagship site of the Winning Poker Network, meaning it also has several sister sites. It has excellent traffic and massive tournaments that offer millions of dollars in guaranteed prizes. No-limit Texas Hold'em is the most popular game on the site, even though it offers other variations, including Omaha and stud poker.
One of the main advantages of AC is the number of payment methods it accepts. Apart from standard ones such as cash transfer, checks, and e-wallets, Americas Cardroom accepts 40+ cryptocurrencies as deposit and withdrawal options.
---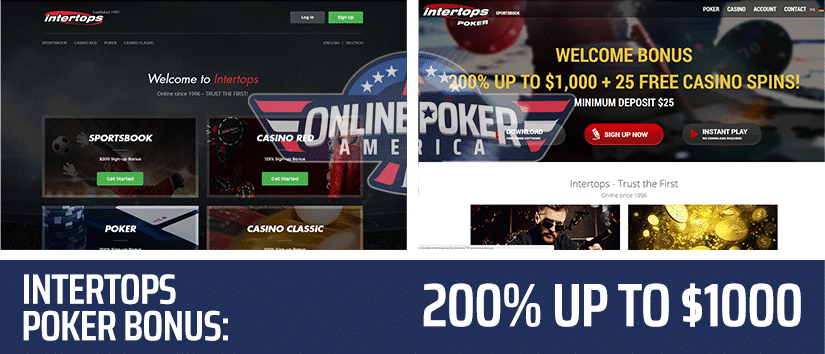 Licensed by Curacao eGaming, Intertops Poker is open to US players and offers a generous welcome bonus for newcomers. The site provides a wide array of cash games, including no-limit hold'em, pot-limit Omaha, and more. It even features one of the rare poker variations called Telesina, although there are not enough people interested in playing it, resulting in low traffic.
Intertops Poker is mainly aimed at people who like to play with low and mid-stakes. It comes with dedicated desktop software that offers great functionality and a smooth online poker experience.
---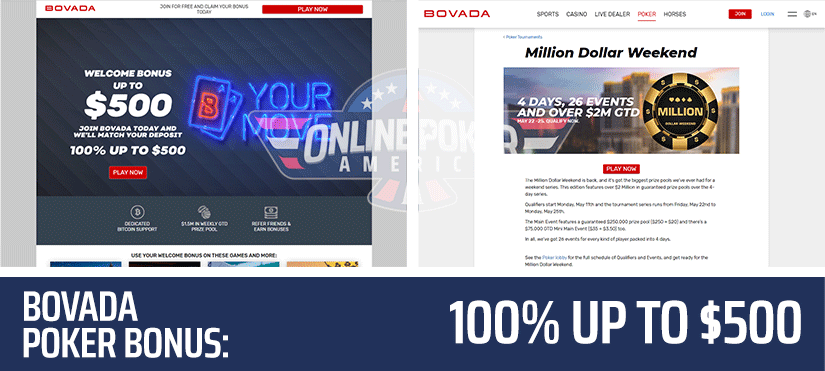 Bovada is an online poker platform that managed to win the hearts of many poker lovers from the US with its unique offer. It has been successfully operating since 2004, but many wonder is Bovada poker legal in the US?
Well, the platform does struggle to find an adequate license in order to operate legally. That's why the site puts on additional effort to make all players feel great and not lose their trust. Therefore, US poker enthusiasts are free to join this site and participate in great cash games and tournaments.
Just like BetOnline, Bovada also offers other gambling options, including sports betting, horses, casino, and live dealer casino.
Many players who are members of Bovada also know about Bodog Poker (USA), as Bodog is a sister site to Bovada. However, the Bodog isn't available to US players at the moment.
---

Juicy Stakes Poker is another top US poker site endorsed by the community and frequented by players who don't mind playing with fewer players at a time. Juicy Stakes is part of the Horizon Poker Network, which they share with Intertops Poker to boost liquidity further, a trick they have coined and the onshore industry has readily borrowed.
Тhe card room comes with many deposit options and you can arguably start playing for as little as $5. The welcome bonus offers a better-matched rate to most online poker sites in the US – 200% up to $1,000.
In terms of the bonus' rakeback value, cash games will amount to around 28% and if you play Sit & Go's or Multi-Table Tournaments, you can expect around 21% rakeback. The bonus will be cleared at $5 installments in exchange for FFP points you have earned at the poker site. Juicy Stakes now offers a 36% rakeback deal.
In terms of traffic, Juicy Stakes offers a decent number of players, usually around 250 in peak hours. The site has also been in business for over 10 years now to establish a trustworthy track record.
Juicy Stakes Poker has introduced a touched-up user interface that fully meets the expectations of even the fussiest players, and not least, the online poker site runs Daily Freerolls up to $100 from Monday through Sunday.
---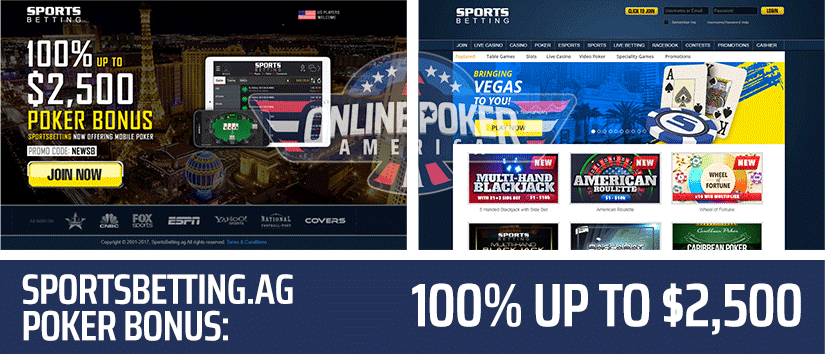 SportsBetting Poker is similar to BetOnline in execution, but it has spawned its own unique online poker ecosystem. The card room runs an extensive number of promotions, including a 100% first deposit poker bonus, $10,000 in Weekly Cash Races, a $150,000 Guaranteed Event, and a $1 million windfall jackpot. Plus, there is a Weekly Sit & Go.
The website is touted as the best place to play if you are looking to use a credit or debit card to make your deposits and withdrawals. It's argued that you can clear your bonus at a rate of $2-$3 per hour, which is above average for most industry leaders. The numbers apply to $1 NL games, which is decent and accessible.
NL Hold'em games start at $0.01/$0.02 and go all the way up to $5/$10. There are other viable game versions to try such as Limit Hold'em, Omaha, 7-Card Stud, American, and 32 Draw. Bitcoin payouts usually take up to 24 hours to complete, which is slightly better than other card rooms.
The site also uses its own network developed to the particular preferences of the community. The card room also offers the so-called Mission Grinders which allow you to unlock Freeroll tournaments. By all industry standards, SportsBetting.ag Poker is one of the top poker sites in the USA right now.
---
Best Online Poker Sites on Reddit
I follow many Reddit online poker subreddits to check other people's opinions about platforms available in the US.
For example, in this thread, a user wanted to find more about the best poker sites for US players (Reddit). Most users agreed that Americas Cardroom seems like the best option, even though they had several complaints about the site.
Then, there's this mega-thread where you can find a list of all the best US poker sites 2020. Needless to say, the ones I selected as my personal favorites could be found on the list.
Finally, another similar question popped up in a Reddit thread, and the majority of responses suggested these three sites: America's Cardroom, Global Poker, and Ignition.
Mobile Poker Sites: USA
Professional poker players who rely on multi-tabling and use many additional tools consider mobile poker redundant. However, casual players love playing cards on the go.
There are two ways to play poker on your mobile device: installing an app or using your mobile browser.
Mobile Browser-Based Online Poker
Many online poker sites are developed with mobile users in mind. Therefore, designers immediately create mobile versions, and developers make sure that sites are responsive. Therefore, when you load a poker platform in your mobile browser, you'll get a small-screen version of the site where you can enjoy playing cash games and tournaments.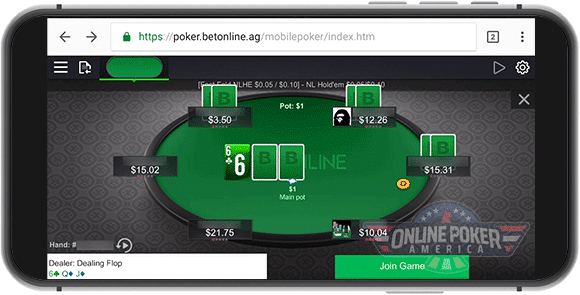 Mobile Poker Apps
Some of the best US online poker sites also offer dedicated apps for mobile users. You have to download them from the App Store if you're an iPhone user or download an .apk file if you own an Android device.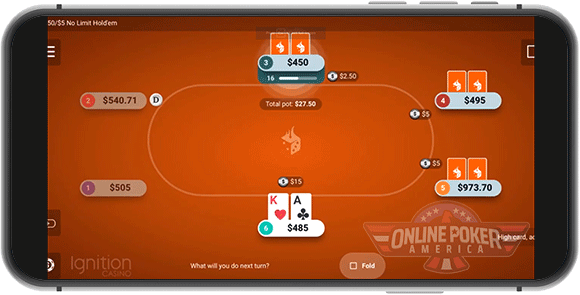 Is it better to play browser-based poker or to download an app? Well, I'll leave that up to you, as it's really a matter of personal preference.
In my experience, some of the best online poker apps for real money (regardless of the way you can access them on your mobile device) are:
US Deposit Options
To play real-money poker, first, you need to make a deposit. Online poker platforms usually accept a wide array of payment options, but you might find some of them better than others. I tested all there is, including cryptocurrencies, credit cards, cash transfers, checks, e-wallets, and more. Here's a short introduction to the most popular ones — choose wisely!
Bitcoin is the most popular cryptocurrency at the moment, and thousands of poker players in the US love using it as their primary banking method. All transactions are secure, anonymous, and instant (at least when depositing). The majority of USA-facing poker sites feature BTC due to its growing popularity. Some even accept other cryptocurrencies, such as Ethereum, Bitcoin Cash, Litecoin, and more.
Credit/Debit Cards
Credit cards are fast, safe, and affordable. However, one of the most significant disadvantages is that transactions are often declined. Simply put, some sites have better credit card processors than others, and the rule of thumb is that the sites that have been the longest in the business have the best processors.
The four popular cards used by US players are:
Visa – The most popular of the four, Visa is issued by banks and is available as credit, debit, and prepaid card.
Mastercard – Mastercard works similarly to Visa, and it's usually its biggest competitor.
Amex – American Express cards don't have to be issued by the bank, which makes them unique. The problem is that Amex has somewhat higher fees compared to its competitors.
Discover – Discover is another great option, although much less popular than the other mentioned cards. Therefore, the number of poker sites accepting Discover is smaller.
Cash Transfer
Cash transfer requires you to visit WU or MG stations or use their websites. This type of payment is available on many US online poker platforms and is popular among players, as they can pick up cash at a kiosk without waiting too long. The only downside is that the fees are too high.
Cashier Check
Cashier checks gained popularity in the post-UIGEA era when e-wallet payments were banned. Nowadays, they are not as common, but they have 100% success rates and minimal fees, making them appealing to some players.
PayPal is a highly regulated payment method. It is usually accepted by the licensed and regulated sites within the US, such as 888 Poker, PokerStars, and WSOP.com. In other words, offshore-regulated poker platforms usually don't accept this option. Therefore, when looking for a PayPal poker USA, 70 players out of 100 end up choosing another method, as the selection of sites is limited.
Is Online Poker Legal in the US?
Online poker is currently illegal in all the states where this type of activity is not regulated. Only five states legalized poker on the web — Delaware, New Jersey, Nevada, Pennsylvania, and Michigan. However, players from other states are still free to join offshore-licensed poker sites and take part in online poker games. Many players still have #1 enemy that they think prevents them from enjoying online poker — UIGEA.
Fully Regulated Poker States
Poker States Being Regulated
UIGEA Explained
UIGEA stands for the Unlawful Internet Gambling Enforcement Act of 2006. It's exactly what it says it is. This legislative piece aims to prevent online gambling businesses from accepting wagers over the internet. Essentially, it just states that online gambling sites are not allowed to accept payments from users who want to engage in unlawful Internet gambling.
Why It Happened
Before UIGEA, the only active legislation related to online gambling was the Federal Wire Act from 1961. It was created with older telecommunications in mind, and the lawmakers decided to update the act in 2002, stating that it doesn't prohibit online gambling. After that, all hell broke loose in the US gambling industry that needed to be regulated somehow. Enter UIGEA.
UIGEA was passed under suspicious conditions, with many lawmakers claiming that they've never actually had an opportunity to read the act. It was presented as something else, entirely unrelated to online gambling, which resulted in outrage among some prominent politicians.
Its Effects on Online Poker
As soon as UIGEA was passed, many online poker platforms decided to withdraw their services to US citizens. Nobody was happy with that, as operators lost a huge portion of the market, and players had fewer sites to choose from. Nevertheless, some of the operators decided to stay and take their chances.
How Does It Affect Me?
Right now, things seem relatively stable. Apart from a handful of sites licensed by US-based gambling commissions, there are plenty of offshore-licensed sites that offer their services to almost every state in the US. However, you should try to stay up-to-date with the latest legal changes in the world of US online poker as much as possible in order to avoid any potential upcoming catastrophes, like Black Friday.
How Black Friday Redefined Online Poker — Biggest Illegal Poker Businesses Busted
When a poker player hears the words "Black Friday," incredible sales and full shopping carts aren't what they think of. Instead, they think about April 15, 2011. It's the day when the US Department of Justice decided to take action against online poker operators — PokerStars, Full Tilt Poker, and Absolute Poker.
The DoJ unsealed an indictment against the executives of these platforms. The 52-pager wasn't particularly friendly towards them, and there was even a civil complaint against the three platforms. All in all, executives faced years in prison and $3 billion out of their pockets. Ouch!
What's the Status of US Poker Right Now?
Right now, things seem relatively stable. US poker players don't have to worry about illegal poker sites anymore, especially those living in Delaware, Pennsylvania, Michigan, New Jersey, and Nevada. However, if you're not in one of these states, you'll still be able to play on sites that are currently in the grey legal area — the offshore online poker sites.
US Poker Platforms (Regulated)
These sites are licensed and regulated by US regulators and are entirely legal in some states. The current leaders are Party Poker USA and 888 Poker USA. Joining US-licensed platforms means you'll be able to play poker in a safe and secure environment, without worrying about the legal aspect too much.
There are a number of regulatory commissions that have been formed to govern online poker websites in the US, both within and outside the United States. I strongly suggest you familiarize yourself with them before you start playing.
Offshore Poker Sites (Regulated)
Offshore sites are licensed by international regulators, such as the ones from Malta, Curacao, or Panama.
Most of these sites are entirely legal and reputable, offering even better services compared to the US-licensed ones. In fact, I dare say that some of the best sites for US poker players are actually offshore. Therefore, if you're searching for the best poker gambling sites, don't exclude those licensed outside of the US. Instead, start with offshore online poker platforms first.
However, you should also know which sites you need to avoid. In fact, here's a short list of sites that are blacklisted in many countries:

21 Nova
Linked to cPays Group
Bad reputation
Payout issues

SWC Poker
Founder arrested
Suspicious activity
Bitcoin Only

PayNoRake
Mass complaints
Late payments
Huge fees

OddsPoker
Unreliable practices
Bad reputation
Unsecure

Absolute Poker
Black Friday
Money laundering
Fixed games

CardSpike
Suspicious site
Bad customer service
Fails to payout
New Additions (Updated September 2023)
64Spades.com
BetCoin.ag
CarbonPoker.ag
CoinPoker.com
CryptoPokerClub.io
GlobalPoker.com
OddsPoker.ag
PlayersOnly.ag
PokerBoom.online
SportsBook.ag
SuperBook.com
YouWager.eu
Legal US Poker Sites
What are legal online poker sites for US players anyway? Are the ones licensed by offshore regulators illegal? No, they aren't. They belong to the gray area, and you're perfectly free to join them.
Another myth that I need to dispel is that offshore sites are rigged. That's not true, as many offshore regulators are highly reputable in the industry, meaning they cannot allow themselves to license a rigged and untrustworthy poker platform. Moreover, offshore sites are regularly audited for fairness by independent companies. That's why some of the top legal US poker sites are actually licensed outside of the country.
Where Can US Players Play Online Poker Now?
To sum up the past couple of sections, players from the US have plenty of sites to choose from. Players living in one of the four states where online poker is legal have a slightly wider choice of platforms, and that's all. On the other hand, players living in other states can access offshore sites and participate in some of the biggest online cash games and tournaments.
The Best Poker Training Sites
If you're new to the world of online poker and are looking for high-quality poker training, there are several online poker training sites that I would like to recommend.
Hardest Poker Sites in the USA
Hard poker sites are the ones where it's difficult to play poker and win, especially if you're new to the game. Contrary to popular belief, having a huge player pool and great traffic isn't always good, as new players often become victims to "poker sharks."
The hardest poker sites at the moment are PokerStars, 888poker, and partypoker. You might get a chance to meet some of the online poker legends if you join one of these sites, but don't hope to achieve significant results right away. It's hard!
USA's Softest Poker Sites (2020)
Top US-friendly poker sites that are regarded as softest are Bet Online (ranks #1 in this category), Bovada, Americas Cardroom, Interops, Ignition Casino, and Juicy Stakes.
How exactly are these platforms the softest online poker sites? Simply put, they have an ideal amount of traffic and a perfect mix of experienced and inexperienced players. I wouldn't dare call them the fishiest poker sites, but if you're looking for your share of fish, you can find it there. Moreover, many of these platforms are loose poker sites, and if you're an experienced player, you'll know exactly what to do.
Moreover, these are great if you're completely new to the game, as you can find many great cash games and tournaments featuring other newcomers. I've summarized the main reasons why they outshine other card rooms below.

1
Great overall variety of games and tournaments
Keeping a busy tournament schedule is important. Whether it's weekly leaderboards or weekend big showdowns, having a good base line of guaranteed prize money every week helps. Most top US poker sites offer between $1 and $3 million in GTD cash prizes on weekends.


2
Bigger traffic at most times of the day
Card rooms must have enough players to support comfortable pace with zero wait times, and offshore sites that accept American players meet this industry standard, housing between 300 and 2,000 players.


3
Weekly freerolls and many satellite events
There are many freeroll tournaments to participate in. Some card rooms have around 4 or 5 weekly events you can join, and all big tournaments run many satellite events to win a buy-in package without spending your own money.


4
Available to players from most states and jurisdictions
The best online poker sites outside the US accept players from nearly all 50 states with very few, situational exceptions.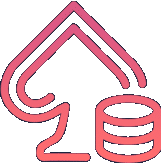 5
A well-stacked portfolio of daily and weekly promotions
Players from the US can expect to find Sit & Go Leaderboards, Mission Grinders, Bad Beat Jackpots, and over $3 million in individual tournaments held weekly.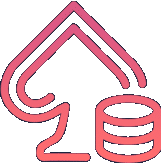 Resources/Further Reading
FAQ