Global Poker New Player Bonus
SC$1,000
Freeroll
Verified Bonus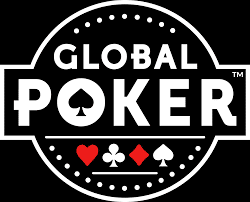 Welcome Bonus:
SC$1,000 Freeroll
Verified Bonus
Established:

2017

Licensed and Regulated:

Malta's Gaming Authority

Compatible On:

Windows, Mac, Android devices, iPhone, iPad

Game Store Payment Options:

Debit and Credit Cards
Interesting currency system and good reward schemes but still a young poker site with improvements to be made.
Global Poker provides excellent opportunities for US-based players who want to play for decent prize pools. The overall player base of the website tends to exceed what you'll find in states, such as Nevada and New Jersey, allowing true poker fans to quickly develop their bankroll. Global Poker is a smart choice for play money and definitely well worth a try.
What we liked?
US players accepted
Credit Card payments accepted
Interesting and rewarding loyalty currency exchange system
What we disliked?
PayPal payment option recently removed
Global Poker is a recently-launched cardroom with an innovative approach to online poker, allowing the operator to carve a place for itself in a highly-competitive and regulated market. Owing to its Malta Gaming Authority license and unique use of their proprietary $weeps Cash system, the operator is able to provide players with a secure online playing environment, resulting in quick cash outs and variety of gaming options. In our dedicated Global poker review, we explore all major aspects of the cardroom's offer, including:
Security
Platform
Game selection
Business model
Customer support
Players from around the world are able to play at Global Poker by using Gold Coins or $sweeps Cash
(if you re from Canada and the US) by participating in many different formats, including Texas,
Hold'm, Omaha, ring games and the quick Sit & Go competitions.
Security
Global Poker is one of the handful of licensed online poker rooms where you can play fully-secure and vetted games & tournaments. Launched in 2017, the operator has managed to obtain a certification from the Malta Gaming Authority (MGA), a respected international authority that issues gaming licenses.
The website complies with the latest web security and data encryption standards, using SSL protocols to guarantee the privacy of the information you submit. As a licensed operator, Global Poker is obliged by law to look into your source of wealth as well as confirm your identity, part of the broader Know You Customer (KYC) provision.
Software and Game Selection
Global Poker uses a new way of executing financial transactions whereby the operator employs a digital currency called Gold Coins, similar to "play money" found at other operators.
There's another currency known as $weeps Cash which only applies to customers living in the United States and Canada, which effectively makes Global Poker one of the few cardrooms that can operate legally in the United States. To obtain $weep Cash, customers need to buy Gold Coins. You can obtain the necessary currency and start playing directly in your browser.
$weep Cash is used to buy entry into certain competitions, including ring games and tournaments, which will reward players with the same currency. $weep Cash will very likely be the main currency you'll use at the operator, although you can opt for Gold Coins for the tournament and daily competitions available with it. The model has helped Global Poker establish a vibrant player base, ranging anything between 300 and 1,200 people, depending on the time of the day and region you play from.
Types of Poker
There are several available choices to pick from at Global Poker. In our review, we examine all. Texas Hold'em still holds a leadership position as the most preferred title, with the stakes ranging from SC$0.02 to $0.04 all the way up to SC$10/$20 for the Fixed-Limit tables. The stakes for the No-Limit Hold'em games are fairly similar. Please note that all values indicated in this review stand for $weep Cash dollars.
Global Poker hasn't yet introduced enough Omaha versions on its platform. The only version available at this moment is pot-limit Omaha. Nevertheless, there are Omaha PO games around the clock with the stakes coinciding with those of Texas Hold'em Fixed and No-Limit games.
There's another poker concept available at Global Poker – Crazy Pineapple. Played with 52-card deck, the game can be played by two or more players. It must be noted that Crazy Pineapple cannot be played for $weep Cash.
Tournaments
Tournaments at Global Poker run both on weekdays and weekends with a new competition available every half an hour. The buy-ins vary from SC$0.11 to SC$110 depending on the prize pool and type of event. You can compete either for $weep cash or join Gold Coin (GC) competitions.
Prize Pools & Buy-ins
The majority of events focus on smaller prize pools, which range from SC$250 to SC$1,500. On weekends, you may want to look out for the Sunday Scrimmage SC$50,000 Guaranteed Deep event with a buy-in of SC$218. There are multiple satellite events with smaller buy-ins available as well.
At Global Poker you can pick from multi-table tournaments and single-table events available for both NLHE and Omaha PO.
Sit & Go's
If you are looking for even more action, you can choose the Sit & Go competitions which also come in various formats. The Sit & Go buy-ins vary between SC$0.5 and SC$200. The tournaments are also set up at a quicker pace, allowing you to choose from Turbo and Hyper Turbo.
Sit & Go's are most commonly played in six-player format, with the occasional nine-player format. Interestingly enough, there're some tables that can host up to as many as 27 participants.
Promotions and Bonuses
While reviewing Global Poker, we've established that the operator doesn't offer promotions as such. However, Global Poker is very flexible when it comes to buy-ins, satellite events and guaranteed prize money.
While there aren't any six-figures prize pools at Global Poker yet, the medium-sized events are plenty and generous enough to allow any player of merit and understanding of the game to progress with little to no expense to their bankroll.
Customer Support
Customer support at Global Poker has proven trustworthy and reliable. Available via e-mail at support@globalpoker.com, the cardroom offers to troubleshoot any problem that you might have. E-mails are processed 24/7, 365 so you can submit your petition and expect a quick solution.
If you are interested in investigating an issue yourself, you can go to the How to Play, FAQ, and Card Room Rules where a lot of questions have already been answered.
Is Global Poker Legal in the United States?
Global Poker is one of the few unique and legit brands that cater to Canadian and US citizens. The website is licensed by the Malta Gaming Authority (MGA) and it accepts customers from both Canada and the US who can use a special currency known as $weep Cash to play and cash out. Players from around the world are welcome and accepted.
As a licensed operator, Global Poker is bound by the provisions of its certification to provide customers with safeguards against third-parties seeking to acquire personal information. The website uses calibrated and optimized protocols to keep your data safe.
Should I Try Global Poker?
If you are wondering whether you should play here, consider the generous number of tournaments and events that come with generous overall prize pools.
Is There Global Poker Welcome Bonus?
Global Poker doesn't offer a welcome bonus presently. However, the cardroom allows you to compete in various competitions that come with cheap buy-ins and generous bounty.
How Many People Play on Global Poker?
Numbers fluctuate, but Global Poker has established a healthy population between 300 and 1,200 people at any given time of the day. The poker action continues 24/7.