Overview Today Delaware stands tall as one of the greatest online gambling venues in the United States, having successfully fought for its right to cater to US' finest card players in history. Date of legalization 06-28-2013 Online population 500+ players (estimated) Legal age to play online poker 21 Who signed online poker into law Former Delaware Governor […]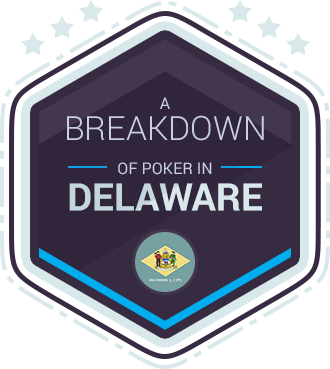 Overview
Today Delaware stands tall as one of the greatest online gambling venues in the United States, having successfully fought for its right to cater to US' finest card players in history.
| | |
| --- | --- |
| Date of legalization | 06-28-2013 |
| Online population | 500+ players (estimated) |
| Legal age to play online poker | 21 |
| Who signed online poker into law | Former Delaware Governor Jack Markell |
| Online poker bill ID | Delaware Gaming Competitiveness Act |
| Online poker sites that accept players from Delaware: | |
Best Online Poker Sites for Delaware
America's Top Rated
1

BetOnline.ag
Features
Trusted by US Players Since 2001
Huge Bad Beat Jackpots
Fully Licensed and Regulated
Exclusive Bonus
100% up to $1000
2

Ignition Poker
Exclusive Bonus
150% up to $1500
3

Americas Cardroom
Exclusive Bonus
100% up to $1000
4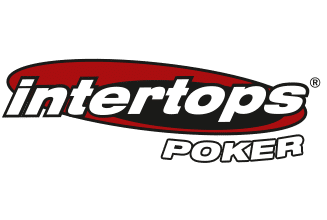 Intertops Poker
Exclusive Bonus
200% up to $1000
5

Bovada
Exclusive Bonus
100% up to $500
6

Juicy Stakes
Exclusive Bonus
200% up to $1000
7

Sportsbetting.ag
Exclusive Bonus
100% up to $2500
US State, abbreviated "
DE
"
Fully Regulated
Population

:

0.95 million

Legal Online Poker Age

:

21

Legal Poker Room Age

:

21

Capital

:

Dover

Lieutenant Governor

:

Bethany Hall-Long (D)
Delaware Gambling Laws
Every single US state has its own laws relating to gambling which are put in place by those who govern the state. Online poker in Delaware is subject to the state's law in exactly the same way as all other forms of gambling in The First State. There's more than simple lawmaking to consider here. We have looked into all defining aspects of the experience, including:
Regulated online poker websites in Delaware
Offshore alternatives with great player pools
Tournaments and bonuses available to DE players
Leave yourself in our expert hands and find out all you need about online poker in Delaware, including where you can play online, what the legal age is, where the biggest tournaments are and what cardrooms you should choose over others.
Delaware Online Poker: A Brief Overview
The good news for US poker players is that playing online poker within the state of Delaware is completely legal and fully regulated, so there will be absolutely no problems facing players who choose to use poker rooms such as Delaware Park Poker Casino.
Delaware's poker history at a glance:
The second state to pass online poker laws
Part of the shared liquidity with NJ, NV, PA
Over 500 people join online poker rooms in DE
The law has been such in Delaware since 2012 when the state followed in the footsteps of Nevada and became the second US state to totally legalize online poker.
The state of Delaware is one of several now in the US which recognizes the importance of online poker and other forms of gambling for its economy.
It is this liberal attitude towards poker in particular is excellent for players who can play the game at a host of legal poker sites with no fear of criminal proceedings being launched against them.
Delaware Online Poker Bonuses
Online bonuses in Delaware for poker aficionados are quite popular. You will find quite a few offers available at the three most popular venues where the game is practiced:
Land-based properties
Certified DE websites
Offshore operators
The main operator, 888 Poker, is offering $88 in free no deposit bonus to anyone who plays from Delaware or any of the other legal websites in the US.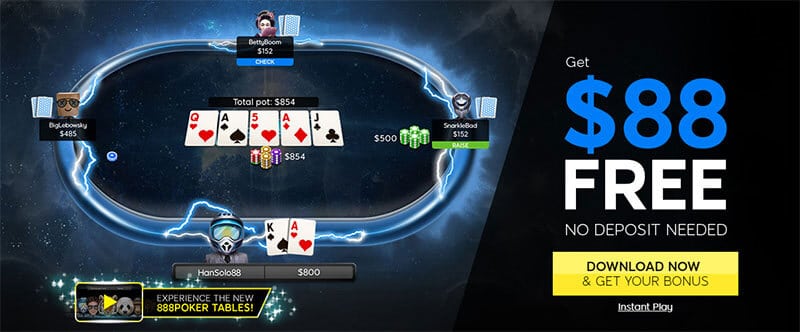 The offshore industry usually offers the biggest lump sum bonuses, but there is less certainty whether everything will go according to plan. Payment delays are not uncommon, although, if you withdraw money regularly, you shouldn't have much in the way of trouble.
We really enjoy the professional look that legalized online poker sites in DE have and all things considered – such considerations do offer us a little more security and confidence when making a deposit.
Online Poker Tournaments in DE: 888 Poker

As the main and only provider of online poker options in the state, insofar as legal options are concerned, 888 Poker has an overwhelming array of options both in terms of tournaments and available online games.
The 888 Poker USA Tournaments are available in a separate tab of their website and they are available for Delaware customers, allowing players from the state to qualify for the World Series of Poker (WSOP) Main Event held in-person.
A great variety of out-of-season tournaments await and you can play select options each and every day, including:
Poker BLAST
MTTs
Sit & GO's
Multi Hand
Thanks to the professionally-made poker suite, DE players often choose to be part of the online action and play with others over the Internet.
Online & Live Poker Tournament in DE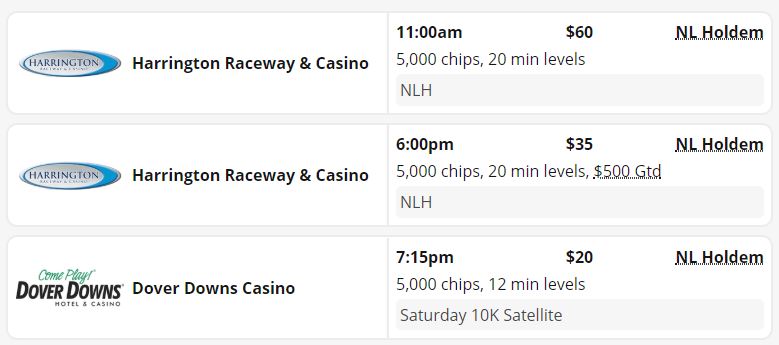 Despite its modest population, Delaware is one of the most active venues for poker tournaments played on-site and online, with the state's own players signing up for 888 and WSOP's daily and weekly big cash games.
The Eastern PA & DE area offer the highest concentration of live games.
The majority of tournaments is played on No-limit Hold'em with around 10-15 games taking places every day of varying limits. The main live poker venues in the area include established properties which run tournaments around the clock, week in and week out:
Dover Downs Casino
SugarHouse Casino
Harrington Raceway Casino & others
There are other properties to consider as well available in the area, which are generally accessible by car, but you might want to play the trip beforehand and make sure you will be participating in an event that can potentially pay off.
Of course, recreational trips to play poker are also very welcome and they keep the spirit of the community going.
Delaware Gambling Regulations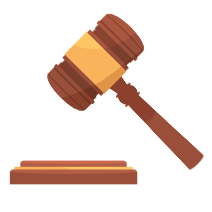 All gambling legislation in Delaware is controlled and maintained by the Delaware Division of Gaming Enforcement (DGE), which falls under the Department of Safety and Homeland Security and is comprised of a mixture of civilian and sworn investigators. This team reports to the Director.
You will find that all online poker and iGaming in the state of Delaware is actually managed by the Delaware Lottery Company that has appointed 888 Holdings and Scientific Games Corporation to be its provider of online gambling services.
This means that the state's racetrack casino (racino) sites are branded with their own logo, but the games are actually all Delaware Lottery games. The three casinos currently operating in Delaware legally are:
Delaware Park
Dover Downs
Harrington Raceway
They all run on 888 Poker software suite. It may be unusual to have one single provider, but it actually keeps the system uniform and helps to maintain the integrity of user experience for players, regardless of which site they choose to play on. Another benefit of choosing Delaware Lottery as the provider is that since 888 are the backbone of the WSOP, they will have a presence in all four regulated states:
Due to the small population of Delaware, a fully regulated and state-controlled poker room is not yet being considered and is unlikely to ever materialize. There are plans to create poker games that are fully regulated, but these have not yet progressed past the discussion phase.
Delaware Online Poker
Players of online poker in Delaware can rejoice thanks to the game being one hundred percent legal in the state. The state actually blazed a trail for others to follow when it joined Nevada as a front runner in terms of gambling legislation. As well as online poker, it became legal to play other engaging segments, such as:
Online slots
Roulette
Blackjack
Other casino games
Understandably, land-based and iGaming options were made available to locals and visitors. Delaware actually became the first state in the US to offer a full choice of online casino games that were completely legal for all residents and visitors.
But enough about history now.
If you are playing online poker in Delaware it is perfectly legal whether you are a full-time resident of the state or are simply just visiting. Using Delaware-based gambling sites from outside the state is a whole different thing altogether and the laws in the territory where you are connected to the Internet would apply.

There are a handful of provisions that all operators must meet in order to provide you with legal online poker options in Delaware, including:
Geo-location tracking software
Self-exclusion options
Underage gambling prevention
There's a comprehensive list of rules and regulations that apply in each individual case that can be accessed at the Delaware Lottery's official user-friendly website.
It is important to remember that, as with many states, the laws in Delaware are subject to change and this can happen at any time. New legislation can be passed or there can be high court rulings which change current gambling law. It is worth checking for any changes which may affect you.
Thankfully, we always keep you caught up on the latest regulatory changes in Delaware's online poker and beyond.
The Interstate Poker Compact

In February 2014, in the hope that more US states would legalize and regulate online poker, Delaware Governor Jack Markell and Nevada Governor Brian Sandoval signed an interstate poker compact which allowed players from both states to play against each other. Thus, the shared liquidity was born in the United States, with New Jersey joining only later.
The creation of a joint prizing pools has been instrumental to creating a series of gaming experience beyond poker, that guarantee a solid financial windfall to date. The sharing of funds and player bases has had its definitive upsides:
More available online poker tables
Bigger prize pools
Larger online poker community
The compact has expanded by quite a bit today. It's a historic event for the online gambling community, but for online poker to truly flourish other smaller states will now also need to sign the interstate poker compact which will increase the player base exponentially.
"[We] both share the goal of ensuring that our states' gaming industries are as competitive as they can be, while ensuring that games are conducted fairly, honestly, and securely."
The compact between the two states was a historic event to the web gambling community, but for online poker to truly flourish other smaller states must also sign the interstate poker compact which will increase the player base.
The Effects of a Shared Market
Just as Delaware Gov. Jack Markel predicted, there were immediate signs of success after the compact became active due to the increase in network.
Delaware online poker activity soared during the first day of sharing to an average of 150 players and a peak of 313 players. According to PokerScout, the previous statistics showed an average of 7 players and peak of 20-30 players daily.
Things have improved even more in 2019 with the system registering over 500 players during peak times:

After the Interstate Poker Compact was initiated, Delaware players were able to connect with Nevada players through any of the racino sites via a platform powered by 888.
Online poker players located in Delaware no longer have to suffer with minimal tables running, they now have access to potentially the largest online poker network in the country. Hopefully this will also apply to networking with other states such as New Jersey in the future.
A Final Thought on Shared Liquidity Before Pennsylvania
In summary, the rules are now very simple:
To play, competitors must be aged 21, have an Internet connection and access to funds for deposits.
As long as you're physically situated in Delaware, regardless of whether you're a resident or a visitor, you're eligible to open an account with Delaware Park, Dover Downs, or Harrington Raceway.
The shared liquidity allows you to collaborate with players from the two other legal states. West Virginia has just made significant leeway in passing its own draft house bill, awaiting the governor's approval to sign it into law.
Pennsylvania is also on the cusp of joining the shared liquidity scheme and bring a decent player base with it, expanding the online poker network in the US.
Possible Complications for Online Poker Because of the Wire Act Decision?
Delaware has been quite the trailblazer, setting example for other smaller states, and ultimately proving that lack of local player base can be easily overcome by forging smart alliances and building land-based properties in places where players from neighboring states can visit.
It has all paid off and if DE is successful today, it is partly owing to the shared-liquidity scheme. The rescinded Wire Act decision, however, is threatening to change that. In January, 2019, U.S. Attorney General Rod Rosenstein signed a re-visited Wire Act Opinion which now threats to clamp down on all inter-state gaming.
Though the original opinion was scheduled for April, the united front that states and lawmakers have made the Department of Justice (DOJ) slightly less determined, pushing the deadline back to June 14 instead.
Can a worst-case scenario predicated on the Wire Act Opinion affect Delaware? It most certainly can:
The state's share-liquidity scheme could disappear
Legal online poker could be shut down once again
DE's lottery could also be targeted by DOJ
Gambling addiction help could worsen
State revenue could fall
There are several scenarios that spell a rather negative outcome for the industry. The silver lining here is that there has already been a strong opposition coming from several states bodies as well private groups.
History of Gambling in Delaware
Gambling in Delaware first began in the 1700s. It was quite popular, but not legal. There was no legality to any form of gambling or betting until the 20th century when in 1930 pari-mutuel betting became legal. There was no legal lottery until the 1970s and casino-based gaming at racetracks followed in around 2010.
Delaware gathered a lot of momentum despite two earth-shattering events, including the passing of UEIGA and later the Black Friday debacle of April 15, 2011 when the online poker industry was officially shut down on a federal level. Payment providers scurried, banks blacklisted transactions and websites collapsed. And yet, Delaware found a way back only one year later.
Delaware Gambling Law
Here is a key passage from the gambling law of Delaware which may be of interest:
Art. 2, § 17. Lotteries and other gambling.
All forms of gambling are prohibited in this State except the following:
(a) Lotteries under State control for the purpose of raising funds,
(b) Lotteries (other than slot machines, roulette, craps and baccarat games) provided that each is sponsored and conducted under the limitations of Section 17B by companies, organizations or societies which have been in existence for at least 2 years; provided, however, that no person who shall not have attained the age of 18 years shall participate in any lottery (where money is the prize) otherwise authorized by the article,
(c) Wagering or betting by the use of pari-mutuel machines or totalizators on horse races conducted at racetracks within or without the State, provided that such wagering or betting may be conducted only either:
(1) within the enclosure of any racetrack licensed under the laws of the State to conduct a race meeting, or (2) within the enclosure of any racetrack licensed under the laws of the State to receive and accept wagers or bets on electronically televised simulcasts of horse races.
(d) Bingo games as conducted under the limitations of Section 17A.
Legal Gambling Age in Delaware
The legal gambling age for individuals who reside in Delaware is 18 for those who wish to participate in the lottery and pari-mutuel betting, but it is 21 for all casinos and poker rooms, both off- and online.
Delaware Gambling Taxes and Revenues
All gambling institutions, which includes those offering online poker in Delaware, must pay for offering the service. Each operator must pay a yearly license fee of $50,000 and in addition 15.5 percent of their gross revenue.
While this will generate a lot of revenue for the state, it hasn't put a significant dent in Delaware's $400 million fiscal deficit. During the fiscal year of 2017, gambling netted the state a net total of $2.7 million and then was the best year since the legalization of gambling.
Not long after gambling became legal in Delaware, a vote in Congress showed that both parties supported a ban on online gambling. This was mere months after Delaware passed the legislation. Luckily Delaware is still able to offer online gambling in a totally legal way to all players.
Regardless of the revenue from gambling in the state of Delaware being significantly less than in other states such as New Jersey and Nevada, the state makes more money than if it wasn't legal and they support online gambling as well as bricks and mortar casinos within the state.
Legal Poker Sites in Delaware Versus Offshore Sites
Many people in Delaware gambled before the activity became legal in the state. Some used VPNs on their computers in order to circumvent the law. It has been argued that offshore and even out of state gambling websites will steal revenue from the state of Delaware if people continue to use them.

Generally speaking, people prefer to do what's legal and gambling at a Delaware casino is effectively the same as supporting a local business. Because of events such as the interstate poker compact it has been proven that more people are playing at casinos within the state which generates more revenue.
As long as casinos based in Delaware continue to offer great service in terms of available games, payouts and even odds, then there is no concern that the state's industry cannot continue to flourish.
Other Forms of Legal Gambling in Delaware
Delaware also has a state lottery which is completely legal as well as the very popular Delaware Sports Lottery which generates almost half of its revenue during the few months of the NFL season. There are three racetrack casinos, also known as 'racinos' and there are legal forms of gambling on horse racing. At the state's three racinos it is also permitted to bet on a variety of other sports, which is something that is exclusive to the state of Delaware. There's is also a limited allowance for any charitable gambling activity.
Keep in Mind
We are not legal professionals so be sure to educate yourself on responsible gambling and consult a lawyer where necessary in applicable matters, using this page only as an opinionated guide.
Common Questions
When was online poker legalized in Delaware?
Online poker in Delaware was legalized on June 28, 2013. Delaware signed the Delaware Gaming Competitiveness Act into law on June 28, 2013, bringing the state into the fold of New Jersey and Nevada that had beat DW to the punch by a few months already
How many players play online poker in Delaware?
On average, 500+ players at any given time.

Delaware is by far the smallest state that hosts online poker and the number of players is supposedly smallest here. Yet, the state has seen a 17% year-over-year increase in Q1, 2019, posting a total of $141,839.78 in revenue.

Representatives have verbally confirmed 500+ on average but the exact number of players is not possible to pinpoint. As of the end of this year the state could well have as many card players as there are in New Jersey and Nevada.
What's the legal age for online poker in Delaware?
In Delaware, the legal age to play online poker is 21. Delaware has aligned its legal age for participation in online poker card room as 21, similar to all other states in the United States. Interestingly, Delaware makes an exception to this if individuals want to participate in bingo games, which are accessible at the age of 18.
Who signed the Delaware online poker bill into law?
Former Delaware Governor Jack Markell signed the Delaware Gaming Competitiveness Act into law on June 28, 2013, allowing online poker rooms to start operating. Later, in 2014, Markell and Nevada counterpart Brian Sandoval brought Nevada and Delaware together by signing a shared liquidity compact designed to boost prize pools for players from both states.
Which poker bill made online poker legal in Delaware?
Delaware Gaming Competitiveness Act.

The legislation that has made it possible for online poker to be accessible to Delaware players is specifically the Delaware Gaming Competitiveness Act signed by Jack Markell. All things considered, the law was rather simpler than most counterparts, establishing some basic guiding principles:
1. Participating players must be at least 21 years of age.
2. Online operators must use geolocalization.
3. All identity, KYC, and verification checks need to be run to confirm the identity of a player.