Sportsbetting Welcome Bonus
100% up to
$2,500
Verified Bonus

Promo Code: NEWSB
100% up to $2,500
Verified Bonus
Minimum Deposit:

$50

Payout Speed:

1-3 days

Established:

1998

Licensed and Regulated:

Panama

Compatible On:

Windows, Mac, Android devices, iPhone, iPad

Deposit Options:

Visa/Master Debit and Credit Cards, Bitcoin, Litecoin, Cheque, Neteller, Skrill, Ecocard, Ukash, Instadebit, Wire Transfer
Of the many reviews we have written for online poker sites, this Sportbetting.ag review took a bit of time not just because of the multi-faceted nature of the parent company but also the vast game selection it offers. Traffic to the Sportsbetting poker site has been steadily increasing and this has seen it rise to be one of the largest online poker sites and powerhouses in the entire industry.
Many Sportsbetting Poker reviews have lauded the site for its well-rounded nature. The Sportsbetting.ag poker platform, in particular, has attracted a lot of customers to the site including those from the US.
Sportbetting.ag poker is part of the Chico Poker Network which wasn't without its own faults. Today, the company is owned by the same brand as BetOnline, which means the tournament offerings have huge prizes and the gaming software rivals that of mainstream operators.
What we liked?
Clear and generous bonus clearance terms
Quick withdrawals
Incredible welcome bonus
Looser games than other operators
What we disliked?
Slightly dated software but technology is nonetheless secure
Before SportsBetting.ag, we have reviewed hundreds of online poker sites in search of the ultimate poker room to recommend to our readers. It was nearly impossible to find one that was nearly as exquisite as SportsBetting Poker. In fact, most online poker sites have tried to emulate them after reviewing the flawless framework they use, and since imitation is the sincerest form of flattery, this only goes to prove that they did things very right.
This sites sustainability has improved immensely in the past few years and this SportsBetting Poker review concurs with all the reviews that acknowledge that the sky is not the limit for this outstanding poker room.
SportsBetting.ag allows players to make deposits using MasterCard, Visa, American Express, MoneyGram, checks, and even the Western Union – of all the online poker sites, this is one of the largest numbers of deposit options we have ever reviewed, and considering the saying "you can never have too much of a good thing," this simply means more choices and flexibility for the players.

All the transactions are processed swiftly and securely – but in some cases, there may be little delays when more stringent security checks are carried to ensure that all your money moves as expected.
SportsBetting.ag Promo Code
Promotional Codes
| | |
| --- | --- |
| SportsBetting.ag bonus code | NEWSB |
| Valid deposits | $50-$1,000 |
| Released in increments | $10/5,000 Comp Points |
| Deadline | 30 DAYS |
| Additional awards | 4 x FREE TICKETS to $2,500 GTD Weekly Sunday New Player Freerolls |
| Claim the bonus | Claim Your Bonus HereE |
Traffic: Keeping Up with the Leaders
In terms of traffic, SportsBetting Poker ranks very well in the United States. The poker room easily brings around 3,000 playersaround the time of major tournaments, and you can regularly see at least 300 people online.
Much of this came after 2016 when the company joined BetOnline and decided to develop a proprietor network, scrapping the somewhat inefficient and clunky Chico Network.
With technical flaws overcome, SportsBetting Poker quickly began gaining steam and it's a premier gaming destination for US gamers


Don't get us wrong, the platform is very plain when you look at it, but the high traffic, excess of fantastic promotions, game limits and regular tournaments make this website one of the best online card rooms you will ever find.
You can join the cash games action by staking as little as $0.50/$1.00 at a time with the top blinds reaching $10/$20. There are even more frugal options, such as the $0.05/$0.10 games.
Game Limits
То spare you some time looking around, we have put together a table with the minimum and maximum game limits available at SportsBetting.ag:
| Game | Minimum Limit | Maximum Limit |
| --- | --- | --- |
| No-Limit Texas Hold'em | $0.05/$0.10 | $10/$20 |
| Fixed-Limit Texas Hold'em | $0.10/$0.20 | $15/$30 |
| Pot-Limit Omaha Hi-Lo | $0.10/$0.25 | $15/$30 |
| Pot-Limit Omaha Hi | $0.10/$0.25 | $15/$30 |
| Fixed-Limit Omaha Hi-Lo | $0.10/$0.20 | $15/$30 |
| NL Texas 6 | $0.05/$0.10 | $10/$20 |
Just as you might expect, the NL Hold'em games constitute the bulk of the portfolio. The low blinds make all games accessible regardless of your preferences, and you can enter a competition with as little as $0.05.
As you browse the other sections, you will discover that the Buy-ins are fixed amounts which, all things considered, are not demanding at all. You can enter any competition for slightly better overall profits.

The choice is quite exciting indeed and here's a quick breakdown of the minimum and maximum Buy-ins depending on the event type:
Tourneys – $1 – $109/Free Roll/Tickets
Sit & Go – $1.50 – $200
Windfall – $3-$30
We will have a look at these in a moment, as they all promise to bring something differ and exciting to the table. In some cases, you will need a ticket, in others the event will be classified as "freeroll".
Game Variants and Tournaments
Poker fans will find themselves in a sea of options. SportsBetting Poker's platform offers anything from Tourneys to Sit & Go's, to Windfall. You can choose whether you want to play for "real money" or try your luck sticking to "play money" instead.
Even more interestingly, each main category is subdivided into more specific types of play, which allows you to choose from:
Regular
Guaranteed
Freeroll
Satellites
Events

There is lots of poker action going on across the entire platform and it is entirely up to you to make up your mind where you want to start.
Tourneys

There is no shortage of excellent competitive options when you choose Tourneys. If you are like us and want to crown your week with intense and high-yielding gaming sessions yourself, the Sit & Go's simply won't do. That's why you go to Tourney and click on the Events tab which will reveal the highlights of the week:
Sunday Second Chance $40,000 GTD – $109 – $40,000
SUNDAY MAIN EVENT: $50,000 GTD – $109 – $80,000
Sunday Warm Up $25,000 GTD – $55 – $25,000
Saturday Min Event $20,000 GTD – $55 – $20,000
SportsBetting Poker's tournament events work like clockwork and you can enjoy them every weekend on the dot. There are lots of satellite events you can join to get a free-entry at one of the big tournaments taking place during the weekend.
Sit & Go's Will Keep You Busy
The Sit & Go's will always be busy. Even in off-traffic hours, we saw dozens of games running at full blast with the games varying between 2 and 10 people at a time.
These games are geared for players who are prepared to spend a little more on their starting poker capital. The entry level here is $1.50 per game and you can go all the way up to $200.
There are single and multi-table events which allows you to have even bigger say in the type of game you want to play with.

If you want to qualify for the weekend events the Sit & Go's are your best shot, plus there is a solid profit margin for you in the process.
Windfall Sit'N Go's: Quick Play, Solid Payout
Windfall games are quick play versions of the popular games. They take very little time to complete and are fit for 3 players at a time. The blind levels change very quickly and the gameplay is what you would expect from a turbo game.
The prize pool is also assigned randomly though the big money will appear less often as the prize pool. Most often, you will play for two times your original stake.

The games multipliers range between 2 and 2,000. The frequency of the 2,000 is 1 in 100,000, though, but if you hit it, the minimum amount you can walk away from a table is $300, assuming you play with the minimum bet. Conversely, if you play with $30, you stand to play for up to $60,000.
Software & Platform
SportsBetting.ag Poker has quit on the Chico Poker Network to create a proprietor software that allows it to offer cutting-edge poker solutions. The poker games are accessible via an instant-play web-based version that works on a wide range of devices so long as they are flash-enabled which is the case for nearly all computing devices at the moment.

Alternatively, players can choose to use the downloadable clients built and optimized for Mac and PC. On the same note, mobile gaming is also supported for iOS, Android, Windows and even Blackberry devices with gaming performance being well above the regular offering of other online poker sites.
Of all these access methods, there is a user-interface which is probably one of the special highlights of this SportsBetting.ag poker review. The interface is laced with pure elegance and navigating through the pages of the website has never been simpler.
On the SportsBetting.ag's poker lobby, players get to effortlessly choose from a wide range of popular poker games as well as a number of exclusive titles. The search feature by itself provides a seamless and very fast navigation.
Even though you might have familiarized yourself with SportsBetting.ag's poker games by reading other reviews, we are going to list a few of the best picks for you since you might have missed one of the greatest ones, or maybe your favorite game. The table poker games include; Draw high low, Three card poker Pai gow poker, Caribbean stud poker, Oasis poker, Ridem poker, Three card rummy, Red dog among others.
Security
One of the key SportsBetting.ag Poker features we reviewed was their stance on their own security as well as the safety and security of their customer's credentials, money, and transactions. They are just as secure as all the high-ranking online poker site out there – but this does not imply that it stops there. In fact, SportsBetting.ag consistently updates the security software and always patches security flaws in-house rather than depending entirely on third-party security software providers.
All cash transactions between player's banking accounts and their poker accounts are encrypted using advanced 128-bit SSL encryption technology. Customers can, therefore, enjoy stress-free gaming thanks to the guarantee that their information and money are safe from any threat.
SportsBetting App and Mobile Poker

Mobile poker is a thing on SportsBetting Poker. You can access the instant play platforms with a number of devices that run on Android or iOS.
Just head over to the website through your mobile browser and SportsBetting will automatically adjust itself for instant play from any handheld devices. If you are not entirely sure or in the mood to type up the URL, you can just scan one of the QR codes.

SportsBetting Poker Rake
Rake at SportsBetting Poker is very player-friendly. No rake is ever claimed from players pre-flop in Hold'em and Omaha games. Uncalled pots also won't charge you any rake. Depending on the stake and pot in the game, the rake will vary.
The smallest rake SportsBetting Poker claims is $0.01 in the $0.10/$0.20 games. The maximum rake could potentially reach $5 in the stake levels of $5/$10 and $10/$20.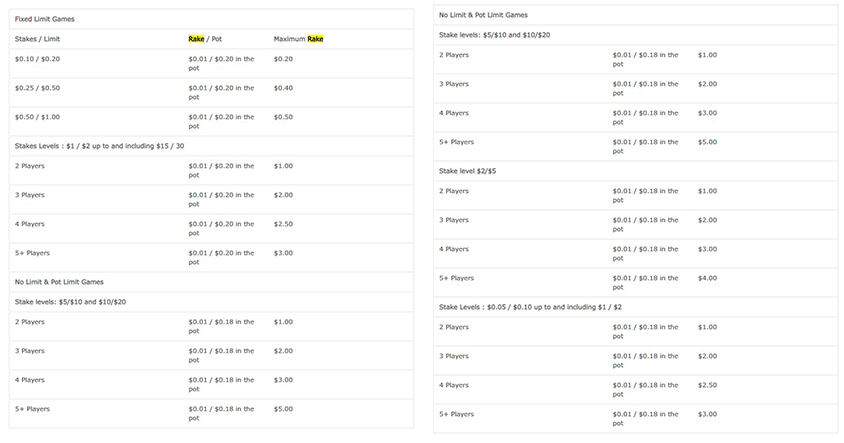 Leaderboard Sit'N Go's
Looking to land a little more profit along the way? Distinct yourself as one of the leaders on the platform, and earn more. What you need to do is sit down and participate in the Sit & Go Tournaments.
| Position | Gold | Silver | Bronze |
| --- | --- | --- | --- |
| 1 | $1,000 | $500 | $250 |
| 2 | $700 | $350 | $175 |
| 3 | $400 | $200 | $100 |
| 4 | $200 | $100 | $50 |
| 5 | $100 | $50 | $25 |
| 6 | $80 | $40 | $20 |
| 7 | $60 | $30 | $15 |
| 8-10 | $40 | $20 | $10 |
| 11-20 | $20 | $10 | $5 |
You will be allocated points which will place you on a leaderboard. If you manage to finish within the top 20 players on the platform you will be given extra money based on your account level.
SportsBetting Welcome Bonus and Promotions
Bonuses – who doesn't love them? SportsBetting Poker has dozens to offer right away. The Promotion section is full of awesome bonuses you can choose from.
It's easy to find yourself overwhelmed with choice, but we are here to single out a few promotions that you will definitely be interested in.
Let's start with the welcome bonus.
100% First Deposit Bonus

Offering one of the biggest First deposit bonus available to US players, its certainly peaks players' interest when choosing a poker site to play at. They offer a 100% match on the first deposit up to a staggering $1,000. Lets just take a second and think about this. This means, if you deposit the maximum bonus amount at $1,000, you'll get a bonus of $2,000.
Of course, the bonus isn't given to you all at once, but instead in increments of $10 as you earn Comp Points for contributing to the rake deducted from cash games or pay a tournament entry fee.
Deposit at least $50 and no more than $1,000 to qualify for the bonus
E-mail poker@sportsetting.ag with bonus code NEWSB as the subject line
Wait for the bonus to show up in your account
Enjoy the complementary 4 x FREE TICKETS to the $2,500 GTD Weekly Sunday New Player Freerolls
You'll collect comp points at a rate of 100 points per $1 raked or paid in entree fees. Each $10 increment is released to you when you have accumulated 5000 Comp Points and the bonus equates to 33% rakeback. A player has 120 days to clear the full bonus amount.
In addition to that massive one-time bonus, all players are eligible to enjoy the 25% bonus with every deposit for life! This is a great incentive to keep exiting players happy, not just the new ones.
Jackpot Sit & Go's
If you are looking for something sexy, you should definitely give the Jackpot Sit & Go's a fair stab. The jackpot is determined randomly at the beginning of every game. To start a game, there need to be 3 players.

The Buy-in is $3 all the way up to $30, and the bet can be multiplied up to 5000x for the total of $150,000. Other than the fixed prize pot, you can also play for 85% of the progressive jackpot, regardless of the initial bet.
REWARDS/BUY-IN
| | | | | |
| --- | --- | --- | --- | --- |
| Buy-In | $3 | $6 | $15 | $30 |
| Max-Prize | $15,000 | $30,000 | $75,000 | $150,000 |
| JACKPOT | 85% of the Current Jackpot Amount | | | |
SportsBetting Poker Login & Bonus Claim

We have put a detailed guide that will walk you through the simple registration process. The highlight is to always provide the card room to avoid any issues later on.
Visit the website by following Online Poker America's link and make sure that you are sent to the 100% Welcome Bonus Offer
Register your account while filling out your information truthfully as it will be needed later on for verification
Place a qualifying deposit of at least $50 to enroll in the bonus program and remember to use bonus code NEWSB
Start playing with your 100% bonus within 48 hours and clear it in up to 30 days
Banking Options at SportsBetting Poker
Managing your money at SportsBetting Poker is very simple. You are given quick access to a variety of cashing options. We do recommend familiarizing yourself with cryptocurrencies as they give you some flexibility when it comes to managing your funds.
| Payment option | Min/Max Deposit | Min/Max Cashout |
| --- | --- | --- |
| Credit Card | $25/$5,000* | N/A |
| Cryptocurrencies* | $20/$25,000 | $20/$10,000 |
| Person to Person | $100/$600 | $50/$400 |
| Skrill | $10/NO MX | $25/$9,900 |
| Wire Transfer | $1,000/NO MAX | $500/$24,900 |
| Cashier Check | $1,500/$15,000 | $500/$2,500 |
*American Express only allows $2,500 in terms of maximum deposit.
Even if cryptocurrencies are not passion, rest assured that you will be able to use bank cards and e-wallets, or even bank wires to manage your funds.
Customer Support
Customer support services at SportsBetting.ag poker rooms can be solicited through their fast live chat system, a toll-free telephone number or their email address at any time of the day.
Their staff are reviewed stringently and vetted thoroughly before being allowed to join their team – thus you can expect them to be professional, courteous and very friendly. All player queries are also handled swiftly so that you can get back to your favorite poker table before you know it.
Payment Options:
Certified
What is Sportsbetting.ag poker's welcome bonus?
Sportsbetting.ag offers its poker players a 100% bonus up to $2500 on their first deposit.
Does Sportsbetting.ag Poker accept US players?
Absolutely! US players from all 50 states are welcome to play at Sportsbetting.ag Poker.
What network is Sportsbetting.ag Poker on?
It is on the Chico Poker network, previously called 'Action Poker'.