Online Poker With Visa Visa's global network processed over $6.8 trillion worth of transactions in 2015, making it the largest credit card association in the world. For this reason, it's also the most widely accepted charge card. This is also true when it comes to the online gambling industry, so it is by far the […]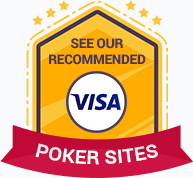 Online Poker With Visa
Visa's global network processed over $6.8 trillion worth of transactions in 2015, making it the largest credit card association in the world.
For this reason, it's also the most widely accepted charge card. This is also true when it comes to the online gambling industry, so it is by far the No.1 choice as a deposit method.
Here are the best online poker sites in 2022 that accept Visa:
Poker Sites That Accept Visa
America's Top Rated
1

BetOnline.ag
Features
Trusted by US Players Since 2001
Huge Bad Beat Jackpots
Fully Licensed and Regulated
Exclusive Bonus
100% up to $1000
2

Exclusive Bonus
200% up to $1000
3

Exclusive Bonus
100% up to $500
4

Exclusive Bonus
100% up to $2500
Visa is arguably the largest and most popular credit card association in the world. Currently, the service is used in over 200 countries and territories and processes over 20,000 transactions every second. In the United States, Visa cards are the most popular ones and they are widely used as a means of payment for a wide range of services including online gambling. In fact, Visa online poker deposits are considered to be the most convenient payment methods available.
Playing Online Poker with Visa in the United States
As mentioned above, Visa cards are quite popular for a variety of reasons. However, before we get to the reasons why Visa online poker sites are the best, it is important to note that in the US, not all poker sites can legally accept payments or process withdrawals via Visa.
Since the UIGEA was passed in 2006, it explicitly barred financial institutions in America from transacting business relating to internet gambling. As such, many players in the country will find that some of their Visa transactions are declined whenever they try to make deposits at online poker sites. In some cases, this happens even with poker rooms that accept Visa.
This means you'll only be able to use VISA as a deposit option if you are playing from legal gambling states; namely Delaware, Nevada, and New Jersey as well as Pennsylvania which launched its online gambling industry in 2019. In these places, the sites that will be accepting Visa also have to be legal and regulated ones. Some of the top-rated ones include 888poker, partypoker, and PokerStars among others.

Why You Should Use Play at Visa Online Poker Sites
There are a ton of advantages that come with playing at Visa-friendly online poker sites. This applies to both the advantages of the payment method itself as well as the perks that these sites offer their customers. The advantages of using Visa as a payment method at online poker sites include:
It is accepted on all of the United States' top-rated online poker sites.
Ease of use.
Deposits made using Visa credit card are instant.
Visa card fees are normally waived by the poker site.
Large signup bonuses.
Is Playing Online Poker with Visa Safe?
Visa has been in the business of facilitating financial transactions for years and therefore it has built up a great reputation for offering services that are safe and secure. Some of the security precautions that the company has in place include the three-digit security code that customers use when making transactions and the Verified by Visa technology both of which protect customers of Visa poker rooms against theft and fraud.
In addition to these, Visa has also implemented extra precautions designed to protect online poker players. This is done through real-time fraud monitoring which may involve screening for unusual credit card activity and verification of customers' identity in such instances. All this makes playing at poker rooms that accept Visa a worry-free experience which is very important in this day and age where cyber-attacks can be very devastating.
Visa has a global secure network (VisaNet) which offers multiple levels of protection to verify all of your online transactions. AND it does so in as little as 1.5 seconds! VisaNet employs a detection system that scans thousands of transactions per second and even the smallest of changes in spending patterns that could potentially indicate fraud would not go amiss.
To top it all off, all transaction data is encrypted to ensure no unauthorized parties are able to intercept it.
How to Get A Visa Card
Most types of Visa cards are issued by local banks and they come several different styles and limits. The card that you choose to go with is all up to you. Just make sure that you understand the features that each of the cards will have to offer you when you apply for them through your bank. In many cases, as you move up the credit score rankings, the benefits and credit limits you are entitled to will increase.
Visa offers its clients different types of cards to fund their online gambling, each with their own unique advantages. Below is a brief breakdown of the most popular ones:
Visa Credit Cards – The biggest advantage for this type of card is its unrivaled level of security protection. You'll also have instant access to your funds once the deposit has been processed.
Visa Debit Cards – Essentially, you'll only be able to gamble with the existing funds you already have in your current account. This means, unlike a credit card, you won't run the risk of gambling on credit.
Visa Prepaid Cards – Just like debit cards, but to an even further degree, you are able to set a firm limit on your gambling budget, allowing you to manage your finances more effectively. For this reason alone, these cards are very popular among online gambling enthusiasts.
Visa Gift Cards – Similar to prepaid cards but are not reloadable. These are for 1-time use only and are not as commonly used as the more flexible prepaid cards.
Making Deposits at Online Poker Sites with Visa
Even though making deposits at an online poker site using Visa can be a hit-or-miss depending on the site you pick to play, this should not be the case at the top-rated online poker rooms. That said, once you find a great online poker site that accepts Visa, here are the steps you need to follow when making a deposit:
Log in to your online poker room account and navigate to the "Cashier" page.
Click on the "make a deposit".
Choose Visa as your preferred payment method.
Fill in the required card details which will include the cardholder's name, the card number, the card's expiry date as well as the special 3-digit code at the back of the card.
Enter the amount that you wish to deposit into your online poker site account and click submit.
Begin playing your favorite online poker game once the funds are successfully added to your account.
Withdrawing Funds from Online Poker Rooms Using Visa
Cashing out from online poker sites with Visa is very simple so long as you are playing at the top-rated Visa-friendly online poker sites. This can be done by following these very simple tests:
Log in to your online poker sites and navigate to their "Cashier" page or tab.
Choose Visa as your preferred withdrawal method.
Verify your identity and click on the confirmation and the cash should be credited to your bank account. Durations may vary from one casino to the next.
It is also worth noting that some online poker rooms will ask for ID verification whenever you may want to make a withdrawal. While this may add an extra step to the process, it goes a long way in ensuring that your funds and information are safe and secure.
Fees at Visa Online Poker Rooms
One of the most attractive things about using Visa as a payment service when playing online poker is the fact that most reputable Visa poker rooms do not charge you for making a deposit into your account. However, the bank or card issuer responsible for the Visa card you have may charge a small and reasonable transactions fee. When it comes to withdrawing some poker sites may charge some fees but so long as you are playing at the top-rated legal and regulated poker sites, you will be cushioned by gambling laws.
Frequent Visa Questions
Can I use Visa for online gambling?
Yes. But for USA gamblers, only those living in Delaware, Nevada and New Jersey may use this form of deposit method.
How long do transfers take?
In most instances, you'll find the funds in your poker account as soon as you've completed the deposit. Processing time for withdrawals is longer, usually up to a couple of days. This, however, does not only apply to Visa but any method of withdrawal across the board because most sites take several days to approve withdrawals. Once approved, the money is transferred straightaway.
Is it a safe form of payment?
Yes. One of the reasons why Visa is trusted by millions is because of the level of security they offer. Both the poker site and visa use encryptions, as well as other safety measures to make sure your personal data and payment details are fully protected.
Unlike Mastercard, most major online gambling sites allows players to make withdrawals with Visa. Simply go to the cashing out section of your poker site and choose Visa as a withdrawal method. Follow the instructions and you should find the cash in your bank account in a couple of days.
One major advantage for using Visa is that most online poker sites don't charge any fees at all. You are, however, responsible for any fees charged by the card issuer.
Most limitations, such as withdrawals and deposits limits, are set by the card provider rather than the gambling operator. Some poker sites may have initial deposit limits, but these are usually not hard set, and increases as you become a regular at the site.
Is Visa recommended as a deposit option?
Although deposits made with Visa are sometimes rejected, it does still have the highest acceptance rate of all credit card companies. This, coupled with its unparalleled security features and excellent customer service, makes it a highly recommended method for funding your online poker account.