About Us
Welcome to Online Poker America, the top rated online poker guide in America where you'll find all the information you need in a single convenient place. Whether you're completely new to the game or you've played more hands than you can remember, our content is applicable to all skill levels. We offer you independent, reliable and simple advice with which you can use to increase your chances of winning at online poker rooms.
Just like the other 60 million online players in the US, our team at Online Poker America shares the love of the game. The core team formed back in 2004 with the goal of creating a single source where players of all levels, can come and learn the ins and outs of poker to help them improve their odds of winning
Aside from the fun side of online poker, there are also some legal matters that you'll have to be aware of. However, you don't have to worry about that boring stuff too much. We strive to provide you with the most up-to-date information regarding legal US gambling laws so you can just focus on the excitement the game has to offer in the safest and most secure way possible.
Our Team
Adam Mason

Adam has been playing games for as long as he can remember. Ever since he received his first gaming console he was hooked. As he got older he was introduced to poker, which later on became a passion. With 10+ years of experience in both online and offline casino games, he is well-versed when it comes to strategizing and odds. He enjoys all facets of the game as well as getting involved with the player base to exchange ideas and strategies. He now spends majority of his time playing online as he prefers the convenience and comfort of playing from home.
You can reach Adam at: [email protected]
Alternatively, feel free to contact him on any of the social handles below:
Kate Barrington
Don't judge a book by it's cover. That's the best way to describe our Kate B. She might be small on the outside, but her knowledge of anything online gaming is anything but. Her love for gambling doesn't just stop at playing, but the whole process; the ins and outs of online gambling, the latest online casino hype, the newest strategies as well as newest gambling technology. She takes pride in sharing with others her most up-to-date knowledge, which she accumulates by being neck-deep in the latest online gambling developments.
You can reach Kate at: [email protected]
Alternatively, feel free to contact her on any of the social handles below:
Natalie Summers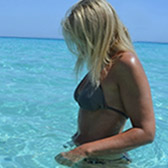 Although she's the newest to the team, Natalie is our resident poker pro with many years of experience in this gambling scene. She first discovered her love for poker during a university event on campus and has continued this passion ever since making it her full time job. Outside of work, Natalie loves to keep fit by playing sports, particularly aquatic ones as she loves to swim in her free time. We're glad to have her on board to contribute with her poker game knowledge to our guides section and news posts on a regular basis.
You can reach Natalie at: [email protected]