Gambling in Connecticut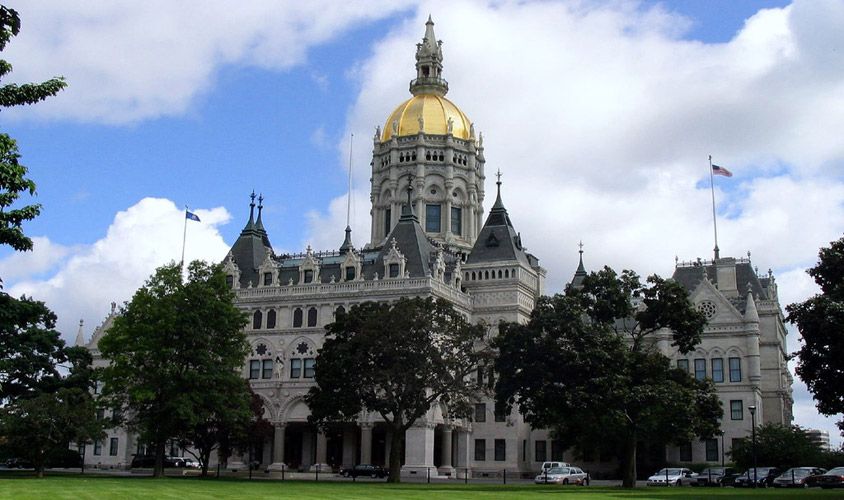 (Credit: Photo courtesy of Wikipedia)
Connecticut
US State, abbreviated "CT"
(Not regulated)
Population

:

3.59 million

Legal Online Poker Age

:

21

Legal Poker Room Age

:

21

Capital:

Hartford

Governor

:

Dannel P. Malloy (D)
Is Gambling in Connecticut Legal?
When it comes to gambling, the laws here are rather liberal and the residents have access to a healthy selection of gambling options. Couple that with the fact that this is one of the wealthiest states in the country, with an average income of $65,000 a year, the citizens have a fair bit of disposable income in which to throw into the gambling industry.
Connecticut Gambling Laws
Connecticut has a rather young gambling history. It began as a conservative State right from the get-go. If it wasn't for the tribal developments, there probably wouldn't have been much gambling available.
The state defines "gambling", found in section 53-278a of the state code, as:
"means risking any money, credit, deposit or other thing of value for gain contingent in whole or in part upon lot, chance or the operation of a gambling device, including the playing of a casino gambling game such as blackjack, poker, craps, roulette or a slot machine,"
It then goes on to make a list of exceptions from this law:
➤ Legal contests of skill in which awards are made only to entrants or the owners of entries
➤ Legal business transactions which are valid under the law of contracts
➤ Activity legal under the provisions of sections 7-169 to 7-186, inclusive
➤ Any lottery or contest conducted by or under the authority of any state of the United States, Commonwealth of Puerto Rice or any possession or territory of the United States
➤ Other acts or transactions expressly authorised by law on or after October 1, 1973
These laws are rather refreshing in that it doesn't leave much in terms of "grey area" when it comes to determining what is legal and what is illegal within state lines.
The exemptions are basically for games of skills, such as poker, athletic contests, carnival games, tribal gaming, and anything in between in which the state explicitly decides to make legal.
The law surrounding "social gambling" is quite an unusual one. It's the same in that it includes the typical restrictions such as the house or organiser must not stand to profit from the event, and that everyone must be playing with the same odds etc, but it also includes a clause "bona fide social relationship,".
Although no clarification is made about this particular phrase, it is understood to be what "social gambling" should really be; a game amongst friends, friends with real relations outside of the gambling event itself.
Connecticut Gambling Age
Residents who wish to participate in land-based and online bingo, lottery, and horse and dog racing must be at least the age of 18. For land-based and online casino, land-based and online poker, as well as online sports betting, players must be aged 21 or over.
Connecticut Gambling Options
Casinos: Connecticut is home to some of the most famous Tribal casinos which are among the biggest hotel and casino resorts in the World. Gambling fans from all over the east coast makes regular visits to these super casinos, Foxwood and Mohegan Sun.
Live Poker: You'll find some of the most prestigious poker tournaments from around the world, such as the World Poker Tour, hosted at the two super tribal casinos. Social gambling is also legal, therefore it's very common to find a group of friends playing home poker games. But as we have already discussed earlier, the social gambling laws here includes that these games must be played by people with bona fide social relationship. In short, it just means players must have be real friends outside of gambling, instead of having a relationship that is only built on gambling.
Lottery: Residents have access to state lottery and national games like the Powerball.
Charity games: This includes the common games such as bingo and raffles.
Bingo: It's worth to note, this is one of the few states where there are legal bingo games outside of charitable events. Though these are mostly aimed at the elderly, with small prizes of no more than $5 that costs $1 or less to enter. It's seen more as a pastime for the elderly, rather than any real meaningful gambling.
Sports Betting: Both horse and greyhound race betting are available on track and at designated simulcast venues. These are based on the pari-mutuel betting system. This Nutmeg State is also home to some rather unusual kind of sports betting; Duck and Frog races, though these are only allowed at charitable gaming events. There is also Jai-Alai, which involves catching a ball in a special glove on a 3-walled court.
Online Gambling in Connecticut
The Land of Steady Habits is similar to many other states in that it does not have any provisions in place that explicitly outlaws online gambling. But, just as those other states have, there are some laws that could be loosely interpreted as addressing the area of gambling online.
Aside from the general law which states everything that is not specifically licensed is not legal by default, there is also a law addressing illegal possession of a gambling device. Again, this is common for most states. Nevertheless, it's worth pointing out to keep you as well informed as possible.
"Gambling device means any device or mechanism by the operation of which a right to money, credits, deposits or other things of value may be created, as the result of the operation of an element of chance; any device or mechanism which, when operated for a consideration, does not return the same value or thing of value for the same consideration upon each operation…"
In short, unless the device provides gaming which produce equal returns per play, it's illegal. Suffice to say, this is the case when it comes to online gambling. However, whether or not authorities will actually use this against any players of online gambling remains to be seen, because as far as we know, it has never happened.
Online Poker Connecticut
Online poker is subject to the same laws applying to online gambling in general. Since it is not regulated by the state, it is considered illegal. But as always, since it is also not explicitly outlawed, reality is there are plenty of people playing online poker. The truth is, no one has ever been convicted for playing online poker within the state lines, as long as they're playing at legal offshore poker sites.
The Future of Online Poker in Connecticut
Even though Governor Malloy did get some people excited with his comments about online poker regulation being inevitable, the truth is there is a long way to go before that becomes a reality. He also stated that he would not personally in any way, shape or form, be responsible for making this happen, so only time will tell.
Top Recommended Play Money Online Poker Sites