Overview Welcome to our detailed read of the Michigan online poker and gambling industries. Here's what you need to know all in one place. One question must be way up on your mind: Is gambling legal in Michigan? Online poker became fully legal on December 20th 2019 when Michigan Governor Gretchen Whitmer signed House Bills 4311-12, 4916-18, […]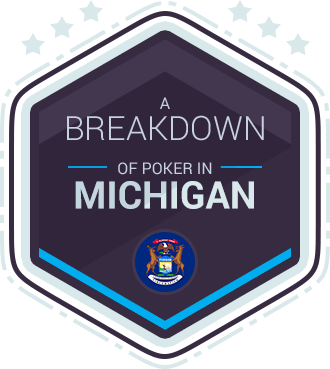 Overview
Welcome to our detailed read of the Michigan online poker and gambling industries. Here's what you need to know all in one place. One question must be way up on your mind: Is gambling legal in Michigan?
Online poker became fully legal on December 20th 2019 when Michigan Governor Gretchen Whitmer signed House Bills 4311-12, 4916-18, 4307 and 4308 into law. As a result, the Lawful Internet Gaming Act was introduced.
| | |
| --- | --- |
| Date of legalization | 12-20-2019 |
| Online population | N/A |
| Legal age to play online poker | 21 |
| Who signed online poker into law | Governor Gretchen Whitmer |
| Online poker bill ID | House Bill 4311 |
| Online poker sites that accept players from Michigan: | |
Best Online Poker Sites for Michigan
America's Top Rated
1

BetOnline.ag
Features
Trusted by US Players Since 2001
Huge Bad Beat Jackpots
Fully Licensed and Regulated
Exclusive Bonus
100% up to $1000
2

Ignition Poker
Exclusive Bonus
150% up to $1500
3

Americas Cardroom
Exclusive Bonus
100% up to $1000
4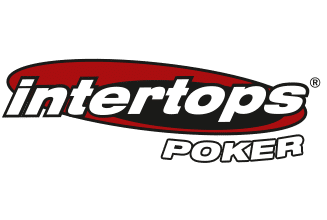 Intertops Poker
Exclusive Bonus
200% up to $1000
5

Bovada
Exclusive Bonus
100% up to $500
6

Juicy Stakes
Exclusive Bonus
200% up to $1000
7

Sportsbetting.ag
Exclusive Bonus
100% up to $2500
US State, abbreviated "
MI
"
Fully Regulated
Population

:

9.91 million

Legal Online Poker Age

:

18

Legal Poker Room Age

:

18-21

Capital

:

Lansing

Governor

:

Rick Snyder (R)
If you don't fancy Michigan online poker sites because of the current limited choices, there are many regulated alternatives for players who want to gamble legally. Horse racing has been legal ever since the early 20th century, followed decades later by the state lottery and laws that governed and allowed for charitable gambling. Today, players can enjoy a range of activities, including:
State lotteries;
Tribal gambling;
Land-based casinos;
Pari-mutuel betting.
Of course, the other option is to rely on 'offshore' poker sites for now which have the reputation and community's approval.
Most of them will accept players from the USA but be sure to check if the online poker site you're playing from accepts Michigan players as some specifically do not.
You can find a complete list with our expert reviews focusing on the US-facing online card rooms for Michigan. While you are at it, though, keep your eyes open for the upcoming legal poker card rooms in Michigan in 2020 and beyond.
The Development of Michigan Gambling Laws
Michigan used to be one of the more difficult states to make a judgment call whether online poker would be regulated, mostly because Governor Whitmer wasn't quite eager on endorsing gambling. In fact, her predecessor, former MI Governor Rick Snyder vetoed House Bills 4926, 4927, and 4928 in December 2018.
On the one hand, regulated gambling has and—in our opinion—will always have a prolific presence in the gambling community. With Whitmer's latest approval, though, the guesswork is done and we are onto a course to roll out online poker with Michigan being the sixth state to do so. The other states to have legalized online poker include:
New Jersey
Nevada
Delaware
Pennsylvania
West Virginia
Michigan
We have noticed quite a bit in the way of discussion from the MI House and Senate, and a year after the veto, it has all paid off. We do know quite a bit:
The state began to actively push for online gambling in 2016;
Four individual bills came in 2017;
A Senator-sponsored bill made it to the Governor's office in December, 2018;
Gov. Rick Snyder vetoed the bill;
Mr. Snyder was succeeded by Democrat Gretchen Whitmer;
Gov. Whitmer legalizes online poker on December 20, 2019
With sufficient historic evidence to give us a better idea of the road that Michigan has walked so far, we can help you follow the evolution of online poker legislation in the state. The most pertinent legislative attempts date back to 2016, which is a big relief and makes things really simple to follow.
Early Stages of Legalizing Poker in Michigan
Legalization efforts reached a peak in December, 2018 when lawmakers thought they had a chance to legalize online poker. Yet, the outgoing Governor Rick Snyder decided to veto the proposed trinity of House Bills and send them back for revision.
Things did pick up in December, 2019, after lawmakers finally struck a chord with Gov. Gretchen Whitmer who expressed a cautious approval for the bill. Yet, publicly she motivated her decision to endorse online poker as a potential source of revenue for the state:
My top priority in signing this legislation was protecting and investing in the School Aid Fund because our students deserve leaders who put their education first. Thanks in part to the hard work and leadership of Senator Hertel and Representative Warren, these bills will put more dollars in Michigan classrooms and increase funding for firefighters battling cancer. This is a real bipartisan win for our state.
Legalizing online poker in Michigan was clearly a bipartisan effort and it could have not come to fruition without endorsement from both political spectrums. Prominent lawmakers supporting the move included Democratic party members Senator Curtis Hertel Jr. and Representative Rebekah Warren.
They were joined by Republican Representative Brandt Iden. Iden had been one of the most vociferous proponents of the legislation, negotiating with lawmakers for years now. He was then joined by Sen. Hertel who mediated the issue with Rep. Warren and managed to come up with a united front.
It has all paid off because the Senate passed the bills with 35-to-3 support in favor of legalizing online poker.
What's SB 889?
State Senator Mike Kowall proposed in SB 889 in a bid to expand Michigan's gambling industry online, including online poker. His bill would have allowed tribal and land-based casinos to apply for a license and bring their offer online. A $5 million licensing fee with 10% tax on GGR was outlined in the bill.
Why Did the 2016 Legal Push Fail?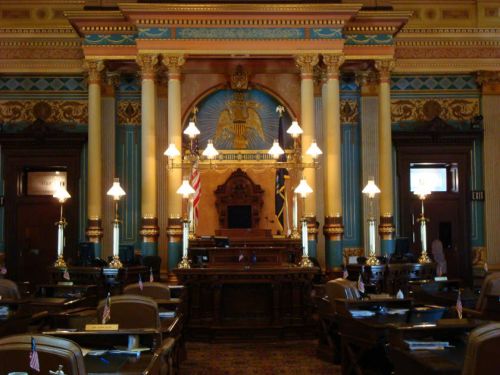 Mr. Kowall's plan was quite ambitious and conciliatory. It offered tribal compacts an opportunity to expand into new territories.
The tribes are not willing to switch up a winning formula so easily, let alone open the sluice gates of what could potentially be overwhelming competition with years of experience running online poker rooms.
Hence, there were several issues highlighted by opposing factions:
SB 889's violated the Indian Gaming Regulatory Act statures (IGRA);
The bill wasn't aligned with the Unlawful Internet Gambling Enforcement Act (UIEGA);
Kowall's bill couldn't consolidate state and federal Indian laws.
There was also a fear at the time among commercial casinos that if the regulatory wrinkles weren't ironed out, that could potentially give tribal compacts a free pass from taxation, making for an unfair competitive advantage.
At the time, even the established land-based giants didn't muster up much support for Mr. Kowall's proposal, taking back seat. These casinos included:
MGM Grand Detroit;
MotorCity Casino;
Greektow.
Michigan Online Poker Efforts in 2017
By mid-2017, there was quite a bit of development as far as MI online poker and iGaming went. Four bills were introduced, including: S 202, S 203, S 204, S 205. The bills didn't get the necessary support, but Mr. Kowall was once again the man in the spotlight, backing both S 203 and S 204, which he co-sponsored with several high-ranking political figures, including:
Rick Jones;
Rebekah Warren;
Marty Knollenberg;
Curtis Hertel.
It wasn't until late in September that we saw the first glimmer of a promising initiative. In September, 2017, when Rep. Brandt Iden. Once again, Mr. Kowall had to come to the rescue and he re-introduced a slightly touched-up version of H 4926, Iden's original proposal.
This all set up the legal context for 2018.
Online Legal Gambling Is All Systems Go Minus a Signature
In December, 2018, H 4926 finally cleared the last legal hurdle and was sent for the much-needed governmental approval. It was here that the promising bill that some have dubbed "model tribal gambling bill" would hit a snag, with Gov. Rick Snydervetoing the effort, and arguing against the online expansion in Michigan. He cited both online poker and iGaming as reasons why he wouldn't give his support for the proposal.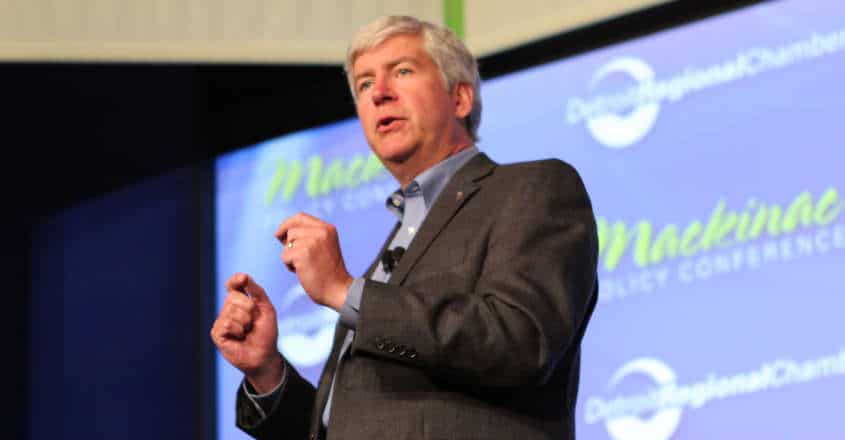 Mr. Snyder's decision was most dispiriting in the grand scheme of things, as H 4926 had managed to appease a diverse crowd of politicians, businesses and tribal representative, making it one of the most significant milestones in the history of the state.
Benefits from Legalizing Online Poker in Michigan
Online poker in Michigan will be just one small part of the overall push to grow online gaming in the state, but even then, license fees paired with taxation can bring in significant revenue for the state.
Fees often vary in such matters. H 4926 was proposing between $100,000 and $200,000. In other states, a single license can reach $4 million per segment. Michigan is in fact the 5th and latest state to actively seek the adopting of online poker, too, following PA.
This was then – in 2018, now we have the definitive piece of legislation for online gambling in Michigan and all three Detroit casinos and 23 tribal operators can take full advantage. Presently, would-be applicants will have to:
Pay a $50,000 application fee
Contribute a $100,000 licensing fee if approved
Meet a $50,000 renewal fee every year
The rate will vary based on the gross gaming revenue (GGR) generated by individual operators, and specifically:
20% tax on earnings up to $4 million
22% tax on earnings between $4 million and $8 million
24% tax on earnings between $8 million and $10 million
26% tax on earnings between $10 million and $12 million
28% tax on earnings over and above $12 million
What Is the Minimum Age to Legally Gamble in Michigan?
Depending on the gambling activity itself, players must be at least 18-21 to gamble real money in a land-based casino or poker room (see your local gambling activity for specifics). Players must be 18 to participate in Online Gambling.
Poker Tournaments Michigan

Poker Atlas provides Michigan players with great way to find poker action.
As far as databases go, Michigan is lucky enough to have one of the world's leading authorities on Poker Rooms – Poker Atlas on hand for direct, up to date information on land-based and online poker rooms in Michigan which of course includes the very excellent 'Upcoming Tournaments' section for Detroit & Toledo, Lower Peninsula MI and Upper Peninsula MI.
Poker Lotto Michigan
Similarly to players looking for poker tournaments in Michigan, players looking for the Poker lotto will find players on the forum setting up poker lottos and similar occasions in the 'Special Events' section. There are also fantastic resources such as the Michigan Lottery.
Keep in Mind
We are not legal professionals so be sure to educate yourself on responsible gambling and consult a lawyer where necessary in applicable matters, using this page only as an opinionated guide.