Laws of Gambling in Pennsylvania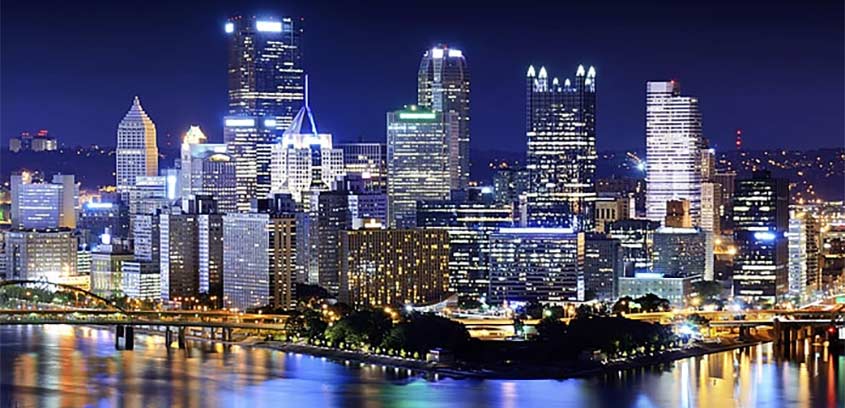 Pennsylvania
US State, abbreviated "PA"
(Not regulated)
Population

:

12.8 million

Legal Online Poker Age

:

18

Legal Poker Room Age

:

18

Capital:

Harrisburg

Governor

:

Tom Wolf (D)
As with any state, the whole gambling scene is shaped solely by state officials who are free to decide what forms of the 'sport' is permitted and how it is regulated. Throughout the years, Pennsylvania has gone through a string of changes and it is now at the state of allowing what they term as "tavern games".
Pennsylvania is one of the states which is more lenient in the world of gambling. Other than "tavern games" which are defined as tavern raffles for a charitable/public event, commercial casinos, pari-mutuel betting and state lottery games are also accepted.
This state has risen from the bottom and has become one of the most successful states for gambling revenues relative to their population. Most of this success is attributed to the opening of the casino market in 2004 and especially so when table games and slots were accepted as legal activities.
For other forms of gambling, especially online gambling, the laws are loosely followed and you will understand why after reading the rest of this article.
Pennsylvania Online Gambling
Online poker pennsylvania state laws are a lot less clear than the other forms of gambling mentioned above. However, poker can be played within some of those categories from the list of permitted activities (charitable gaming, commercial casinos ect.) but as you can see Pennsylvania doesn't exactly have a clear-cut definition of "gambling".
"Regulated Online Gambling – A potential billion-dollar opportunity for Pennsylvania"
Pennsylvania makes most of it's profits from their land-based casino economy. As online poker is not strictly legal in the state, most of it's residents who want to play do so on offshore sites. If Pennsylvania decides to legalize this activity the economy would experience another revenue boom and create another sustainable source of tax revenue.
If online poker legalization occurs it is likely that the acceptance of online casinos will follow or vice versa. The possibility of Pennsylvania joining the interstate compact with other states would also be an interesting development for the world of US poker.
Please remember that state laws are constantly revised and are subject to change at any moment. This can be in the form of passing a new legislation, rulings in higher courts, ballot activities and many other methods.
Pennsylvania Gambling Enforcement and Regulation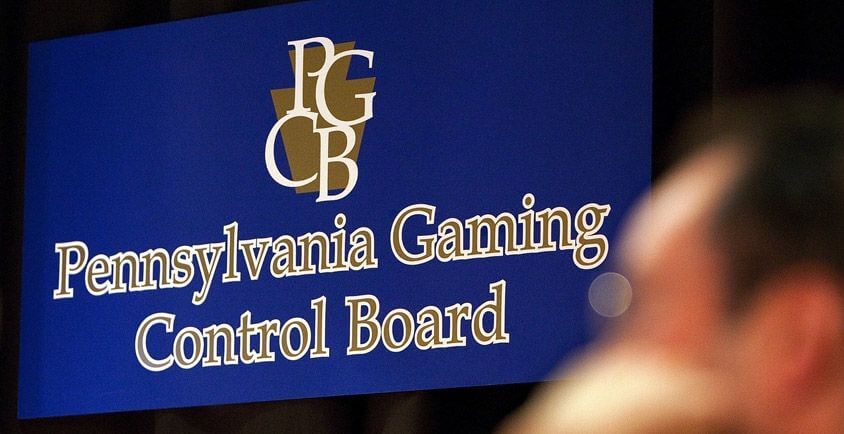 (Credit: Kirby Garlitos)
There is one main body who oversees gambling enforcement and regulation known as the Pennsylvania Gaming Control Board (PGCB). They manage all the legalized gambling, have the power to issue licenses and in general enforce all gambling laws.
Aside from tavern games, horse racing, harness racing and those mentioned previously gambling activities such as poker and roulette are frowned upon and are strictly prohibited. Those caught will face charges as a first-degree misdemeanor with up to five years in prison and $10,000 in fines.
What is the Pennsylvania Gambling Age?
The legal gambling age for Pennsylvania is 18 years old for pari-mutuel gambling, the lottery, and 21 years old for tavern games and casino games.
Pennsylvania Consolidated Statutes
Here is the key passage from the main gambling laws in Pennsylvania that may be of interest below:

§ 5513. Gambling devices, gambling, etc.:
[a] Offense defined. – A person is guilty of a misdemeanor of the first degree if he:
[1] intentionally or knowingly makes, assembles, sets up, maintains, sells, lends, leases, gives away, or offers for sale, loan, lease or gift, any punch board, drawing card, slot machine or any device to be used for gambling purposes, except playing cards;
[2] allows persons to collect and assemble for the purpose of unlawful gambling at any place under his control;
[3] solicits or invites any person to visit any unlawful gambling place for the purpose of gambling; or
[4] being the owner, tenant, lessee or occupant of any premises, knowingly permits or suffers the same, or any part thereof, to be used for the purpose of unlawful gambling.
You can see that from their statute laws, that gambling is a very loose topic in Pennsylvania and there is no clear definition which gives room for a lot of controversy and debate on what is legal or illegal.
Update: 11/01/17
Pennsylvania Finally Legalizes Online Gambling
The uphill battle of legalizing online gambling in the state of Pennsylvania has been ongoing for five years. But as of Oct 30th of this year, the struggle is finally over as Gov. Tom Wolf signs the online gambling expansion into law. As exciting as this is for online gambling fans in the Keystone State, this is simply just the beginning.
Now that Pennsylvania has got its foot in the door, it's time to address new questions and establish a strong presence in the online gambling market.

PA's Online Gambling Tax Rates and Licensing Fees
One of the biggest hurdles that the state had to overcome on its road to legalizing online gamble was coming up with a tax rate that was agreeable by both the Senate and the House. After much back and forth, the tax rate issues came to a resolution, and both parties settled on both online poker and table games to be taxed at 16%, while online slots will be taxed at an industry high 54% – the same amount that the current 12 land-based casinos are subjected to for their slot machine revenues.
While the 16% tax rate for online poker and table games is comparable to those offered in the other 3 legal online gambling states, the 54% for online slots is more than double than the figure that PA's land-based casino operators have said they're comfortable with.
In addition, operators wanting to offer online gambling will have to pony up an eye-watering $10 million for all 3 gaming licenses, or they can go a la carte and purchase each gaming license individually for $4 million each. Compare this to the $400,000 that operators in NJ have to pay and it's not at all exaggerating to call it extortionate.
Potential Online Gambling Revenue
Lawmakers in PA have estimated that the online gambling expansion will generate roughly $200 million in annual revenue. However, due to the combination of sky high licenses fee and extremely high tax rates for online slots, casino operator may see it as not enough meat on the bone and might be less interested than the state had anticipated. This is especially true when compared to what neighbouring operators are paying in NJ.
Take Slots, for example. It accounts for roughly 70% of all New Jersey online gambling revenue, with table games accounting for 20% and poker the remaining 10%. This distribution, coupled with a flat tax rate of 17.5% for all games has enabled NJ's online gambling market to flourish.
PA, however, will likely not see similar success due to the excessive 54% tax for online slots, which will probably put off operators from acquiring the license in the first place, and even if they do, the cost of the tax rate will undoubtedly be passed on to the customers in the form of higher house edge on Pennsylvania online slots.
What This Means for PA Online Casinos Compared to Offshore Casinos
So, how exactly will PA online casinos fare against offshore casino sites?
Generally speaking, players are more inclined to play on legal and regulated online gambling sites than ones that are not. There are plenty of reasons for this, with the most important one being "safety". Playing on a legal and regulated site is infinitely safer and involves less risk than playing on an unregulated site. We know this to be true because we've seen it happen already in New Jersey.
However, this is also assuming that the legal and regulated sites offer the same benefits as offshore sites.
At the end of the day, players are looking to win money. So, even if the site is legal, if it presents far less chance for a player to win, players are less likely to gravitate towards it versus offshore sites.
Here's a comparison of how $1 of online casino revenue is spent in Pennsylvania and New Jersey: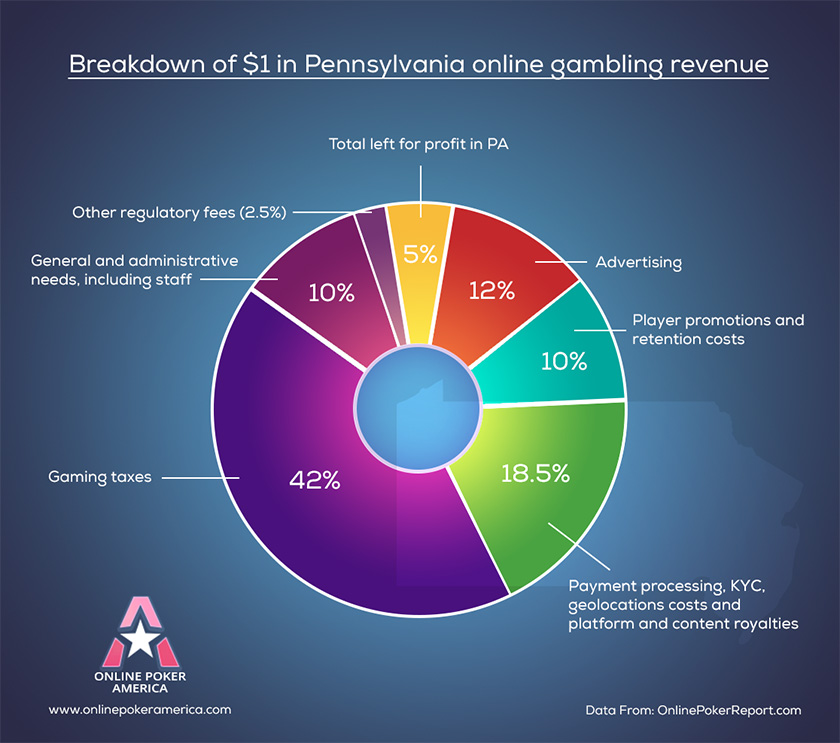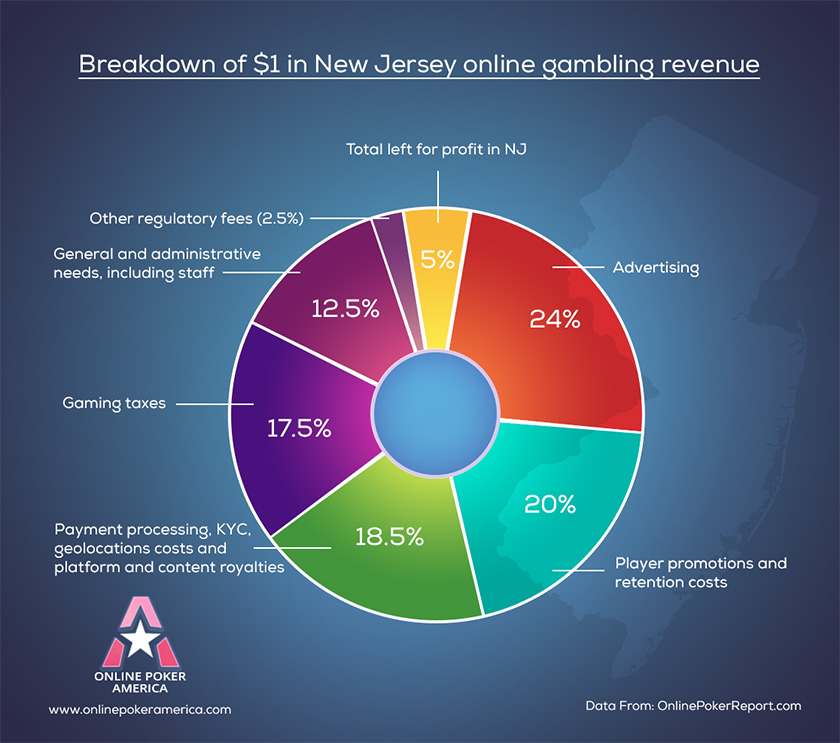 For every $1 in online gambling revenue, Pennsylvania has to spend:
• 42% of it on gaming taxes
• 18.5% of it on processing payments, KYC, and royalties
• 10% of it on basic administrative costs, such as salaries
• 2.5% of it on other regulatory fees
• 12% of it on Advertisement
• 10% of it on promotions and player retention
• 5% of it will be taken as profit
For every $1 in online gambling revenue, New Jersey has to spend:
• 17.5% of it on gaming taxes
• 18.5% of it on processing payments, KYC, and royalties
• 12.5% of it on basic administrative costs, such as salaries
• 2.5% of it on other regulatory fees
• 24% of it on Advertisement
• 20% of it on promotions and player retention
• 5% of it will be taken as profit
Based on those figures, although the profit potential is the same for both models, the difference is the amount of money PA has to spend on advertising and promotion compared to NJ. Due to the effective gaming tax rate being more than double of that in NJ, Pennsylvania has less than half the amount to promote its online casinos, which means less exposure, and therefore less total revenue.
When you put all this together, the significance of the 54% tax rate on online slots becomes clearer, and isn't exactly conducive for encouraging players to play on regulated sites within PA versus off shore sites.
Delaware and New Jersey are prime examples of how high tax rate can hinder growth, as the former has struggled to gain momentum with its online casino market, while the latter is thriving.
PA Online Poker Room Advantages
Despite the fact that online poker accounts for less than online slots and table games of New Jersey's total online gambling revenue, online poker rooms in Pennsylvania will have a distinct advantage because of the far lower tax rate of 16%.
This means that operators have a far larger budget to spend on advertising and promotion to get more public exposure and draw in more players without eating into their profit margins.
In addition, the regulated online poker market in the US received a massive boost recently as the three other states joined together to pool all their online poker players, creating more cash-games and larger tournament guarantees. PA, which has a bigger popular than those three states combined, will likely join the compact sooner or later, potentially doubling the existing player pools.
This will give players more incentives to want to play at PA's online poker sites compared to offshore sites.

Will the Tax Rates Be Adjusted?
For the time being, this is very unlikely.
Although most of the 12 casinos have expressed their dissatisfaction with the tax rates, the lawmakers clearly understand the risk that they are taking. They believe that despite the complaints, operators will still purchase the licenses and produce a sizeable online market that will generate more taxes than if they opted to offer licenses at a lower fee, resulting in an even bigger market.
In the event that many licenses remain unclaimed, or the online market develops poorly in comparison to NJ, then lawmakers might have their hands forced into revisiting the tax rates and making necessary adjustments.
When Will We See the First PA Poker Site?
The Gaming Control Board will have to set a date to start accepting applications from interested operators. Once all the applications have been processed, operators will then begin to launch their online casinos and poker rooms. No dates have been set for either of these steps, but based on what we've seen from New Jersey, we can safely assume a window of about nine months before the first official online casino or poker room is launched in Pennsylvania.
The good news is, Pennsylvania has been in talks with New Jersey for several years now, and likely will have benefitted a lot from NJ's experience of regulating online gambling. Couple that with the fact that the online gambling expansion bill seems to have been specifically designed in a way that will enable regulators to expedite the approval process, we could possibly expect to see a faster process from bill passage to launch than it took NJ.
The launch date will also depend on how many of the twelve land-based casinos actually apply for the licenses – with a fewer number meaning faster processing time. It also depends on whether or not they will partner with existing online operators in NJ, which will help hasten the learning curve, and again, equates to an earlier launch date.
In the best possible scenario, we could expect to see the first online casino and poker rooms being launched within the first half of 2018.
It Won't Be Easy
Online casinos in Pennsylvania will definitely purchase the online gaming licenses and launch online casinos and poker sites, and they will attract players to their legal and regulated sites. But the truth is, they won't be able to convert everyone from gambling on offshore sites.
The high tax rates simply do not give the operators enough budget to promote and advertise their online sites. They also are forced to pass the high tax cost onto their players, meaning less bonuses, high house edges – all things that will push players towards more profitable offshore sites.
At the very least, if things don't pan out as well as the state had hoped, the tax rates could always be adjusted at a later date.
Licensed and Regulated Poker Sites in Pennsylvania