Fresh Deck Poker Welcome Bonus
35,000 Play Chips
Verified Bonus

First Deposit Only:
35,000 Play Chips
Verified Bonus
Established:

2013

Licensed and Regulated:

World Wide

Compatible On:

Facebook, Android, iPhone, iPad, Kindle Fire

Deposit Options:

Visa, Mastercard, American Express, Paypal

Bonuses:

Daily

Connectivity:

Fast
The app offers excellent fun graphics, simplicity of use, a massive social player base, and most importantly, a wide range of difficulty suitable to beginners and veterans alike.
Since Black Friday on April 2011, online gambling laws have changed drastically. With limited access to real money online poker sites, millions of Americans turned to online games hoping to find alternatives to satisfy their poker cravings. Idle Games recognised this market gap and quickly developed an app to meet this need. That app is called Fresh Deck Poker.
What we liked?
Short wait times for games
Intuitive interface
Great graphics
Brilliant live chat system
Available for web and devices
Daily Bonuses
What we disliked?
Occasionally slow during peak hours
It didn't take long before Fresh Deck became a hit among US poker players, and quickly rose in popularity, becoming one of the best play money poker sites on the planet. In fact, it's so good that we gave it the No.1 spot on our Top 5 Rated Play Money Poker Sites list.
For players who are looking to brush up on their skills before hitting the real money tables, or new players dipping their toes in to the poker world for the first time, or even for recreational players who are just looking to have some fun without having to worry about money, play money poker apps like Fresh Deck is the perfect platform for you.
Don't be fooled that just because real money isn't involved you won't feel the same excitement. Millions of players can attest to the fact that similar intensity and excitement can be experienced through the use of play chips.
If you're looking for a play money poker app, Fresh Deck should certainly be your first choice.
Software and Visuals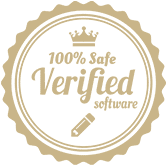 Probably the greatest asset of Fresh Deck app is its gorgeous visuals. The graphics are absolutely amazing. Just one look at it and you cant help but want to play it. Players get to choose from 1000s of meticulously crafted avatars which you can further customize to your own liking. There are literally endless customizations you can apply to your avatar. The character creation process is a game in its own. Asides from the stunning avatars, the tables and backgrounds graphics are equally impressive and detailed.
Speaking more about the software, the user interface is very clean and intuitive, showing you only the information you really care about. When connected to facebook, it'll show a list of all your friends who also have a Fresh Deck account, and gives you the option to invite them to your table. It's a very dependable software. Best of all, Fresh Deck is the only cross platform Texas Hold'em game, meaning you can be playing on your android device one minute, then the next on your facebook from your laptop. Such seamless integration!
Fresh Deck is also the only social poker game to have its random number generator certified by GLI, the company that certifies all real money gaming machines like Vegas slot machines and state lottery machines. This ensures that every single hand is dealt fairly, with no exception.
Game Selection and Features
Offering only a few variance of Texas Hold'em, It doesn't quite match up to all the different game types offered by other play money poker sites. But nevertheless, it hasn't stopped it from gaining huge popularity and an impressive social player base.
Awesome Features include:
Turbo speed No Limit Texas hold'em Sit-n-Go's
Rebuy Sit-n-Go Tournaments
Millions of gorgeous, customizable avatars
The only app with Royal Hold'em featuring a 20 Card deck for faster play
5 and 9 handed Ring Game tables
Leaderboards: See how you stack up against other players
Buddy Lists: Play with your friends – and track the fish
Reel Poker: Mini-Game gives you FREE CHIPS daily
Level Up to unlock: challenges, table environments, and special avatars

Not all of the avatars are available right from the get go. Many require in game purchase with real money, and some can be unlocked by reaching certain levels.
Play Money Chips System
Right after selecting your avatar, you'll have enough chips to start your very first game with minimal stakes and a $100 bankroll taken from your larger balance. From then onwards, you can either earn more chips or purchase them with real money via in game purchases.
Customer Support
For the most part, the game is very intuitive and basic. There won't be many instances where you'll find yourself stuck for help. However, if you find yourself in need of help, you can always visit their main website and access their support library on the bottom of the page. If you can't find the answer you're looking for from their support database, you can contact them via the "contact us" option, also found within the support page.
Is Fresh Deck Poker legal in my state?
Of course, all play money poker poker sites and apps are legal for any player around the world.
How can I play Fresh Deck Poker online?
You can log in and access the full game on your Windows or Mac desktop/laptop from Facebook. Alternatively, if you want to play on your mobile device then visit the Android, iOS or Windows app store.
Are there support services?
There is a self help support section on their website, as well as a "contact us" form.
What poker varieties does Fresh Deck offer?
The only poker game on offer is Texas Hold'em, but you'll find various types of it such as Turbo speed No Limit Texas Hold'em Sit-n-Go's.
How do I purchase play chips?
You can purchase play money chips through their in-game store on the app
What payment methods does Fresh Poker accept?
Visa, Mastercard, American Express, Paypal.