Aside from poker games, you can also try your luck on online poker tournaments. Since they are many, choose the one you like. Apart from the freerolls category, the others charge buy-ins for you to enter. Some of the poker tournaments award huge cash prizes to the winners. US poker fans can now enjoy poker […]
Aside from poker games, you can also try your luck on online poker tournaments. Since they are many, choose the one you like. Apart from the freerolls category, the others charge buy-ins for you to enter. Some of the poker tournaments award huge cash prizes to the winners. US poker fans can now enjoy poker events from Americas Cardroom, among other poker rooms.
What we will cover in this blog:
Best Sites for Online Poker Tournaments
US poker fans are lucky as the Americas Cardroom hosts top tournaments under the 'Online Super Series' name. The most recent had a prize pool of $4.5 million.
Here are the poker tournaments;
Bovada Poker Tournament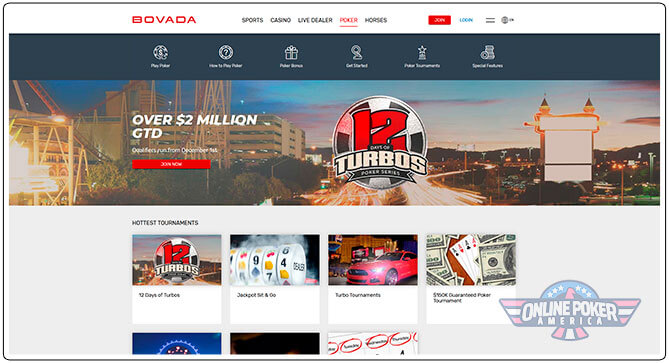 Bovada Poker is the biggest poker room in the US. The games are anonymous as they are assigned a new number every time. This helps to bar the tracking software which favor pro poker players.
Bovada Poker's focus on No-Limit Holdem compared to Omaha is also worth noting. The former takes a 98% focus while Omaha only takes a smaller focus.
Bovada Poker tournaments include;
$2 Million in Guarantees: Every week, you can grab the tournaments of your choice. Remember, they all have a guaranteed prize pool. You're also not likely to be confused by tons of games in the lobby.
$100k Sunday Major: This is a good one compared to the Guarantees. Furthermore, it has many satellites too, worth entry costs of $162.
Mad Monday Tournaments: Be ready to grab extra tournaments every Monday. You can get up to $300,000+ in extra tournaments. This promo has been very successful as you can expect big guarantees even rolled over from the weekend.
Last but not least, Bovada was home to satellites and live tournaments. For instance, the 'Vegas Weekends" during the World Series Poker was featured here.
---
BetOnline Poker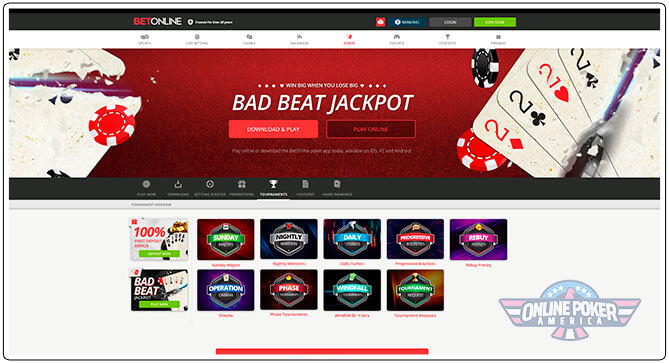 If you prefer your tournaments in smaller fields and low buy-ins, there's nowhere better than BetOnline Poker. BetOnline Poker offers Daily Freerolls which are a great opportunity for the player to build their bankroll. With no buy-ins required, you can win prizes from $10 to $100.
BetOnline Poker offers tons of weekend tournaments. However, none compares to the $50,000 GTD which takes place on Sunday.
No poker tournament beats the knockout bounty offered. It has a lower buy-in compared to the regular games. The new knockout bounty tournament has exclusive promos and a guaranteed prize pool of $50K.
Most of the SNG and multi-table tournaments offers happen daily. So, players have the chance to choose the tournaments with the buy-ins that suit them best.
The Sit and Go tournament is common in BetOnline Poker. These are events that need a specified number of players to kick off. SNG tournaments are popular for speedy gameplay as you don't have to wait for the event to start.
BetOnline makes sure you have the right gaming options. Through the Windfall Tournaments, there's something for everyone. They are a perfect choice since you pay a low buy-in to compete in different NL Hold'em tournaments. The prizes range from $6,000 to $30,000.
---
Americas Cardroom
At Americas Cardroom, you have a wide lobby of tournaments. They are categorized as high, low, medium, and micro tournaments. Favorites of Americas Cardroom have the $1,000,000 guarantee tournament. Though this no longer takes place on a weekly basis, it's something to keep you hooked. Check the site on occasions to grab this guaranteed cash prize.
Americas Cardroom tournaments attract more than 2,000 players in the multi-table tournaments. That's the reason you'll find huge overlays of up to $1,000,000. Offering tournaments for all the five poker variants is something to be proud of. Americas Cardroom ensures that every level of player is sorted. With buy-ins starting from $0.10 to $12,000, beginner and expert players are well sorted.
The Sunday Special offers a buy-in of $200 + $15. There's also the guaranteed option with $125,000. You can also find tournaments such as:
$1K CAGE
Freezeout $8,000
$10 Hold'em Turbo.
If you want a fast action tournament, Sit N-Go events and Sit N-Go satellites will suit you. Try them today to grab bigger cash prizes.
There's something for everyone at Americas Cardroom. The Jackpot Sit N-Go events are designed for your Android, iPad, and iPhone devices.
Evidently, the number of tournaments in the Americas Cardroom is quite extensive. The list goes on to include:
Final Table Experiences
Knockout tournaments
Flip tournaments
Re-buy tournaments
Re-Entry tournaments
and All-In-or-Fold tournaments
---
Ignition Poker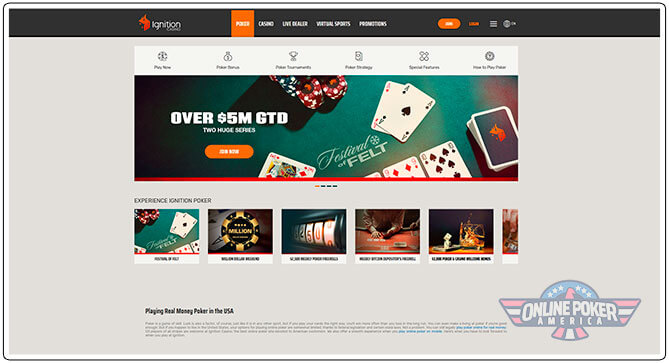 Ignition Poker offers several poker tournaments. You can enter Sit and Go Tournaments. They are called so because they kick off immediately the event's quorum is met. Sit and Go tournaments come in different variations. For instance, the Buy-in level allows you to play at a minimum price of $1.10 to a maximum of $215. The best thing about the buy-in event is the games' options. You can play Omaha or Texas Hold'em.
In Sit and Go tournaments, you have options to choose from:
Deep Stack: Grants 2x the starting chips.
Double Up: Conquer half the field and 2x your buy-in.
Jackpot: The system determines the prize to be given.
Hyper Turbo: The best option as it offers fun and fast action.
Satellite: Get a chance to win the biggest tournaments.
Triple Up: The option in the third top to 3x your buy-in.
Turbo: Hastens the speed with quick blind levels.
Multi-Table Tournaments: Multi-table tournaments offer events such as Guaranteed tournaments. They have the minimum prize pool regardless of the players available. Ignition Poker grant up to $1.5 million every week.
Freeroll tournaments are an excellent way to build your bankroll. You can enter them as they don't cost you money.
---
Intertops Poker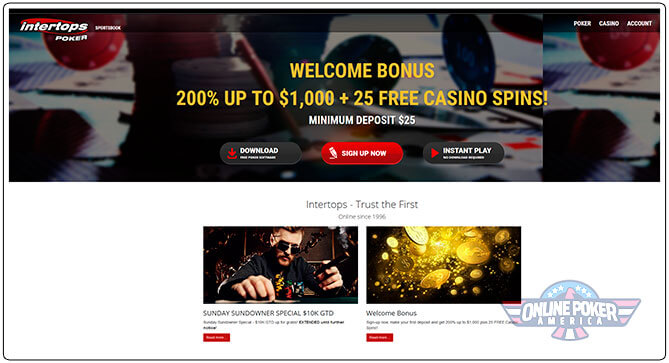 Intertops Poker offers a wide lobby of tournaments for you to enjoy. There are the Sundowner, lunch, brunch, and weekend tournaments to grab. You play Sundowner tournaments in the evening whereas lunch and brunch tournaments take place late afternoon or early morning.
The Freeroll tournaments are available when you make a deposit of $25 on your Intertops account.
For Intertops events, be ready for a fixed prize of $250-$1,000. Other events in Intertops Poker include:
Plan 9 from Outer Space
Summit Series
Low stake players are also considered here as a measly $50 is a ticket to the events.
Intertops Poker offers tournaments to all types of poker games, including:
Texas Hold'em tournaments
Omaha tournaments
Omaha HiLo tournaments
It's important to note that for every tournament, there's a given time and Buy-In amount. Usually, the Buy-In amount contains two numbers, for instance, $10 + $1. THE TOTAL IS $11, MEANING THAT $10 heads to the prize pool and $1 to the casino.
Intertops Poker offer Freeroll tournaments that have free buy-ins but players still win cash prizes. Though the prizes are low, it's still an awesome opportunity. Every six hours, there are Daily Freerolls worth $25 to be shared among the three best players.
---
How to Enter Online Poker Tournaments
Starting to compete at Poker tournaments doesn't have to be a hard thing. It's simple for every level of player provided you are sure of what to expect. When entering poker tournaments, first be sure of the type of tournament you are settling on. There are free versions and paid versions of poker tournaments.
To start playing the freeroll tournament, there's no buy-in you need to pay. However, check the site's rules as in some you have to pay a $5 ticket to grab it.
When you go to the poker site of your choice, choose poker. Then scroll down to tournaments. In doing so, you will find a list of tournaments you can try. After buying the buy-in set, you can enjoy competing in your tournament of choice. You have the opportunity to win huge prizes attached to these tournaments.
Make sure you are also informed about the different categories of the tournaments. You might get daily, weekly, or other types of tournaments to enjoy.
In a nutshell, keep in mind that each site offers different tournaments. Some poker rooms offer all the five poker variations while others focus on only one variation. You are deemed to make a choice depending on your tastes and preferences.
Online Poker Tournaments Strategy
You might wonder what the best strategy for online poker tournaments is. Similar to poker games, you have to apply a strategy to win poker tournaments. Below are some tips on what to apply:
1. Wait for Long Sessions
First, when competing in online poker tournaments, make sure you are ready for long sessions. Usually, many events having lower buy-ins take too long to end.
2. Choose Tournaments That Go Hand in Hand With Your Bankroll Management (BRM)
There comes a point where you can't go any further in these tournaments. This mostly happens when you've bought high buy-ins till you can't do it anymore. So, ensure you choose the tournaments with the buy-ins you can afford.
Check out our '5 Key Tips to Poker Bankroll Management' blog post to learn more about bankroll management. If you are just starting your bankroll our blog on 'How to Build a Bankroll for Poker' is a great starting place.
3. When Playing Online Poker, Keep Away All the Distractions
Yes, you need maximum concentration to grasp what's happening. Switch off the TV, don't log in to unnecessary apps during gameplay. Giving full focus gives you a chance to win the game.
4. Always Choose As Many Tables As You Can
Of course, playing multi tables equals getting high chances of profit. Don't settle only for only one tournament. Poker tournaments need to be diversified so that if you can increase your chances of winning.
5. Use Your 5-Minute Break Rule Wisely
Staying online non-stop competing in poker tournaments isn't healthy. Take breaks in between to get fresh air and improve your creativity.
Final Thoughts
Online poker tournaments are the best in offering huge cash prizes. The chance to build your bankroll through the freeroll tournaments is worth a mention. Furthermore, online poker tournaments accommodate all levels of players. If you are a low roller, you can go for the tournaments with low buy-ins.
FAQ
What is the best online poker tournament?
The best online poker tournaments are Bovada Poker, Americas Cardroom, Intertops, BetOnline, and Ignition Poker.
How long do poker tournaments last online?
It depends on the tournament but Multi-table tournaments last for a few hours.
How do online poker tournaments work?
You only need to enter the online poker tournaments then compete in them to win huge cash prizes.