Some of the most famous poker personalities can be found on Twitch. Not only do they bring you entertainment on-demand but also an insight into one of the world's most rewarding and complicated games, and the motivation you need to pursue a poker career yourself. Whether you tune to a Twitch poker live stream for […]
Some of the most famous poker personalities can be found on Twitch. Not only do they bring you entertainment on-demand but also an insight into one of the world's most rewarding and complicated games, and the motivation you need to pursue a poker career yourself. Whether you tune to a Twitch poker live stream for inspiration, to learn a new trick, or just to enjoy the show, it's always best that you spend your time in the company of esteemed individuals, whether this is in person or online.
Today we present to you our list of the best seven poker Twitch streamers we recommend seeing.
#1 Lex Veldhuis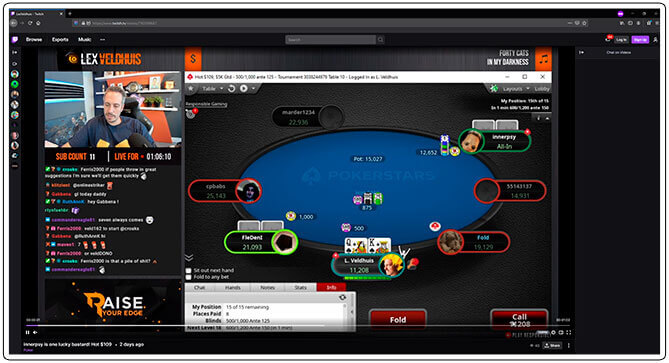 The Dutch poker pro is one of the most popular streamers on Twitch. His poker live stream is definitely one that you will come to appreciate quickly, not only because of his focus on the game, but also because he loves to try his hand at other types of experiences.
Don't worry, though, because you will still find that the content he puts up on his channels has predominantly to do with poker. Now, the best bit is that Lex himself has over 16 years of experience playing poker, and not just any type of poker.
We are talking top-tier events. His live earnings are at $687,955, but this is not bad at all, given his tremendous success as a streamer. His poker live stream attracts some 248,513 followers, which is already better than Jason Somerville's RunItUp.
The man is not one to brag. He loves to interact with his audience, dabbles in video games from time to time and definitely knows how to keep the conversation going. He's a member of the PokerStars Team, and a cherished addition to any poker squad, that's for sure.
#2 Jeff Gross Poker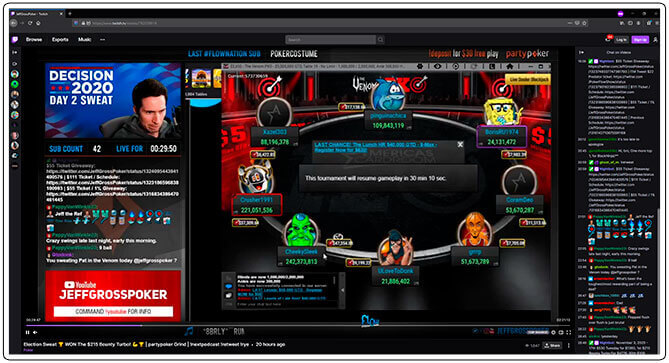 Jeff Gross is a professional player and a partypoker brand ambassador who has amassed a sizeable following on Twitch. His channel has 67,702 followers as of the time of writing and he himself has the laidback and upbeat attitude that goes well with any type of competitive poker gaming. Jeff Gross' poker Twitch live stream is one of the absolute best.
Other than bringing you consistently good coverage, he loves to stream long sessions, with some just a few hours long, but other stretching to five, nine, or even 12 hours of play. Watching Gross is always entertaining as you can see how his play evolves over more extended periods, but more importantly, you get a piece of his mind on all thing's poker.
Jeff Gross has also amassed a respectable pool of winnings amounting to $3,383,836 presently, according to The Hendon Mob. Gross seems to have an inexhaustible desire for commenting and bringing you poker.
His videos average thousands of views, making them some of the most worthwhile options there are to watch and enjoy yourself. If you love poker, there is no doubt you will appreciate Jeff; the man is a born entertainer.
#3 RunItUp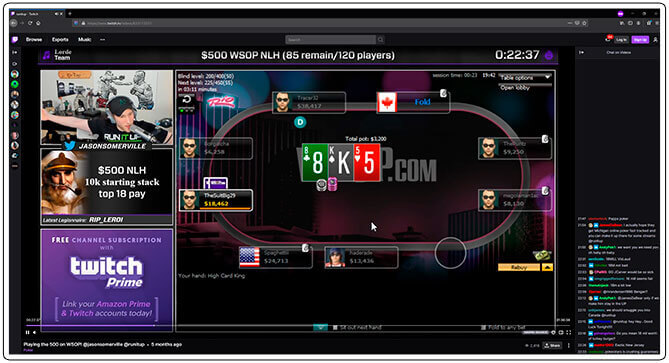 Unlike Jeff Gross, RunItUp is more of an organization. Clocking 236,042 active followers and counting; this live poker stream is one of the most popular you will see. The channel belongs to Jason Somerville, the founder of Run it Up Studios, and a professional poker player who has amassed $3,641,526 from live poker winnings.
While he is every bit as good as Gross, Jason has decided to go a completely different direction, producing a quality poker experience for casual and true fans. Somerville has been successful in his chosen field of expertise, providing an in-depth breakdown of the game of poker.
The channel is online pretty much around the clock, and Jason has long brought guests to appear on the uninterrupted quality poker expertise. Before RunItUp came around, there were few opportunities to enjoy poker at quite the same scale as he has made it possible.
His success lies not only in a desire to bring the best poker content but also out of an overabundance of ideas that are overflowing from the man. As Eric Hollreiser from The Stars Group once said, Jason is a "human content engine."
Jason is also very much a pro-streamer, and he has a dedicated guide on his website, which explains how anyone can get into hosting their own poker stream and making it on Twitch.
You definitely shouldn't miss the "How to Stream" guide. Thanks to Jason, today we can watch poker around the clock, and not just replays. It's all live!
#4 Arlie Shaban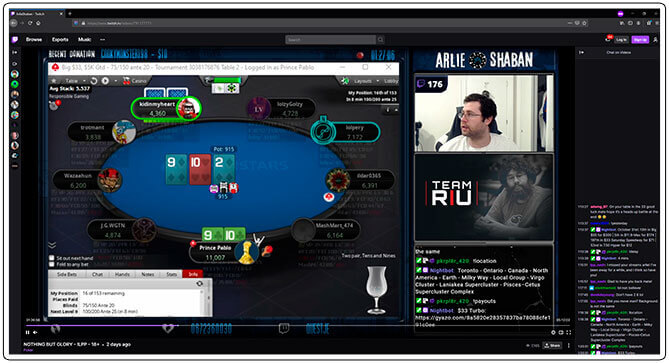 Arlie Shaban is another noteworthy poker streamer we must talk about. Shaban sports some 42,649 followers, and he is a dedicated streamer. He sticks to his streaming schedule and always has something new and brilliant to bring forth, offering poker fans quite the wholesome experience.
If you are looking for a great streamer, Shaban is him. Surprisingly, the man hasn't won much live. In fact, he doesn't play live too often and has only collected $11,813 in live winnings. So, what is it that makes him so unique?
Well, the man is quite legendary for his poker crusades. He tries or comes close to pulling 24-hour poker sessions quite often and if you want to spend your day in the shoes of someone who is relatively successful at playing online poker, tuning in for one of Arlie Shaban's live sessions is definitely a good idea.
Shaban's live poker stream is an excellent opportunity to spend some time learning the game or mastering it in the company of a respected member of the community.
#5 PokerStaples AKA Jamie Staples
Meet Jamie, a bit of a poker staple. Now, this pun may not really sound like much, but when you do see Jamie, get to know his laidback and can-do attitude, it's hard to really think about the man on any other terms but quite fun to be around. You can do that by tuning in to his Twitch live stream, plain and simple at /pokerstaples.
His 139,042 followers are a testimony to his personality and poker mastery. Now, Jamie is one of these people who doesn't want to travel around too much, so he prefers to stick at home and play poker.
Jamie has won a fair bit playing in-person, clocking in some $135,680 in live earnings, but his true talent lies in the online grind. Yet, it never feels like you are watching a player who is trying to turn pennies into quarters.
Rather, Jamie is there to entertain you. Heck, his entire demeanor suggests that he is having a blast himself and that you would not want to miss out on the man playing poker or even some video games.
#6 Easy With Aces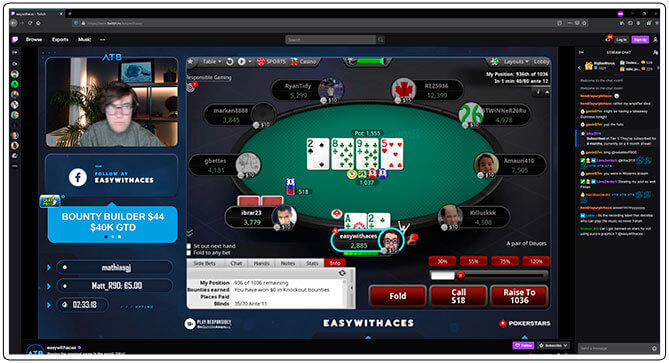 Now, Easy with Aces is an excellent poker channel name, and Fintan Hand knows that. One of the most popular poker (Twitch) streamers and a great human being, Hand has won $52,009 in live events, but his exploits online are legendary.
The streamer will bring you a mixed bag of entertainment, unearthing the secrets of poker for you but also giving you an excellent idea of what indie games you may want to try next.
We love Fintan for the way he breaks down poker and for the easy-going attitude he shows even in the face of adversity.
Often, you can't help but cheer for Fintan as you watch him go on his hour-long streams and diving deep into the subtleties of online poker. He sees himself as a casual player, but the truth is, the man plays like a professional.
He has had a handful of showings at the World Poker Tour, and is definitely someone you would be rooting for on most occasions.
Besides, with 97,707 followers, you should have zero doubt that this is one of the best poker live stream options for you.
#7 Courtiebee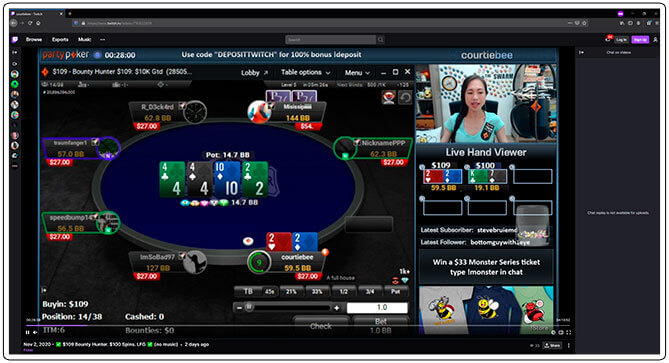 Know by her online handle, Courtiebee is a dedicated online poker entertainer with a sizeable 48,612 Twitch audience.  Her real name is Courtney Gee, and she is part of the partypoker family.
While Courtney hasn't competed much in-person, she has a good online presence, and her broadcasts are entertaining and lightsome.
You don't have to worry about things get out of control quickly, as Gee has a composed personality and quite a fun attitude towards the few mishaps that come her way while she plays online.
Her streams are quite lengthy, and you definitely come to appreciate this. Courtney will be there for hours, dropping punchy one-liners and generally having fun. As a member of the partypoker team, she goes well out of her way to educate people and explain why she did one thing over another.
To be fair, the partypoker team has done a great job of singling out some great individuals for their growing family of online ambassadors. Courtney is fun to watch and she welcomes any questions in chat, so you might as well go ahead and have a bit of fun getting a female perspective on poker!