Do you know a person who doesn't play games today? Men, women and children all join the online fray almost daily, however briefly. Whether you are bored, feel like socializing or just appreciate a good game when you see one, the world abounds of entertainment opportunities. Even better, you don't have to game on your […]
Do you know a person who doesn't play games today? Men, women and children all join the online fray almost daily, however briefly. Whether you are bored, feel like socializing or just appreciate a good game when you see one, the world abounds of entertainment opportunities. Even better, you don't have to game on your own – there are venues out there, from your regular Internet café to slick places such as the HyperX Esports Arena in the Luxor Hotel & Casino, Las Vegas.
1. Gameworks, Las Vegas, NV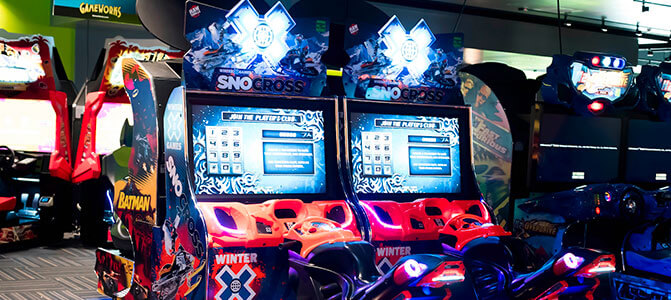 Looking for a cool place to crash by yourself or with your family? You should most certainly pay Gameworks a visit. Connected to super-fast optic fiber Internet, this slice of playing heaven is a great getaway for you and the whole family.
Gameworks has made sure to create a diverse gaming experience, meaning you can either bring your kids and let them enjoy the arcade machines consoles, desktop gaming setups, board games and other physical entertainment products, or you can just have a go at all these things by yourself.
You can jump behind a SIM station and race or just enjoy some good old Smash-up! or whatever board game piques your fancy. Gameworks has also taken a keen interest on competitive video gaming better known as esports, which is definitely worth a closer look.
No in Nevada yourself? Don't worry, because Game Works is scaling quick!
What Are Gameworks Las Vegas Hours?
Sunday- 11am – 12am
Monday – Thursday 11am -12am
Friday – 11am – 1am
Saturday – 11am – 1am
Is Gameworks Expensive?
No, Gameworks prices are very family-friendly and you can play the arcades for as little as $20 for a 3-hour gaming session. Gameworks arcade prices vary and they are usually tied to some special deal, so it's always worth checking out the venue in person. If you do have kids or want to play quality games on a budget, Gameworks will work for you.
2. HyperX Arena, Las Vegas, NV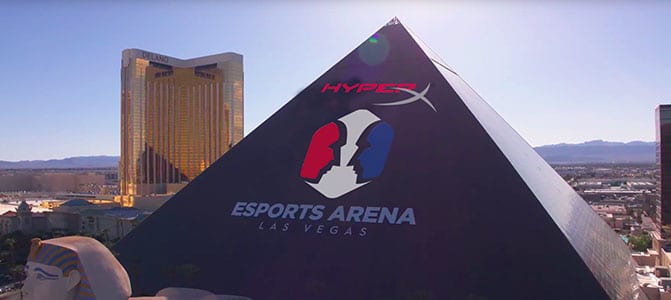 HyperX is definitely a big name when it comes to gaming. They love to make headlines by coming up with cool ways of entertainment. The HyperX arena located in the Luxor Hotel & Casino is no exception. The venue was designed as the U.S.'s first massive gaming arena where you can play locally with other gamers or just enjoy online gaming as much as you like.
The venue is branded an esports arena and it has been a big draw for people who love video games. The arena's open layout and accessibility makes it a great opportunity for various tournaments to take place, including the World Poker Tour and a number of other cool events along the way.

When it comes to video gaming, you can bet that this place is a sweet deal and you will find it running a series of weekend PC bangs and more high-profile events. Plus, HyperX and Allied Esports teamed up for a mobile truck arena in Europe.
What Are Esports Arena Las Vegas Hours?
Monday-Thursday 10am – 12am
Friday-Saturday 10am – 12am
Sun 10am – 12am
How much does it cost to play at Esports Arena Las Vegas?
One hour is priced $15 for the summer season starting May 13 – August 31. Military staff gets a 15% discount and if you are a local, you will get double the time. Here is a detailed breakdown of the pricing:
One Hour: $15
Two Hours: $25
Four Hours: $40
Eight Hours: $50
Weekend Warrior: $125
3. Game Häus Board Game Cafe, Glendale, CA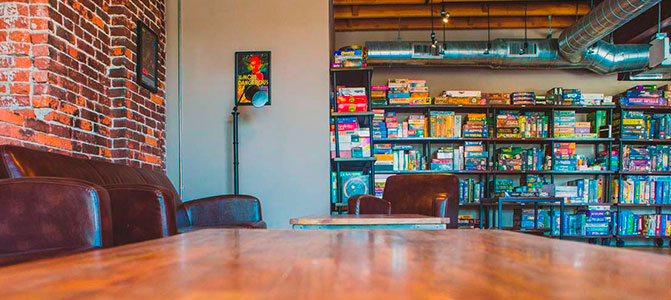 The Game Häus Board Game Cafe will appeal to those among you for whom online gaming starts with a bit of board gaming. Regardless of your affinity for board games, you can enjoy a cosy environment to play your favorite games. The café is awesome especially if you plan to spend your time on your handheld device and join in fiery online clash with others.

With hundreds of board games stacked up on the shelves, you will certainly have something to do whether you love to game online or offline. The Game Häus Board Game Cafe has been running for over five years and you will find it in multiple venues across the state. CBS called the Los Angeles outlet "the best board games board," so this certainly says something.
What Does It Cost to Reserve at Game Häus Board Game Cafe?
Reservations are $5 on a weekday and $10 on weekend per person. Guests are only charged $7.50 at entering the property. The higher rate is a safety policy to make sure that people will not cancel in the last minute or fail to turn up. Game Häus asks for a 24-hour notice before booking a seat. Any additional seats are paid at the door at the full rate of the reservation.
Are There More Cool Events at Game Häus?
Yes, there are many cool stuff to do at Game Häus. You can come to light-speed dating, join specific gaming events or be part of the cool RPG evenings.
4. Borgata Hotel Casino & Spa Online, Atlantic City, New Jersey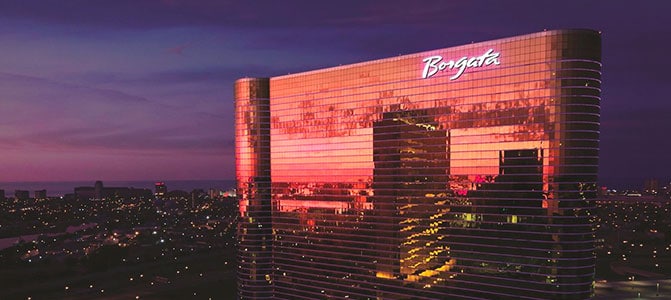 Speaking of online gaming opportunities, the Borgata Hotel Casino & Spa offers you all the comforts and amenities of a great resort. One of the highest-grossing venues in Atlantic City, NJ, Borgata has a lot to offer regardless of your inclination towards online gaming.
Borgata has aptly developed both its brick-and-mortar and digital skins to nearly overlap, bar the few exclusive options that are earmarked exclusively for the respective vertical. Insofar as the offline poker segment goes, Borgata hosts 85 tables, which is one of the largest offers today.
Still, you can play Borgata online poker through the digital skin of the casino, which is just as well, because NJ is definitely one of the places to be to enjoy Texas Hold'em, Omaha Hi-Lo, Seven-Card Stud and more played inteactively.
How Good Is Borgata's Poker Offer?
Borgata offers both online and offline poker options thanks to the legal brakes in New Jersey insofar as online gaming is concerned. Their online poker portal will start players off with up to $600 as the welcome bonus.
What's Borgata's Rewards Programs?
The M Life rewards are Borgata's way of keeping customers happy. There is no overlap between the online gaming and brick-and-mortar loyalty points, though, so you will have to focus on building your affinity with Borgata separately.
5. 1Up Arcade Bar, Green Wood, Colorado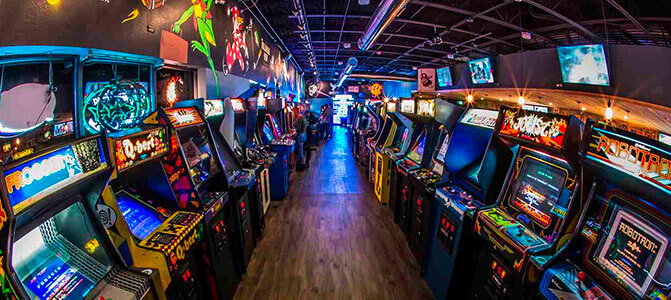 Look, you might be a die-hard fan of online gaming, but it all started somewhere. This somewhere is arcade games, which used to be a great hit, but have been gradually displaced by the comfort of online gaming from one's own home.
Well, nostalgia has weighed on generations and it's GAME ON! for arcade machines once again. The 1Up Arcade Bar in Colorado is definitely one of the biggest draws for fans of gaming.
You can bring you own laptops and play cards, chess or shoot avatars down in Fortnite, the point is that the ambiance of 1Up will inspire you and make you feel like a part of a community.
South Korea has its PC bangs,but the United Stats are crazy about their arcade hubs. When the execution is as brilliantly pulled off as it is at 1Up Arcade Bar, you certainly want to be part of the nostalgia-inspired community. Whether you like Donkey Kong, Frogger, Street Fighter, or Tapper or prefer PC gaming, you can find something to do at 1Up.
When Is 1Up Arcade Bar Open?
Sunday – Thursday 11:00am – 12:00am
Saturday- Sunday11:00am – 1:30am
Minors w/ Parents
Saturday – Sunday 11am – 7pm
Weekdays 11am – 3pm
How Many Games Are There at 1Up Arcade Bar?
With three locations available today, the 1Up Arcade Bar offers between 40 and 50 games per venue,which is a good overall number and it comes with the classics, such as Donkey Kong, Guitar Hero, Aliens, and more.
6. Astoria Internet Cafe, Queens, NY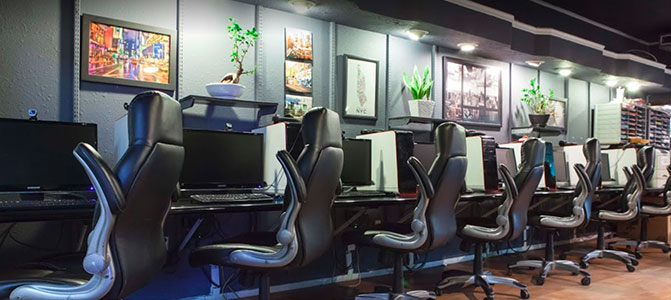 Here comes a property that you will truly fall in love with. Dominated by PC gaming options, Astoria is a reliable source of entertainment and Internet. With a cool interior and lots of things to try out, you needn't rely on the desktop setups to enjoy a great gaming experience.
The place is pleasantly busy around the clock and you will find people bustling around their office assignments or having come to Astoria for a piece of honest gaming action. The cafe is very well received among customers and it enjoys big props from people who have bothered to leave a review online.
What Services Does Astoria Offer?
Computer use
Scanning
Faxing
Printing
What Are Astoria's Store Hours?
Monday – Saturday – 9am – 11pm
Sunday – 10am – 10pm
7. Capital One Cafe, San Francisco, CA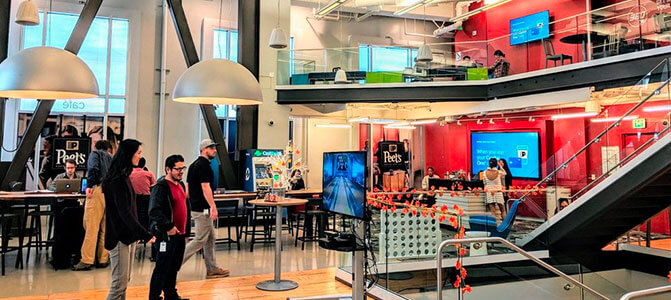 If you are looking for a really neat place to game online in San Francisco, we recommend Capital One Cafe. Capital One has teamed up with Peet's Coffee to create a unique chain with a particular emphasis on young people.
This is a great cafe venue with tasty treats on offer and a high-speed Wi-Fi connectivity. Capital One Cafe provides customers with its own namesake card which will slash 50% of the cost of your coffee, but none of its delicious aroma and taste.
Capital One is specifically geared towards Millennials and it provides visitors with a cozy environment to wind down, talk, study, and of course – sit and engage in online gaming.
Capital One is a perfect embodiment of the open-mindedness of Millennials towards video games. For better of for worse, online gaming plays a significant role in the development of young people's lives today.
What Time Is Capital One San Francisco Opened?
Monday – Friday – 7am – 6pm
Saturday – Sunday – closed
Can You Make Cash Deposits at a Capital One Cafe?
Yes, you can find a Capital One ATM which would allow you to deposit directly into your account ,so that you can store any sums you don't want carrying on you right away.
8.Waypoint Cafe, Lowe East Side, New York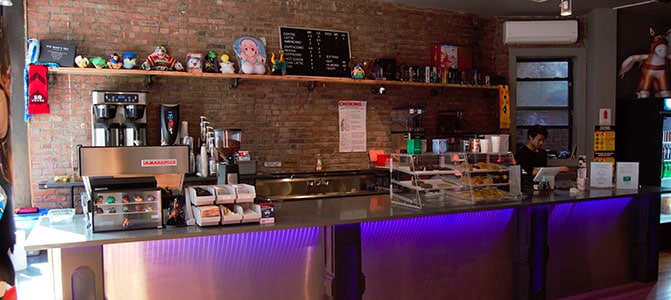 Waypoint Cafe is a present-day throwback to the LAN cafes that used to mushroom around the U.S. over a decade ago. However, Waypoint isn't a nostalgia-driven imitation. It's a bona-fide Internet cafe geared towards gamers, offering a true variety of popular titles, and the customers JUST LOVE IT.
Looking to play cool games LAN somewhere? Waypoint should be a natural first pick. Choose from an inexhaustible list of the major gaming titles today, including:
Apex Legends
Fortnite
PUBG
Call of Duty
League of Legends
Dota 2
Overwatch
Counter-Strike & more
There is a selection of more team-based games that allow you to have a blast along with your friends, including Rocket League, Rainbow Six Siege, Street Fighter V, Tekken, Minecraft, and many more blockbusters of the online world.
The menu is quite tasty and accessible and if you are eager to get gab a delicious snack on the spot, Waypoint is fully prepared to meet your biggest appetites – whether this is food or online gaming.
Can I connection Waypoint Cafe on Discord?
Yes, as any self-respecting gaming property today, Waypoint Cafe does own its Discord channel. Just visit the official website of the cafe, scroll to the footer and open the Discord link.
Can I Check Out Waypoint Cafe on Twitch?
Waypoint Cafe can be found on Twitch. They have uploaded quite a bit of footage representing gaming pow-wows and their stream show in which they talk video games, life, the universe and more.
9.Cyber Cafe 88, Jackson Heights, NY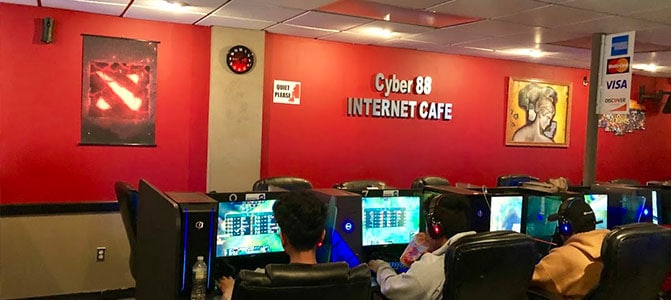 Cyber 88 is geared towards players who love to spend a fair bit of time behind the monitor and game actively. Cyber 88 is a sweet spot if you want to play team-based games such as Dota 2, but the truth is you can enjoy any form of online gaming there.
The venue has earned itself a reputation for a quiet spot where you can game and enjoy a professional, clean and entertaining environment. Cyber88 just seals the deal if you are looking for a neat a gaming property in New York.
What Are Cyber88's Business Hours?
Monday – 9:00am – 12:00am
Tuesday – 9:00am – 12:00am
Wednesday – 9:00am – 12:00am
Thursday – – 9:00am – 12:00am
Friday – 9:00am – 12:00am
Saturday – 9:00am – 12:00am
Sunday – 9:00am – 12:00am
10: East Coast Gaming, Hollywood, Florida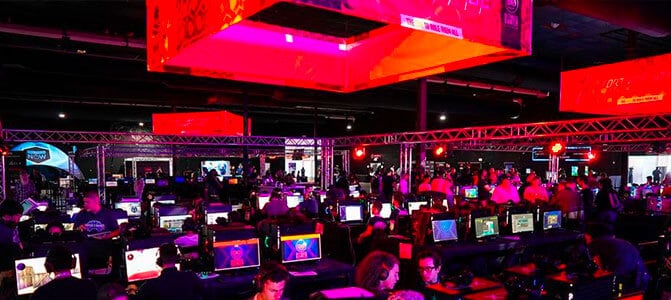 East Coast Gaming is a top-notch venue packing solid gaming action. The cool ambiance of the venue is all thanks to neon lights and you will find the the place to be buzzing with excitement around the clock. Awesome PC stations make the ECG cafe a great place to host events that reunite online gaming fans. You can equally plan LAN pow-wows against others and get one of that erstwhile feel when people would compete locally and earn bragging rights.

The venue will hook you up with PC & console gaming opportunities and as far as pricing goes, there are some very affordable rate. If you want to be charged by the hour, you only need to pay $5, but if you get the day pass, you pay either $10 or $15 and have a go at the systems for as long as you like.
If you want to go all out on the consoles, you will hardly have to pay more than $5 for the entire day, which is a blast for any Xbox, PS4, and Nintendo aficionados! As far as online gaming goes, East Coast Gaming is a real winner and you must visit.
Does East Coast Gaming Run Tournaments?
You bet. The venue is fully-equipped with state of the art tech, from PC desktops to consoles and the events are many and varied. Care for Smash Ultimate tourneys? You will find them all in East Coast Gaming.
Can You Book Your Own Event at East Cost Gaming ?
Absolutely, there is an option that allows you to "Request Event". Pitch an idea yourself and find like-minded people to compete along with.