There are lots of funny poker memes floating around online, and if you are looking to have a good laugh, we will list some of the best ones out there currently. The best online poker meme is all about your sense of humor though – we, on the other hand, had a hard a bit […]
There are lots of funny poker memes floating around online, and if you are looking to have a good laugh, we will list some of the best ones out there currently.
The best online poker meme is all about your sense of humor though – we, on the other hand, had a hard a bit of trouble choosing which Facebook poker memes or Reddit poker memes that were the best as they were all pretty good.
What are Memes?
If you spend a considerable amount of time online, you probably know what a meme is. Even for those living under a rock, the chances are that you have come across images, videos of pieces of text that are often humorous and rapidly shared between people. Those are memes.
Meme culture is pretty huge, and it has been able to tie into several other aspects of human life right from pop culture to film, sports, and politics, among other things. The online gambling industry has not been left behind. There are lots of great memes about gambling and casinos, but perhaps the most popular ones are those that relate to poker.
Reddit Poker Memes
Reddit is the home of a lot of discussion and content, but some of the most interesting things on the site include all of the wild poker memes available. There are tons of subreddits where people discuss poker, and from time to time, a few of the members will throw in some poker memes to lighten the mood. Furthermore, there are even some subreddits that are dedicated solely to sharing poker memes.
After going through tons of these, here are some of the amazing memes that we think you should check out:
1. Bad Move on the Preflop with a Pair of Aces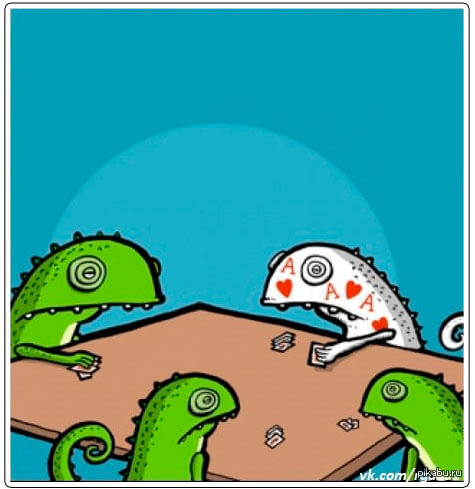 A pair of Aces can do some good at the poker tables, but you have to know what to with them. The wrong move would mean outing yourself to your opponents, allowing them to take advantage of you. If you have been in such a situation at the poker tables, this meme will definitely speak to you.
2. Bluff Goes Wrong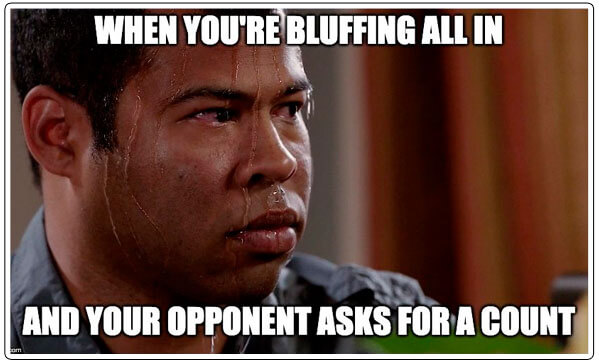 We have all been in a spot where we have made a bluff that did not turn out well. Getting sweaty whenever an opponent decides to call your bluff is definitely something that many players will admit, especially if the stakes are pretty high.
3. Strategy Vs No Strategy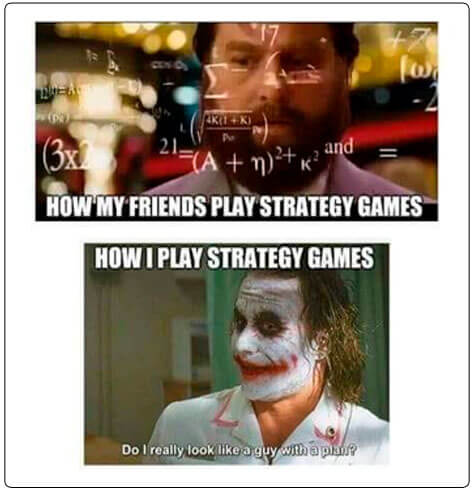 In as much as there is some element of luck involved when playing poker, the game is by all means also about strategic gameplay. Whichever way you play your cards will be up to you.
This meme is excellent because it accurately depicts two of the most common kinds of players at the poker tables. While some may be very analytical, some will just be playing casually without much concern about what may arise three or so steps later.
4. A Wake-Up Call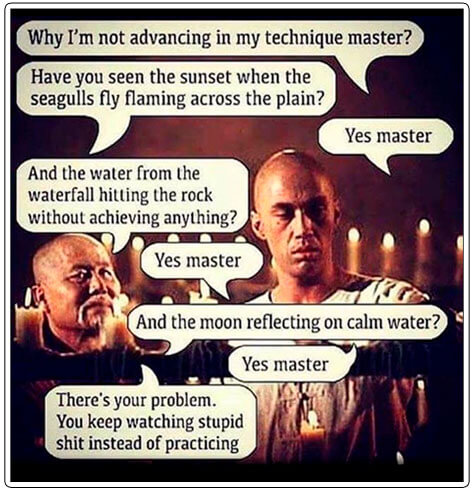 I cannot count the number of hours I spend watching poker pros play and pull off great moves at the table. There is nothing wrong with doing this though – the point, I think, is to practice just as much as you try to learn from other poker pros. Poker is a reasonably complex game, and sometimes you have to figure out your own strategies by playing in as many tables as you can. Thanks master for that handy tip!
5. The Best Feeling Ever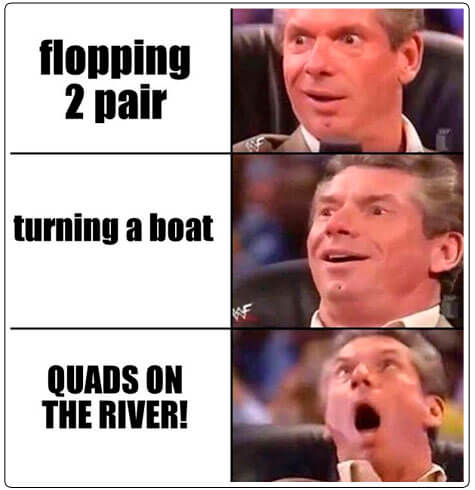 You probably already know what this feels like. If not, do not take our word for it. Keep playing, and you will get to understand. This is simply one of those things that cannot be expressed in words – memes do it better.
6. Ready to Go to Macau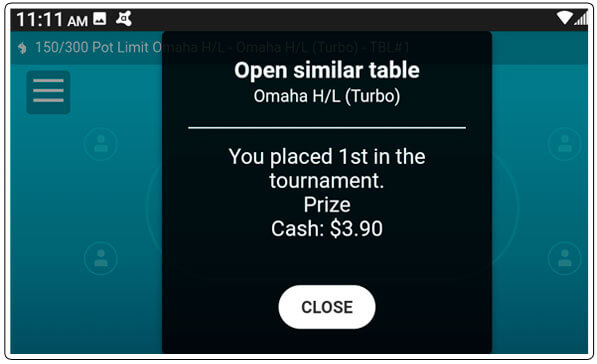 Poker is a very competitive game, and even the smallest wins at the poker tables will have many players losing their minds, especially if they are starting out. As for this player's win, Macau is just the beginning. The next stop is probably the Poker Hall of Fame. Haha.
7. Not Bluffing Enough, Are You?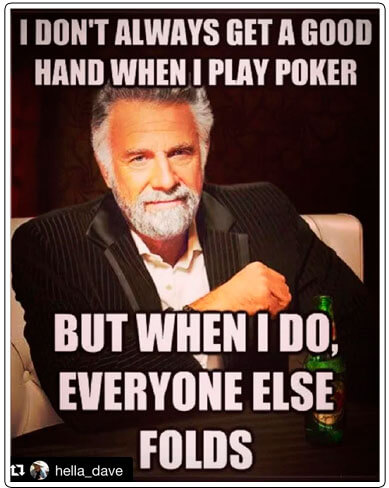 These are some pretty huge claims. For poker face meme, this is pretty good because it might seem like you are not doing enough bluffing to convince your opponents not to fold. Many poker players can definitely relate to this.
8. Poker Is Life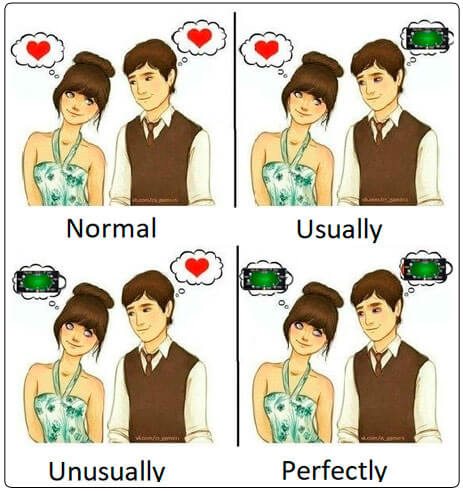 Playing poker is more than just a pastime these days. It also happens to be a profession for some people and a way of life for many others. We are no relationship experts, but a family that plays poker together stays together. Want to bet on it?
9. Doing All It Takes to Win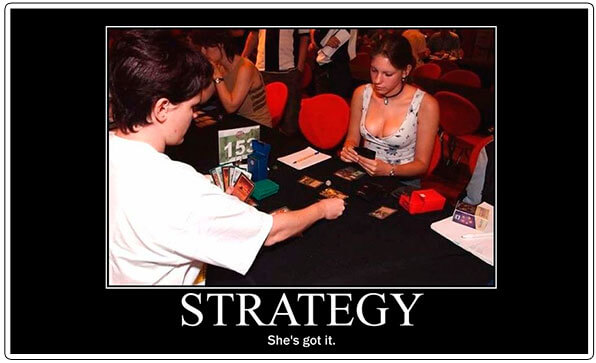 So long as the poker rules do not explicitly prohibit it, it is worth using as a strategy to win in a game of poker. Needless to say, every single strategy counts, but only if you use it in the best way possible. She is definitely doing something right.
10. Getting Your Groove Back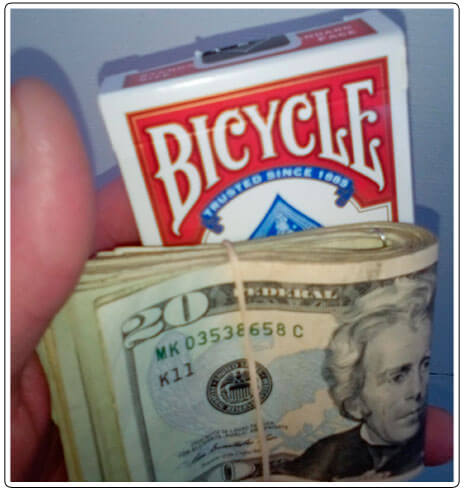 As one Reddit user says, there is nothing that is simultaneously more degenerate and awesome than finding a roll that you had stashed away somewhere and forgot about. Perhaps it's a message from the poker gods.
Summary
We may not have covered every great meme we could find, but there are thousands more on Reddit. Whether you are looking for a poker night meme or a strip poker meme, you will definitely find one. A great place to start would be following the links to the memes that we have listed above.
So, if all you want is a good laugh about something that you can relate – poker in this case – you can rest assured that your browsing experience is about to get a major facelift. You will be smiling all through it.