Playing poker at a casino is a super fun and thrilling experience. If you love the casino experience that much, being a poker dealer at a casino will definitely seem like a dream job for many people. Not only will you get to always be part of a game that you like but you will […]
Playing poker at a casino is a super fun and thrilling experience. If you love the casino experience that much, being a poker dealer at a casino will definitely seem like a dream job for many people. Not only will you get to always be part of a game that you like but you will also have the chance to always enjoy the authentic atmosphere that cannot be found anywhere else that is not a casino.
However, as much as being a poker dealer may seem to be glamorous, the first thing that you should probably consider is the pay. So, how much do poker dealers make?
In this blog, I delve into every important detail involving the amounts that poker dealers make. From the average wage, what determines your earnings and training; it's all covered below.
Let's begin.
What is the average wage of a poker dealer?
According to Glassdoor, poker dealer salaries in Las Vegas, Nevada range from $18,000 to $49,000 annually with the average salary amount clocking in at $20,991 per year. In California, the average base pay for poker dealers is $10 per hour or up to $38,122 per year.
Top 4 Poker Dealer Salaries in Las Vegas:
Wynn Resorts $60k – $100k (including tips)
Caesars Entertainment $54k – $58k
MGM Resorts International $36k – $44k
SLS Hotels $34k – $37k
Tips are usually very vital to the salaries of most croupiers. Professional poker dealers will, of course, get more tips since they are more knowledgeable and skilled at dealing and handling players. Tips usually range from just a few dollars to $50 or even more depending on the aforementioned factors. These tips can add up to huge sums of money and they make the job even more interesting for many poker enthusiasts.
"The Average Salary for a Poker Dealer in the US is $19,107 per year as of September 2020"

Salary.com
Even so, it is worth noting that different casinos will have different policies regarding how tips are dished out. Some will pool all the tips together and share them among all the poker dealers. Others allow each dealer to keep all their tips.
"The average hourly rate for a card dealer is between $8 – $11 in the United States"

Salary.com
What Determines How Much a Dealer Earns?
Several factors come into play when it comes to determining how much poker dealers make. Perhaps the most obvious will be location – what poker dealers make in Las Vegas, for instance, will certainly not be the same as what poker dealers make in California. While both cities are great destinations for casino lovers, the gambling scene in Las Vegas is more vibrant and thus attracts more people. This means that croupiers stand a chance of making more money from tips in Las Vegas since more players will be visiting the casinos.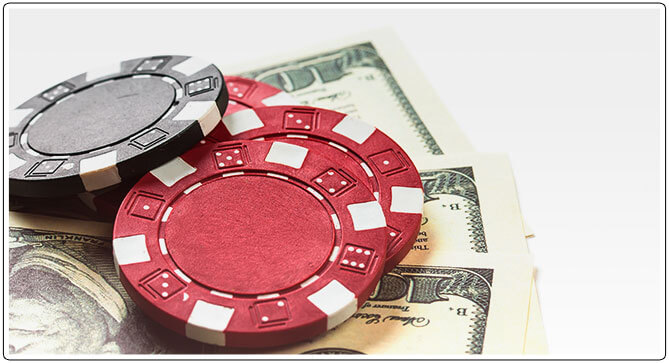 In many places, casino work including poker dealing can be seasonal and this too will have an impact on what game dealers get.
Another important factor that determines how much a poker dealer earns is professionalism. Well, you do not necessarily need to go to dealing school to become a poker dealer but this could certainly make you a better dealer.
Dealing is a customer service job where you not only need to keep control of the poker game but also enforce the rules while at the same time ensuring that the players are treated to a great experience. That said, it is pretty easy to see that experienced and professional poker dealers make way more money. This applies to both tips and the base salary.
Typically, tips make up a huge chunk of what most poker dealers get to take home. One AMA from a poker dealer on Reddit stated:
"As for income, I only get paid in tips. No wages. I make an average of $15/hour."
The amounts will range depending on several factors, from experience to the casino you are dealing at. It might be a little too difficult to accurately predict how much in tips they make since these are not often factored in when calculating the wages of casino dealers.
In the same AMA the poker dealer commented:
"The biggest tip I ever received at once was $100"
While another commented:
"[the] Biggest tip I recieved in my time as a dealer was $1000 chip"
It really does show how much tips can vary from dealer to dealer.
How Can I become a Poker Dealer?
If you are impressed by what poker dealers make you might be probably considering taking it up as a career. If that is the case, you will need to be aware of some of the requirements that you will need to meet to qualify. While some of these factors will vary from one casino to the next, some standard ones apply across the board.
To begin with, poker dealing is pretty complex, and to get ahead of the curve, a training course would be great even if you are an avid poker player. This does not mean that mastery of the game is thrown under the bus – in fact, it is vital to your application. Even so, before you are allowed to start, you might need to pass a dealer audition where everything from your knowledge of the game to your customer service skills are put to the test.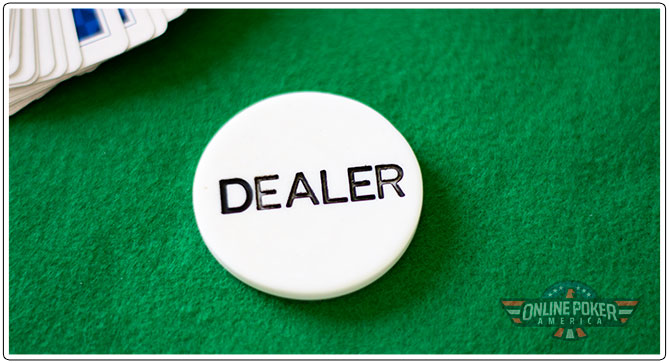 There are some casinos that train you in-house but if you want to apply for one of the larger casinos you will need some previous training. There are school dedicated to training casino dealers (including poker) such as:
Each of these schools teach new dealers everything they need to know about dealing poker. There are plenty of schools out there so check your local area for ones close to you.
In addition to that, there are a few other important factors that you may need to consider. For instance, you have to be of the legal gambling age and have a flexible schedule. It goes without saying that you should do a bit of research and background checks on the casino you wish to work at to ascertain whether you are okay with their policies.
All in all, the overarching requirement when it comes to being a dealer is having a well-rounded personality in addition to all the related experience. This means that things like being able to speak multiple languages, a warm personality, and exceptional math skills will give you a huge edge. Casinos are always looking for new talent and all you have to do is put yourself out there. Better yet, you can start small and built up some progress as you perfect your skills and gain more experience.
Is This the Dream Job For You?
If you still think that being a poker dealer is your dream job even after going through the estimated salaries then you should go for it. It all comes down to why you are doing it – some people take their dealing careers very seriously while others prefer to have fun with it by doing it as a hobby. Either way, there is a lot to be gained from it so long as you have the right attitude and are ready to deal with all of the things that come with the job.
Just make sure that you take every relevant factor into account just as you would for other jobs.
FAQ
What casino pays the best for a poker dealer?
According to a recent listing from tripadvisor.com, Wynn Las Vegas pays its dealers the highest – an average of $100,000 annually in salary and tips.
Do I need training to be a poker dealer?
Yes, most casinos require that you get a few weeks of training and certification from a certified poker dealing school before they can hire you.
Do poker dealers make good money?
Yes. Depending on several factors poker dealers in the United States can make up to $100,000 in salary and tips every year.
Why do dealers tap the table?
Poker dealers tap the poker table lightly to let the players know that the previous round of the game has ended and they are about to deal again.
Why do dealers wear visors?
Visors help poker dealers to reduce eyestrain which is usually caused by the glaring overhead lighting that is normally characteristic of many poker rooms in casinos.
Do poker dealers keep their tips?
Yes, some casinos allow the poker dealers to keep all of the tips that they get from the players at the tables they are dealing.
What is the difference between a dealer and croupier?
The main difference between dealers and croupiers is the fact that dealers are usually found in card games such as poker while croupiers deal handle roulette games.