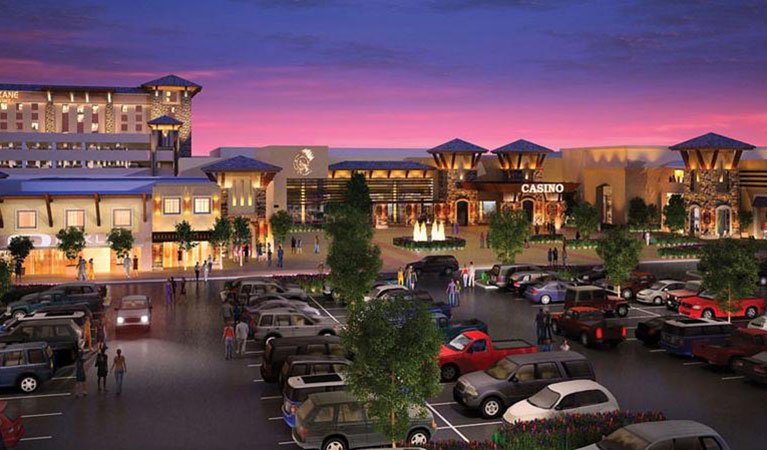 There have been plenty of ups and downs for the Spokane Tribe in Washington regarding the development of their land-based casino. Now, though, things are starting to take shape after their project took on a name and a logo.
The Spokane Tribe have chosen to rather simply name their new casino, the Spokane Tribe Casino. Their logo appears as a black marquee with blue and red horses meeting each other amidst three arrows. The three arrows symbolize the three historical tribes of Spokane River Indians, whilst the two horses represent the old ways and the new for the Spokane Indians.
The Spokane Tribe Casino is set to kick-start a number of jobs in the area. When it is fully built, the Spokane Tribe Casino will house over 400 slot machine games, have over 10 table games, a restaurant, delicatessen and a bar capable of serving alcohol to gamblers. If successful, a hotel, police station, fire station and tribal cultural centre could also be added to the complex, turning it into a resort of sorts.
Located in western Washington, the new $400 million casino is set to be located off reservation lands, and that has caused quite a stir. The US Department of the Interior initially gave permission for the casino to be constructed in nearby Airway Heights, a city located off the traditional reservation. Local businesses and lawmakers have criticized the decision, saying that the casino is not only too close to a local airfield, but also that would be undesirable for the region. The Kalispel Tribe have also criticized the new casino, which would in effect be operating less than 5 miles from their own Northern Quest Resort and Casino site.
Both the Spokane and the Kalispel could face initial threats from Spokane County, though. They plan on suing the US Department of the Interior over the decision to build the casino on that site and want construction work on the new casino grounded with immediate effect. Their arguments stem back to the Governor of Washington, Jay Inslee, who approved what will now be the Spokane Tribe Casino last summer, after discussing it at length with numerous parties including but not limited to the US Air Force, federal agents, and local governments.
Similar threats of lawsuits and closure have been made to numerous other casinos across the USA, but what makes this one so interesting is the fact that the casino is being constructed off tribal lands. For now, the threats against the Spokane Tribe Casino seen to be nothing more than that. There is no indication that there will be a u-turn of any kind on the matter, and now that the new project has a name and a logo, many are looking forward to the launch of the venue.