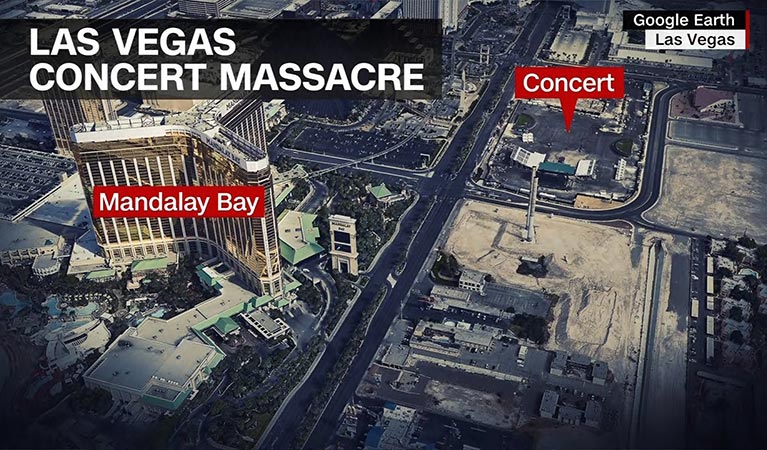 Millionaire Dan Bilzerian, known for his outrageous non-stop partying life via his Instagram account with 23 million followers, was caught up in Las Vegas shooting – the deadliest mass shooting in modern American history.
Never one to be short of women or guns around him, Bilzerian regularly posts pictures of himself in the wilderness with his huge arsenal of firearms, along with his "big guns" biceps the size of thighs. In fact, he has so many guns that he once said, "My greatest fear is that someone will break in & I won't be able to decide what gun to shoot them with."
Bilzerian even trained to be a Navy SEAL earlier in his life, but never managed to make it through to the end. Despite all his training and experience with firearms, he was caught in the worst mass shooting in US history and the events that unfolded before him on Sunday night was all too real and too much for the Instagram King.
He was quick to flee from the killing grounds, but as if an innate talent, Dan turned a camera onto himself and posted a chilling video of him running away and shouting "holy f*** this girl just got shot in the f***ing head, so f***ing crazy.". Trying to live up to his online bravado, he then followed up with another video saying, "Tried to go grab a gun, I'm f***ing headed back, f***ing so crazy,". He also added later on that he had left the scene as there was nothing he could've done to help.
Bilzerian Slammed by War Hero Dakota Meyer
The Instagram videos posted by Dan were quickly shot down by a Medal of Honor war hero, Dakota Meyer. Meyer slammed the professional poker player, calling his actions "disgusting". The war veteran continued with,
This is why children shouldn't classify heroes by their followers or their photos. @danbilzerian this is what kills me about people like you. Always playing "operator dress up" and so so tough when the cameras are on. A woman just got shot in the head and you are running away filming that's not what operators do. Please stop trying to be some your not. People are dying, you're running away not helping them and pretending it's worthy of a video is disgusting.
What We Know About the Shooting So Far
– At least 59 killed and 527 people injured.
– The killer is 64-year-old Stephen Paddock of Mequite, Nevada – a retired accountant with no known children.
– Authorities believe Paddock killed himself before SWAT teams breached his hotel suite 32135.
– Gunfire started at about 10:08pm where Paddock sprayed a semi-auto rifle that had been modified with bump-stocks that simulate fully automatic fire onto a crowd of 22,000 from his sniper nest on the 32nd floor of the Mandalay Bay Resort and Casino.
– The police recovered 23 guns from his hotel room, some of which had scopes, military-grade ammo, and also modified with legal bump-stocks too.
– Paddock had no prior criminal record, no army training, no known religious or political affiliations, and people who knew him said he showed no signs of mental illness.
– Police are still investigating and trying to figure out his motive for the shooting.
– Isis claimed responsibility, but so far FBI says it has determined no connection with the terrorist group, and that the shooting was not a terrorist attack.