PokerStars' Pro, Daniel Negreanu, made the huge announcement during the PokerStars Championship Main Event in Prague, that the new live event with be a $25,000 buy-in event that'll take place in January of 2019. AND, to really set this tournament apart from anything else that has come before it, PokerStars will be dumping in an extra $9 million into the prize pool out of their own pockets, in the form of all-inclusive "Platinum Passes" worth $8 million to be given out throughout 2018, and finally a $1 million to the first-place prize as the event begins on January 6th, 2019.
This, is PokerStars' answer to the many challenges thrown their way by other major poker operators, mainly Party Poker, to pry away their dominance over the live tournaments stage. Although PokerStars held on to the crown firmly for many years, these past few years have been a little shakier as their other competitors have slowly but surely been chipping away at their thrown. But as the leaders that they are, they have once again thrown down the gauntlet, and believe they are about to change the whole live tournament scene as players once know.
"We expect the PokerStars Players Championship will set the new global standard for live poker tournaments," said Rafi Ashkenazi, the Chief Executive Officer of the Stars Group. He also added, "We want to give something back to the players and demonstrate our commitment to the game, not only through our investment of $9 million, but through an event that brings professionals and amateurs together creating winning moments and unforgettable stories."
One of the unique features of this new tournament is the fact that it is opened to players of all levels. It doesn't matter whether you're a rookie or a seasoned pro, everyone will be given a fair shake at winning millions of dollars. "It's our event for the players," noted David Carrion, PokerStars Marketing Director
Free Platinum Passes
One of the ways that PokerStars will be giving players who would normally not get a chance to play in a field with the crème de la crème a chance to play for life-changing money is through exclusive Platinum passes. These passes, for which there are around 300 odd, will be worth around $30,000 each and covers the cost of the buy-in to the PSPC, as well as accommodation and travel expenses.
"A Platinum Pass includes buy-in to the $25,000 PSPC Main Event, six nights' accommodation at Atlantis Resort Nassau, $2,000 in travel expenses and room folio and return car transfer from Nassau Airport to Atlantis Resort. It also will include some exciting yet to be announced rewards and surprises."
How to Get the Passes?
If you've read this far, the majority of you are most likely asking this question in your head. The good news is, the passes can be scored both online and live, and there are multiple paths available for players of every format and every stake to have a fair shot at nabbing one.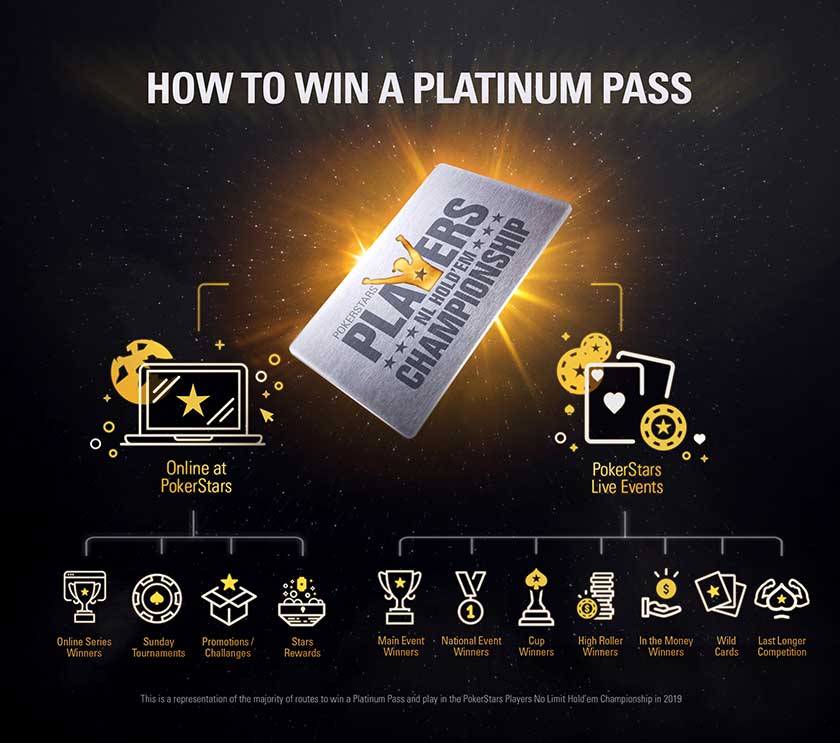 Due to the extravagance and the scale of this event, top pros will most likely buy in directly, while the passes could be awarded to someone who has just started their poker career. It's an exciting idea that a field could be as inclusive and diverse as this will be.
With this announcement, PokerStars are warning others that they are back in the race, putting their foot down, and looking to reclaim the live tournament space once again.