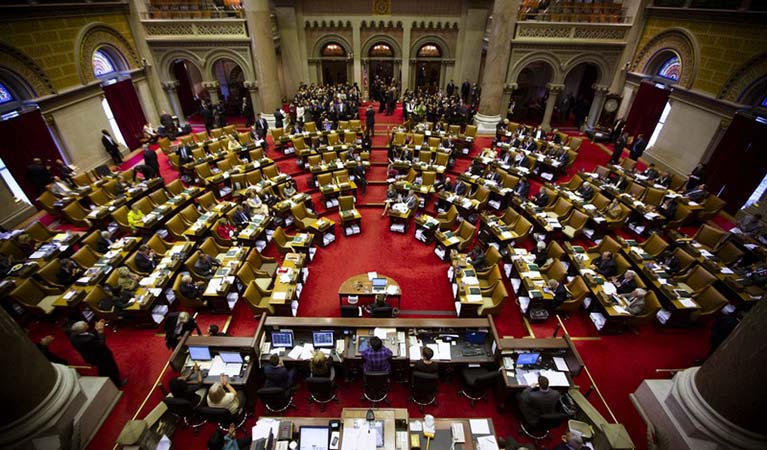 New Yorkers who thought that they might soon enjoy gambling online again and benefit from the jobs, rural renewal and resort vacations offered by such gambling giants as MGM and Empire Resorts, have had their dreams thwarted yet again. There has been yet another proposed amendment to Bill 3898 that has always sought to make gambling great again in the state of New York, that has stopped it dead in its tracks. The amendment, called the "Bad Actor" Clause, has put a damper on the bill, which was voted to pass by an overwhelming margin, when it was put through its third and final reading in the New York Senate in May 2017.
This newly added clause is designed to make it illegal for any gaming operator who operated a site online after the introduction of the 2006 Unlawful Internet Gaming Act (IGEA) to obtain a license to partner up with a land-based casino to offer online poker in New York. This affects some pretty big players in the online gaming industry including PartyPoker.com and PokerStars.com. It also affects the development of several resort hotels in the Catskills of New York, an area in great need of economic revitalization that needs to build seven new commercial gambling palaces.
The Bill has been trudging through the New York State Senate since late last year and despite the potential for tax farming that would allow each casino to bring a $10 million dollar licensing fee, just to open its doors, it has been stalled as Senate members niggle over the specifics of the bill. These specifics include issues about the online security of interactive online gambling's, the elimination of con-artist software bots that steal money from participants, definitions about what qualifies as gambling and what qualifies as a game of skill and the development of escrow schemes so that players funds can be held in accounts that are segregated from the gaming operation.
One of the biggest blockages was a political controversy that arose way back in 2015 when it was disclosed that the governor of New York, Andrew Cuomo, had received $25,000 in campaign funds from the CEO of Amaya Gaming David Baazov. Not only was this donation seen as an interference in an election by a foreigner, because Baazov was Canadian, it was also seen as an encouragement for the governor to move the private interests of the gambling industry forward through the house. This disclosure seemed to put an unpleasant taint on the whole idea, as it reinforced the public opinion that casinos, in general, are corrupt.
Hopefully, New Yorkers will soon be able to see the first virtual and land-based casinos enter their sphere of gentrification once again, once the games of gambling have been redefined to be games of skill and are successfully regulated and licensed. But at the present moment, nobody has any concrete idea when the final ratification of the bill will be complete.