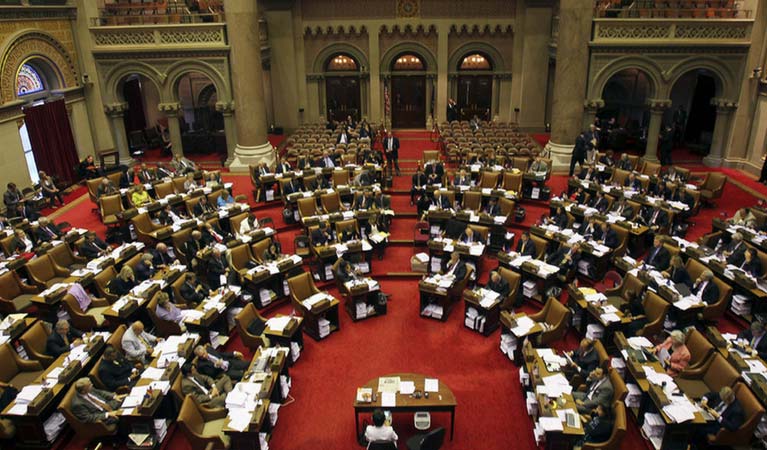 The Bill, S 3898, which aims to legalize online poker in New York, passes the New York Senate for the second consecutive year, with am overwhelming 54-8 majority vote. The Bill, sponsored by Sen. John Bonacic, now heads over to the state Assembly, where it remains to be seen whether or not it'll enjoy the same level of support from the Senate.
The proposed legislative changes would allow a maximum of 11 existing casinos and racetracks (or racinos) to apply for the licences, which will allow them to offer real money online poker games to residents of New York over 21 years of age. This method will ensure the state would get an initial cash injection, estimated at $110 million from licensing fees, as well as a continuous stream generated from the online revenues.
"Our bill makes sure you have to do it at the racinos or the casinos," the senator told Newsday, a New York newspaper. "That's where the platforms have to be. That's where you make the money."
Prior to this addition, an amendment in the form of a "bad actors" clause was added just last week, which would prevent any online poker sites that served New Yorkers after the enactment of the 2006 Unlawful Internet Gambling Enforcement Act from ever obtaining a license. This restriction applies to big players of the online poker industry such as PokerStars.
Both these changes, along with others, were all added in hopes to up the odds of the bill getting all the way to the governor's desk.
After receiving huge approval on Tuesday, Bonacic offered the following statement:
"This bill serves two main purposes in allowing New Yorkers access to regulated online poker while providing critical consumer protections and increasing revenues to the state for education and taxes via operator licenses," said Senator Bonacic. "I will continue to work with my colleagues in the Assembly to see that this bill passes both houses before the end of session."
The light-in-the-tunnel for the legislation this time round is that Assemblyman Gary Pretlow, who last year suspended the bill without and discussions to be hold, is looking to offer Bipartisan support this time round. Pretlow, chairman of the Assembly Racing, Wagering and Gaming Committee, said last week that thanks to the necessity of emergency funding of New York Schools, he's had more luck in getting other members on board with the online gambling idea.
Both Bonacic and Pretlow were quoted last week by New York media as being upbeat about the bill this time round.
"Pretlow wants it," Bonacic said enthusiastically. "It's a tougher walk, but he wants to do it."
"There's always hope," Pretlow acknowledged to Newsday.
According to the newest language, the bill lists the following baseline requirements for licensing:
➤Current licensed operators of video lottery gaming in New York or from states with similar licensing requirements with experience in interactive gaming, or guarantees acquisition of adequate business competence and experience in the operation of interactive gaming.
➤Brick and mortar Class III gaming operators licensed by New York or in a state with comparable licensing requirements, or guarantees acquisition of adequate business competence and experience in the operation of interactive gaming.
As the third most populous state in the country, if this bill comes to fruition, it would contribute a significant change to the US online poker landscape.
"There's illegal online gaming right now," Bonacic said. "So why don't we monitor it, tax it and make money for education?"
With only five remaining sitting days scheduled before the current New York legislative session concludes, time is of the essence for S 3898.