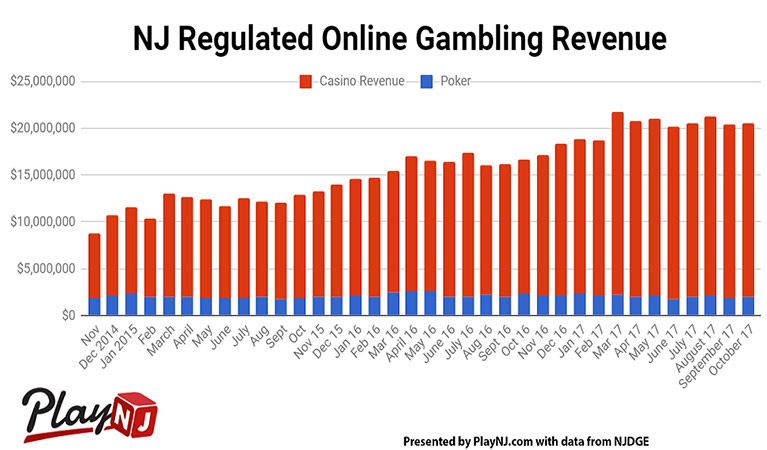 (Photo Credit: PlayNJ.com)

New Jersey's online gambling market continues to improve as it records its eighth-straight month of $20+ million – a saving grace for the state because it helped to boost the overall gambling sector up 1.7 percent to $206.4m despite its seven land-based casinos recording a slight drop of 0.3 percent year-on-year to $185.8m.
The strong performance from the online sector totaled $20.5m in October, similar to the $20.4 it generated the month before but up a whopping 23.4 percent from the same period last year. This increase, however, was completely due to the incredible results from the casino vertical, which spiked 30.5 percent y-o-y to $18.63m. On the other hand, online poker revenue continues its downward trend, accounting for only $1.93m in revenue in October, a decline of 19 percent compared to the $2.39m generated in Oct of 2016.
As for the year-to-date figures, the online gambling sector hit a new record this month in its young 4-year life as it surpasses the $200m mark at $204.2m, a 26.7 percent increase from the y-t-d revenues generated in 2016. Online poker fell by 8.1 percent y-o-y, accounting for only $20.5m of the total, but luckily, the online casino vertical more than made up for this decline as it jumped almost a third to $183.7m.
"Topping 2016's revenue tally two months before the end of the year is the clearest signal yet that demand for the legal online gambling industry's products has not yet peaked", said PlayNJ lead analyst Steve Ruddock.
The drop in online poker is likely to be temporary as New Jersey will soon have access to three times as many players once it shares player pool with Nevada and Delaware, and possibly even Pennsylvania in the not too distant future.
Clearly, internet gambling has played a significant role in the state's continual growth as it slowly works its way towards its former glory days and out of the four-year slump that had seen 5 of its 12 casinos closed down. Online gambling received yet another boost earlier this month as Pennsylvania officially becomes the 4th state to legalize online gambling.
Online Leaders
Leading the pack in what has become somewhat of a tradition is Golden Nugget's list of online operators which include Betfair, and Play SugarHouse. Together, they generated a dominating $6.14m in revenue – a 7.5 percent increase from the previous month's figures.
Coming in second place was Borgata's family of sites, which recently included the addition of PlayMGM, on top of NJ.PartyPoker.com and PalaCasino.com. The three sites managed to take in $4.18m.
Edging out by a hair in 3rd place was Resorts Digital Gaming who with the combined revenue from PokerStarsNJ.com and MoheganSunCasino.com generated $3.46m, ever so slightly in front of the $3.45m generated by 4th place Tropicana's casino-only site.
Falling in the last place was Caesars Interactive Entertainment New Jersey, with $3.31m generated by 888.com and WSOP.com
The current leader Golden Nugget will undoubtedly finish the year in the same position as its total revenue generated in the first 10 months of 2017 is $56.2m which is a comfortable $16.3m ahead of second place Borgata with their $39.9m so far.
Land-based Casinos
The land-based race was slightly different with Borgata out in front despite being the only casino to post a monthly decline of 7.4 percent to $59.4m. Still, this amount was almost double that of the nearest competitor in Harrah whose total was $30.3m, a 3.5 percent increase.
In third and fourth was Tropicana and Caesars who generated $28m and $25.7m respectively. In fifth place was Golden Nugget who saw the biggest gains out of all casinos at 9.5 percent to $24.2m.
Bally came in sixth with its $16.8m while Resorts fell to the last place with an increase of 4.7 percent to almost $15m.