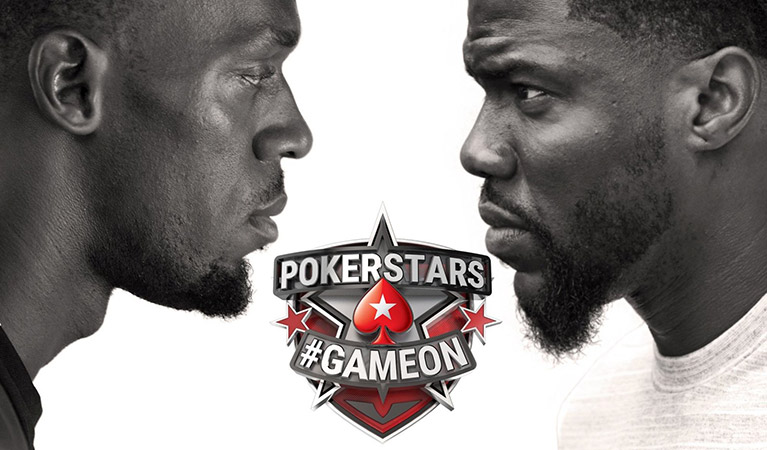 (Photo Credit: PokerStars.com)

Kevin Hart and Usain Bolt are at it again! This time, veteran poker player Daniel Negreanu has been dragged into the drama between the two – the feud between the fast mouth, Kevin, and the once world's fastest feet is getting more intense by the day.
The poker-based feud that has been going on for a while has been a great marketing campaign for the Stars Group Inc. that features a number of #GameOn challenges aimed at testing certain key qualities and poker skills such as emotional control, reading opponents and bluffing.
Kevin Hart and Usain Bolt were both subjected to an ice bath challenge by Daniel – who is the greatest poker tournament player of all time with earnings of up to $34.3 million – in the most recent #GameOn marketing campaign.
The idea was to see which of the two mega-stars, in their own rights, would be able to maintain emotional composure while in a bath filled with ice. The ice bath challenge is the second installment of the #GameOn campaign that was set off earlier this year with the two superstars trying to outwit each other through a series of videos that were posted across different social media platforms.
Face-Off at the PokerStars Caribbean Adventure
Everyone looks forward to the ultimate showdown that the #GameOn challenge will culminate in January next year when Usain and Kevin face off at the PokerStars Caribbean Adventure (PCA). They will be among the hundreds of pro poker players and enthusiasts from every corner of the globe who will participate in the poker tournament between January 14th and 16th at the Atlantis Paradise Island Resort in the Bahamas.
With tournament buy-ins ranging from $160 to as high as $100,000 for the Super High Roller, the PokerStars Caribbean Adventure is set to be one of the most publicized heads-up matches as each of them is hell-bent on outperforming their opponent come January.
The #GameOn challenge has been lauded for its very unique and outrightly bold approach towards revolutionizing poker games, bringing out its fun aspects and portraying poker's social nature. The campaign has managed to reach a significant number of players, that is, newbies and avid poker players alike.
The buildup of adrenaline as the dates of the tournaments grow nearer is definitely going to make for a decent amount of fun along the way. While, most, if not all of the #GameOn challenges will be mere appetizers compared to what you can expect come January, everyone is eagerly waiting for the next #GameOn challenge.
The Star Group prides itself on being one of the best technology-based businesses within the global interactive gaming circles and the global casino gaming industry – clearly not an easy fete. Nonetheless, PokerStars has been on a mission to nab itself more casual players for a couple of years and to achieve this they have employed the help of several high-profile celebrities.
Other than just having an ensemble of famous figures like Ronaldo and Neymar Jr. among others, Star Group's PokerStars has excelled significantly by offering recreational poker.
Gus Poyet Joins BetStar
In other similar news, former Tottenham midfielder Gus Poyet has been enlisted to be BetStars' brand ambassador – he will participate in giving predictions for major sports events just like Liverpool player Kenny Dalglish who took part in the "Big Call BetStars".
Poyet predicts that Tottenham will have a higher ranking than Arsenal in the Premier League and that they are likely to finish with a 2-2 draw when they face-off at the Emirates Stadium. According to Poyet, bettors looking to make some good money are safer betting on the likelihood that both teams will