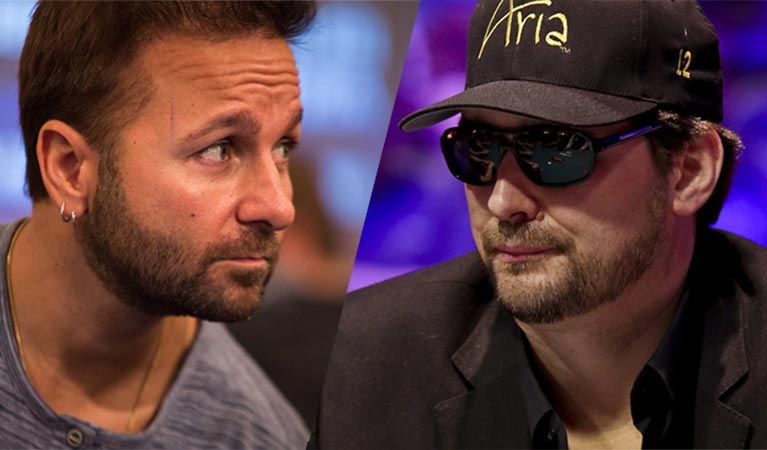 The second day of the Poker Masters Event #5 $100,000 No-Limit Hold'em came to a close, and all eyes were on chip leader Fedor Holz, for a while that is. But then all attention was drawn to an off-table heads-up battle between two poker giants, Phil Hellmuth and Daniel Negreanu.
There was a total of 36 participants at the fifth event of the inaugural Poker Masters series but only 15 were to return for more action on the second day of the event. The returnees did not include current King of the Hill title holder, Hellmuth, nor the all-time money list leader, Negreanu.
The Poker Brat struggled on day 2 of the event and his run came to an end in 13th place out of money. Trouble is never too far away from Hellmuth, and unsurprising to the poker community, he did not exactly leave quietly after taking personally an otherwise humble comment from kid poker, who finished 11th out of money, in which he acknowledged the talents of the new generation of poker players, mostly from Germany.
Shortly after kid poker was sent to the rail and witnessing the strength of German poker with Steffen Sontheimer, Christian Christner, and countrymen Fedor Holz taking the top 3 spots in the final table, he took to twitter to commend the new generation of stars.
I'm not embarrassed to say I don't think I'm as good as these guys. They are unreal. In order to improve you have to humble yourself & learn

— Daniel Negreanu (@RealKidPoker) September 20, 2017
This act of humility apparently rubbed Hellmuth the wrong way and set the stage for the poker brat to demonstrate his notorious arrogance and large ego.
Hellmuth quickly responded with:
I am always the #1 seed in no limit Hold'em tourneys DNegs, best ROI in history kid. And yes, I agree: one of us is delusional… https://t.co/V7XeGep0TK

— phil_hellmuth (@phil_hellmuth) September 20, 2017
Needless to say, this quickly developed into a rather heated battle that had the poker community chiming in from left and right.
After several more tweets, Hellmuth took it up a notch and requested Negreanu to provide a list of players he believed to be better No Limit Hold'em players than himself. 6 minutes of silence ensued, then, a list of 40 players that Negreanu thought were better at no-limit hold'em than Hellmuth was posted.
Your list @phil_hellmuth

Sorry it took me 6 minutes to come up with your request of 40 players to crossbook. Here you go: pic.twitter.com/Jeek3GtNHl

— Daniel Negreanu (@RealKidPoker) September 20, 2017
The tension in the air was so thick one could almost cut it with a knife, or with a light-hearted joke by Doug Polk. Having been left out of Negreanu's list, Polk tweeted, "Great list of players. Don't think you missed anyone here."
Never one to concede, poker brat rejected the list, claiming he is a "huge favorite" over those players. Negreanu then suggested some bets but as usual, as soon as there are prop bets involved, things quickly cool down on Hellmuth's end.
This twitter exchange was most certainly entertaining. So much so that it had lead people to wonder whether or not this was just a publicity stunt by the two legendary poker players.