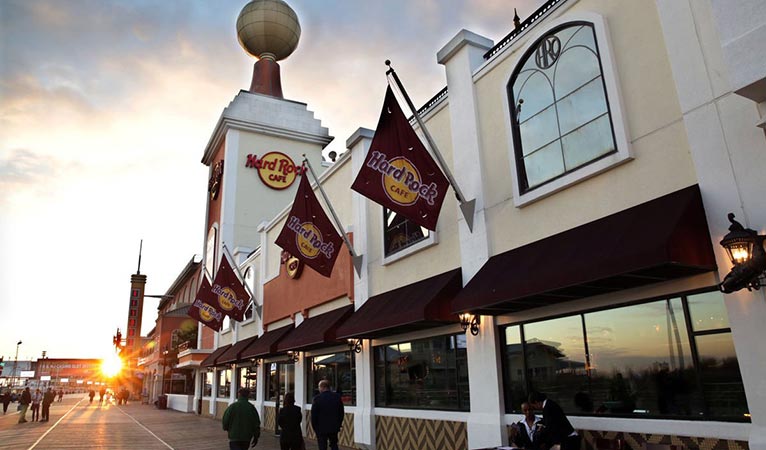 Hard Rock, the gambling arm of the Seminole Indian tribe of Florida, struck a bargain when they purchased the formal Trump Taj Mahal for $50 million, which was pennies on the dollar compared to the $1.2 billion paid by current US President Donald Trump back in 1990.
The deal, however, is not as good as it first seems. Chairman of Hard Rock International, Jim Allen, who used to work for President Trump in Atlantic City, is desperate to do all he can to rid Taj Mahal of its former owner's terrible taste, which Trump once described as "the eighth wonder of the world."
The initial renovation cost of $350 million is now increased to $500 million to do the amount of work needed to completely de-Trump the property.
"It's everywhere," Allen said of Trump's influence on the Indian palace-themed Taj Mahal. "The amount of money we're going to have to spend to remove all those minarets and all that purple. Jesus! What were we thinking?"
By the time the new casino opens in 2018, all the existing spire and onion-shaped crowns, and other Trump-influences will all be long gone, and in its place will be the signature Hard Rock logo and its ubiquitous guitars.
We are committed to a minimum of $500 million we're going to put back into that building," Allen said. "It does us no good to out some guitars on the wall and new carpets, and say, 'I can take 5 or 10 percent of the business from Resorts or Harrah's."
Atlantic City To Get Back On Its Feet
After several years of declining gambling revenue and the closing of 5 casinos since 2014, the economy is showing live once again. Judging from the Q1 reports of 2017, the remaining casino licensees generated $816.7 million in revenue, an 8.6 percent increase compared to the same period last year.
Allen believes that Hard Rock has the marque brand and entertainment chops to attract new customers to Atlantic city and help the entire market as a whole, transforming it from a weekend hot spot into an everyday destination. He also said that instead of focusing on stealing customers from one another, the casinos need to work together in improving the city as a whole.
During a previous news conference for Hard Rock's new destination, Gov. Chris Christie said he believes the company's investment will make Atlantic City "an even more vital and more exciting resort and nation stop for people."
Managing director of Nomura Securities, Christopher Baldwin, said during the East Coast Gaming Congress on Thursday, "Rock 'n' roll and the whole concert scene is something that is appeal. It's going to be a wide draw demographically."
Unlike Billionaire Carl Icahn, former owner of Trump Taj Mahal, who made a grave mistake by failing to reach a contract with the Local 54 of the Unite-HERE casino workers union that resulted in the workers going on strike last July, which ultimately led to the closure of the casino on Oct 10th, Allen will all but guarantee the casino won't have labour troubles.
"There's going to be no dispute with Local 54," Allen said. "We are going to put people back to work. We'll get it done. We'll do it fair."