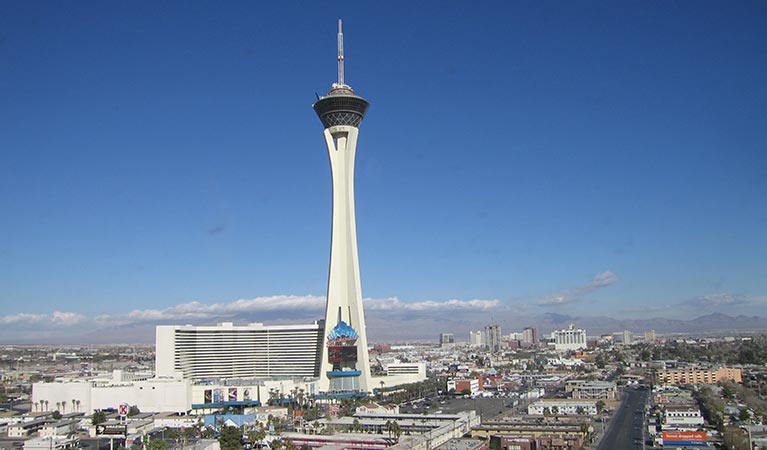 American gaming and casino conglomerate, Golden Entertainment, is reaching new heights with its latest acquisition, they announced on Monday.
Golden Entertainment agreed to a $850 million deal, which includes $781 million on the table, as well as $4 million in shares of Golden stock issued back to American Casino's current owner, Whitehall Street real Estate Partners 2007, a real estate private equity fund managed by the Merchant Banking Division of Goldman Sachs. Once the transaction is completed, Whitehall will control about 15 percent of Golden's stock.
The new acquisition will help to strengthen the company's presence in the Las Vegas market with the addition of three casinos, including the iconic Stratosphere property at the far north end of the Las Vegas Strip.
This is not Golden's first venture into casino operation. The company's existing portfolio already includes gaming properties in Pahrump, Nevada and Flintsonte, Maryland, in addition to more than 12,000 slot machines across Nevada and Montana. When the deal comes to a close at the end of 2017, Golden Entertainment will own eight casinos which will operate in excess of 15,800 slot machines, 114 table games and have more than 5,100 hotel rooms, as well as almost 1,000 distributed gaming locations including the largest branded tavern portfolio in Nevada.
The biggest part of the transaction, as we have already alluded to, is the 2,427 room, 1,149-foot tall Stratosphere, the tallest freestanding observation facility in the United States. The property houses a 80,000sq ft casino which operates 743 slot machines and 42 table games, has 13 restaurants, nine bars and two swimming pools. There is also 15 acres of excess real estate surrounding the Stratosphere, which the Chairman and CEO of Golden Entertainment, Black L. Sartini, said during the Monday announcement that he is excited at the development potential it brings for the company at the north end of the Las Vegas Strip that has seen many investment activities recently. He also said the acquisition supports the company's goals for growth in many ways, including the potential to use their increased free cash flow and financial scale to pursue distributed gaming opportunities in existing or potential new markets.
Charles Protell, Chief Financial Officer of Golden, concluded, "This transaction significantly increases the size of our operations and allows us to access the capital markets more efficiently while enhancing our ability to further expand our leading presence in distributed gaming. At closing, we anticipate our funded total debt to be approximately $1 billion resulting in a net leverage ratio of less than 5.5x. Post-closing, we anticipate leverage will be reduced by operating cash flow of the combined businesses. In addition, we expect that our new credit facility will provide us with the flexibility and liquidity to pursue future organic and strategic opportunities.

With the acquisition of American, we will improve our position to benefit from Nevada's strong economic trends which are driving gaming, room, and F&B revenues on the Las Vegas Strip, in the Las Vegas locals and in other Nevada gaming markets. Despite the significance of our Nevada casino portfolio after closing this transaction, we intend to continue to invest in the expansion of our industry leading distributed gaming business including our planned tavern developments in Las Vegas as well as our pursuit of potential distributed gaming operations in new jurisdictions."