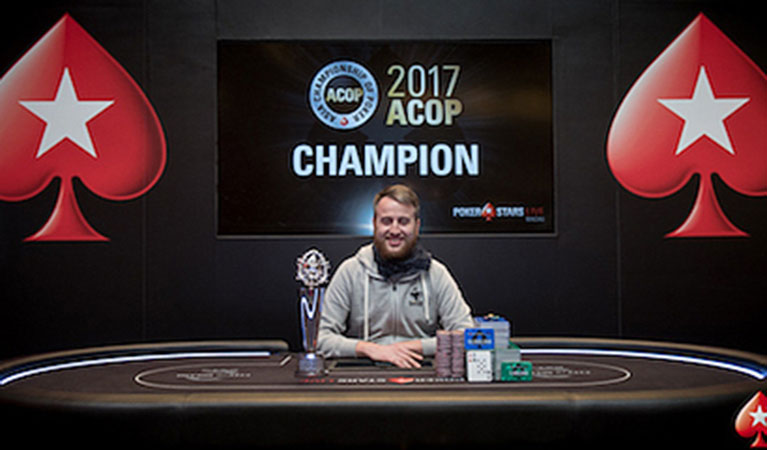 German dominance in the upper echelon of the poker scene continues as Dietrich Fast takes the win at PokerStars' first flagship event at the 2017 Asia Championship of Poker for $2.1 million in Macau.
Dietrich Fast defeated a playing field of 79 entries in the HK$800,000 Super High Roller to win his biggest live tournament career score to date – doubling his previous biggest career win – and proving that things can keep getting better as this victory comes on the heel of his fifth-place finish in the largest-ever Triton Super High Roller Series Main Event within the same week.
Although he couldn't make it all the way to the end in that tournament, he's more than proud with his latest achievement.
"It's nice to have results and this is an accomplishment," he told tournament reporters. "But this will not stop me working even harder for the future."
This latest addition pushes the German pro's lifetime live career earnings in excess of $6.2 million, putting him shy of the top 10 Germany all-time money list by less than $1 million as he sits in the 15th position.
The total prize pool for this event topped HK$60 million (US$7.8 million) and was Super High Rollers' biggest under the PokerStars' umbrella in 2017. The top 11 finishes all got to take home a share of the pie.
With such an immense prize pool, it wasn't surprising at all to see many familiar faces at the final table including the likes of 2017 Card Player Player of the Year leader Bryn Kenney and Timothy Adams.
Going into the final day, all eyes were on Timothy Adams as he held a substantial chip lead (146.9 million) over the rest of the playing field, with Bryn Kenney in second place with his stack of 104 million, and Fast following closely behind in 3rd holding 97.3 million.
British pro, Paul Neway, barely made it into the final table, but unsurprisingly was very short lived as he busted within 10 mins against Kenney's Ace-high with his Kc,Qs. Following in his footsteps was China pro Shan Huang who started with less than 10 big blinds and met the same fate as Neway against Kenney's As, 4c with his King-high in a preflop all in.
Now down to seven, Fast drew blood against his first victim, Jason Koon. The American shoved his short stack with a pair of 5s and was called by Fast with his Qs,Jh. Unlucky for Koon, a jack on the flop ended his run.
Up until now, the three overnight leaders in Kenney, Fast and Adams were very evenly matched. But it was at this point that the equilibrium started to crack and saw the momentum swing in Fast's favour as he claimed a massive pot between him and Kenney where his trip tens forced Kenney to muck his pocket queens and sent Fast to the summit. Kenney never managed to craw his way out of the grave and shortly fell victim to Adam's nines with his Ace-high.
After some more high-action hands, the favourite going into the finals, Adams, finished just shy of the heads-up between Fast and Steve O'Dwyer – another top Player of the Year contender.
Fast went into the heads-up with a significant 5-to-1 chip advantage that meant the winner was decided within half an hour. O'Dwyer put up 1 worth struggle where he managed to double once, but aside from that, it was a case of slowly but surely for Fast.
On the final hand of the event, Fast was fortunate enough to finish with a higher two pair than O'Dwyer with Ad, 8c against 9s, 3d on a board of 9d, As, 8h, 3c, Jc. The Irish took home $1.5 million for his deep run, and Dietrich was the last man standing with his $2,169,700 and 840 POY points.