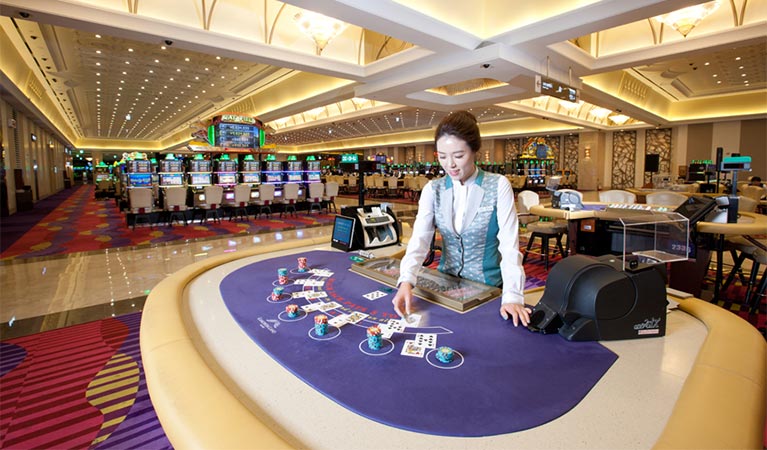 The gaming market in South Korea is developing nicely and has caught the attention of casino industry companies. In acknowledgement of this potential demographic, Australian slot machine manufacturer Aristocrat Leisure Ltd designed the company's first ever Korean-themed product specifically to target the South Korean gambler. The new offering, "5 Kings", was show-cased at this year's Global Gaming Expo (G2E) Asia trade show.
There are currently 18 casinos in South Korea, but only one is allowed to serve local residents. That casino is the state-owned resort, Kangwon Land, set in a remote upland area of an abandoned coal mine in the Gangwon Province. Although not exactly in a convenient location, it is surprisingly popular with the locals and tourist alike, accounting for more than half of the yearly gambling revenue generated from casinos.
Aristocrat's regional marketing manager for Asia Pacific, Miguel Choi, said they noticed an influx of South Korean players are traveling to foreign casinos, especially in Vietnam and Macau, the Las Vegas of Asia. The development of "5 Kings" was the company's response to the growing interest in gambling by the South Koreans.
5 Kings is based on Korean mythology. The game is available in dual-language mode – English and Chinese, and will be seen at casino floors all across Asia as soon as next month, Mr Choi said.
More Eyes On South Korea Gambling Industry
Aristocrat isn't the only gaming manufacturer looking to cash in on the growing gambling sector in South Korea. Sega Sammy is aiming to take an even bigger bite of the gaming pie.
Japanese pachinko operator Sega Sammy partnered up with the country's largest casino operator, Paradise Co Ltd, to open the first large-scale, foreigner-only gaming resort in the country, Paradise City, in Incheon on April of this year.
It's located 5 minutes outside of Seoul's Incheon International Airport, just 329km across the Yellow Sea from China. The property cost $1.2 billion of which 45% was self-financed by Sega Sammy, and the rest paid by Paradise Group.