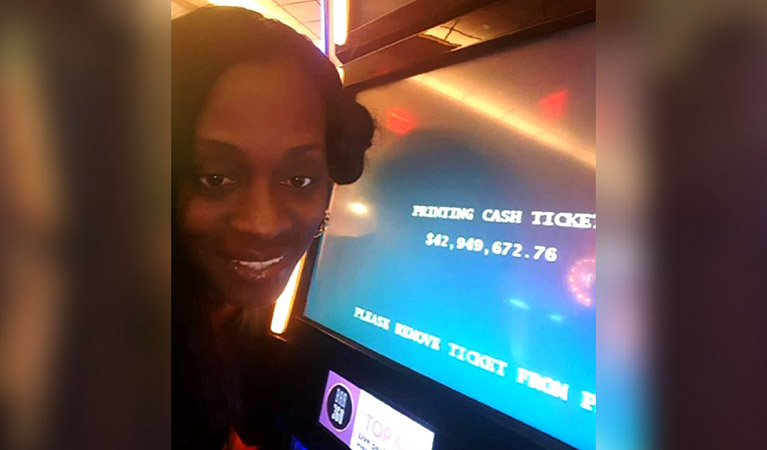 A Queens woman thought her life was about to change forever when she hit a slots machine jackpot for almost $43 million. However, her state of euphoria came crashing down once she found out that the machine was malfunctioning and there would be no millions.
Karina Bookman, an unemployed mother of four, was casually playing slots at the Resorts World Casino in late August of last year when she suddenly struck gold on the Sphinx Slot Machine, or so she had thought. The New York resident did what most people would do for anything celebratory worthy, and that is take a selfie. She took a "Millionaire" selfie next to the slot's display, capturing the text "Printing Cash Ticket $42,949,672.76" that was shown on the screen.
She was quickly surrounded by other casino patrons, personnel and security as she was celebrating her life-changing win. After her ticket was printed, she was escorted off the casino floor and told to come back the next day to collect her winnings.
Naturally, as anyone in her shoes would've done, she thought endlessly about all the possibilities this opportunity would bring to her and her family, such as opening up a barber shop for her son. Eager to transform her life, she went back to the casino the following day to find out what she had won.
"What did I win?" Bookman asked. Much to her surprise, and not in a good way, a casino worker told her she hadn't actually won anything as her win was erroneous due to the slot machine malfunctioning, which should've paid out a maximum win of $6,500. Instead, the casino would offer her a complimentary steak dinner and $2.25, the prize she should have won from her one cent wager.
Bookman refused both the steak dinner and the $2.25, and quickly hired a lawyer.
Immediately after the incident, Resorts World spokesman Dan Bank apologised and told CNN that "casino personnel were able to determine that the figure displayed on the penny slot was the result of an obvious malfunction." This was later confirmed by the New York State Gaming Commission.
The New York State Gaming Commission followed up on the case by issuing a statement in August saying that the machine displayed a disclaimer stating, "Malfunctions void all pays and plays."
Bookman's attorney Alan Ripka argued that the casino was negligent in its duty to maintain properly functioning machines. He also posed the question: "If Bookman's winnings truly were null, how many slot players before her were gambling without the possibility of winning?". As a result of this mishap, his client suffered "mental anguish".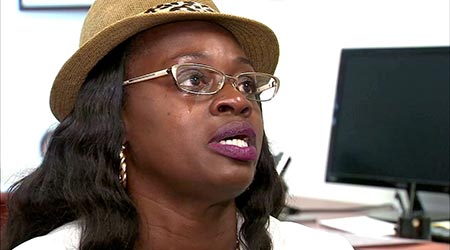 Ripka says, at the very least, Katrina should receive the maximum payout the machine was supposed to pay, which is $6,500. "The machine takes your money when you lose. It out to pay it when you win," said Ripka.
After around 10 months of trying to get the casino to pony up more cash for his client to no avail, a lawsuit has been filed on June 14.
Not The First Time A Slot Machine Has Malfunctioned
As unfortunate as this incident was, this was not the first time it has happened. A similar case occurred in 2011 where an 86 year old grandmother was denied of her $42 million payout from a Miss Kitty slot machine. The casino said it had malfunctioned and offered her the amount she was supposed to be awarded with based on the symbols on the wheels that were displayed at the time, a total of $1.85.